Rugby World Cup 2015: Ferris encouraged by Ireland's start

By Stephen Ferris
Former Ireland and Lions flanker
Last updated on .From the section Irish Rugby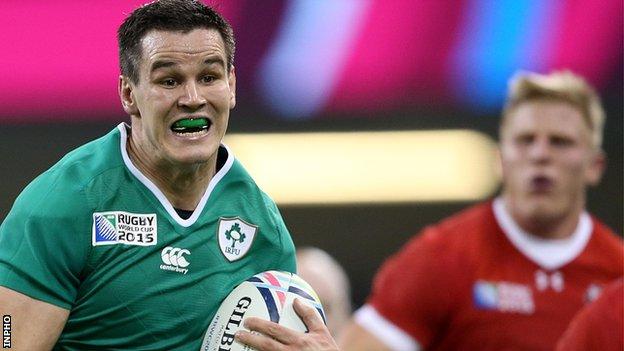 After the rather lacklustre displays in the warm-up defeats by Wales and England, it was great to see Ireland back to their clinical and efficient selves in Saturday's World Cup opener against Canada.
Granted, it was only Canada, but the fluency and accuracy of the performance in the 50-7 victory was still very encouraging for the tougher battles that lie ahead.
As South Africa found to their cost against Japan, it is a huge mistake to underestimate any of the so-called minnows and that will have been drummed into the Ireland players before the tournament.
Last week's column spoke about how the back row needed to up the intensity and the physicality, and that's exactly what they did, which was brilliant to see.
Peter O'Mahony and Sean O'Brien are big-game players and game-changers and they performed impressively as a unit with Jamie Heaslip.
Henderson important for Ireland
I would still like to see Iain Henderson playing in the back row at some stage, but I thought he did a tremendous job in the second row alongside Paul O'Connell.
Henderson is just getting better and better and you just have to hope that he is going to stay fit for the rest of the tournament. He has become a very important for Ireland now, even though he has only 20 caps.
I send Iain a text message before every game wishing him good luck and he always replies pretty quickly thanking me and saying that he will catch up with me soon. That's the kind of fellow he is. He is a very likeable guy with a good personality, as well as being a tremendous rugby player.
And what a second row partner he has in the mighty O'Connell.
Paul is, without doubt, Ireland's best second row of all time, which is some commendation given that the legendary Willie John McBride played in that role on 63 occasions for Ireland.
And for Iain to have been working alongside Paulie for the last 18 months is just going to pay huge dividends for the young fellow's career.
With Johnny Sexton producing a man-of-the-match performance after having to deal with back-foot ball in the two previous games, and Cian Healy also returning after injury, it was pretty much a perfect afternoon for Ireland.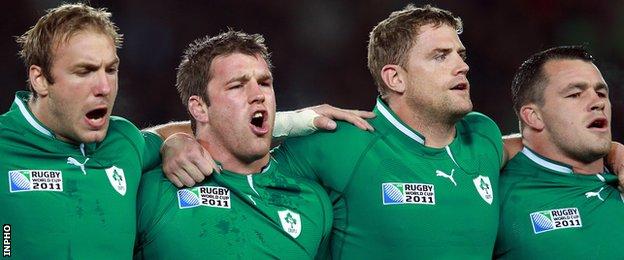 Changes likely for Romania
I am not sure if Johnny will start this week against Romania at Wembley, with bigger tests surely ahead for Ireland.
Joe Schmidt will probably make quite a few changes for Sunday's match and then revert back to more like his go-to team, that he will want to play against France, for the game against Italy.
I reckon Darren Cave, Chris Henry and Tommy Bowe will start this weekend and by Sunday night, it is highly possible all 31 members of the squad will have got some game time, which will make them feel part of the World Cup experience.
Bowe could still play huge role
Many people are saying that Tommy Bowe is not going to play in the big Pool D contests against Italy and France after his poor warm-up game against England, but I wouldn't be writing him off just yet.
Tommy has so much ability and experience, so I will not be at all surprised if he still manages to play a significant role in Ireland's World Cup.
Granted, he did not have a good game against England. But, as I always ask people, when has Tommy Bowe let Ulster, Ireland or the British and Irish Lions down when it really counts?
Obviously, it is not going to be easy for Tommy to fight his way back in because Dave Kearney and Keith Earls were both pretty solid against Canada.
Dave is good under the high ball and he does not make any mistakes, and that is what Joe likes.
Therefore, I think Tommy's best chance of getting back is at the expense of Earls.
Keith had a good game at the weekend but maybe did not set the world on fire like a lot of people thought he might have, so I still think there is a chance for Tommy to get back into the side for the big games.