Rugby World Cup: Japan coach talks up chances against Scots

By Tom English
BBC Scotland at the Rugby World Cup
Last updated on .From the section Scottish Rugby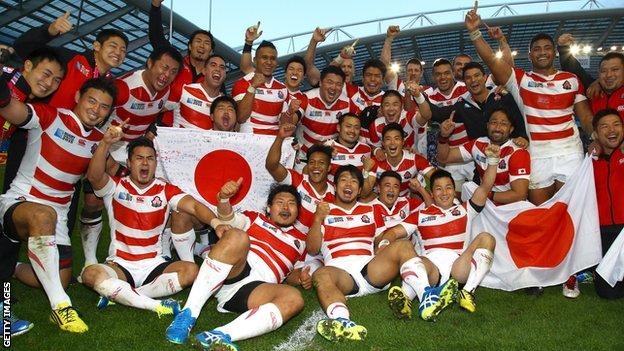 Rugby World Cup: Scotland v Japan
Venue:
Kingsholm, Gloucester
Date:
23 September
Kick-off:
14:30 BST
Coverage:
Live on BBC Radio Scotland, BBC Radio 5 live and sports extra, plus live text commentary on the BBC Sport website
As Eddie Jones sat at the top table at Kingsholm and engaged in the kind of jive talk that Muhammad Ali would have been proud of, one of The Greatest's most storied lines popped into the head. "It ain't bragging if you can back it up."
The Japan coach made many big claims in the course of a hard-hitting 16-minute, standing-room only press conference to preview his team's World Cup contest with Scotland on Wednesday.
Coming from a coach with a losing record, it would have been dismissed as empty bluster. Coming from the man whose majestic game plan brought the downfall of the mighty Springboks, his words had power.
Jones smiled his mischievous smile and went for it. He backed up his chat from Tuesday when saying that if Japan can stay in contention for 40 minutes on Wednesday they will beat Scotland. And he went further.
'We'll run them off their feet'
"If you look at Scotland's scoring profile they are very heavily a first-half scoring team," he said.
"They get outscored consistently in the second half. We know we are a fit team, so if we can stick with them in the first 30 minutes and we are in the game at half-time, we will win because we'll run them off their feet."
Did he think Japan were fitter?
"Definitely," he replied.
Really?
"Definitely," he repeated.
Did he think there was a psychological weakness in the Scottish side?
"I'm not going to say it. You can say it if you want to."
Told later that Japan were available at odds of 11-2, Jones advised that we should "get a lot of your pounds on us."
Call this what you will - fighting talk, trash talk, mind games, arrogance - but it was typical Jones. Throughout his coaching life he has enjoyed lobbing grenades and then sitting back with a smirk to see what damage he'd done.
'The pressure is all on Scotland'
"The pressure is definitely on Scotland," he added. "Saturday's game showed that maybe the order of rugby can change. Scotland is one of the most established rugby countries in the world. Sevens started in Scotland, so for Japan to challenge Scotland is significant pressure on them.
"We can go there free and easy, playing and enjoying our rugby and that's what we intend to do. Are we favourites? Well, if you read most of the papers we're not. People still think it's a fluke that we beat South Africa, so this is a great chance for us to show it wasn't."
Strip away the theatrics and Jones has a resounding point.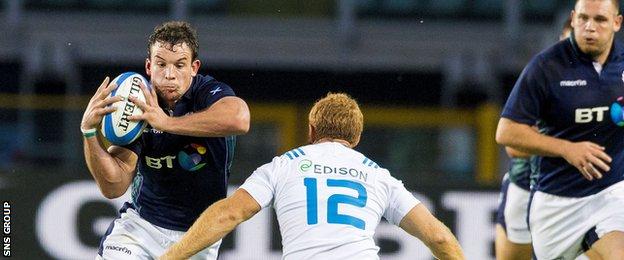 In recent times, Scotland have, too often, done most of their scoring in the first-half and have come up empty in the second half. They went scoreless in the second-half in three of their Six Nations games in the spring - against France, England and Ireland - and only scored three points in the second-half against Italy in the championship.
Before that, but still in Vern Cotter's time as head coach, Scotland have scored just six points in the second 40 minutes against New Zealand last autumn and none at all in the second 40 against South Africa in the summer of 2014.
There are exceptions, of course. One of them was against Jones' Japan at Murrayfield in November 2013 when Scotland scored 31 points in the second half and won handsomely 42-17. Jones made no reference to that. He was on too much of a roll elsewhere.
Jones has recognised how Scotland have wilted and given away leads - most recently in the World Cup warm-up at Stade de France where the Scots were ahead 16-12 in the 71st minute, but lost. And how he played on it.
By saying nothing to the question about Scotland's possible weak mentality, Jones said everything.
Bookies back Scotland
His other claim that everybody still thinks Japan's win over South Africa was a fluke might have been harder to support but all he had to do was point to what the bookmakers are saying to back it up.
Bookmakers tend to live in a different dimension to the rest of us, a place where every pound is a prisoner and every match is analysed to death.
Amid the giddy delirium that greeted Japan's clinical defeat of South Africa, the odds-layers have remained dispassionate.
To most people, Scotland are in mighty peril, but to the men with satchels it's a no-contest, a formality. Scotland are virtually un-backable at 1-7 and 1-8 in places. Jones' team, by contrast, are virtually friendless - in the betting market as opposed to planet rugby.
Cotter is not one to take solace from that kind of thing. He is a respected operator but an operator who is in need of validation in his job. He talks of the progress Scotland are making but there comes a time when the talking has to give way to winning and that time is now.
Cotter, like some of his predecessors, has a decent record in winning games that don't matter - summer tour Tests and autumn internationals - and then failing in the games that count - the Six Nations. He has lost five out of five in tournament play. He balks at such concepts as must-win games, but here is one such match, in glorious cherry blossom.
Jones has made six personnel changes and two positional changes from the heroes of Brighton. Having made the impossible possible on Saturday he's now attempting to do something that shouldn't strictly be achievable.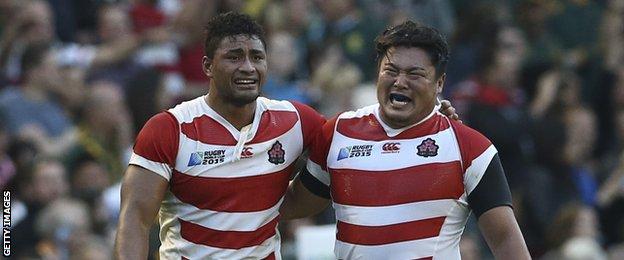 Can Japan go again after short-break?
Come kick-off against Scotland, Japan will have had four measly days in order to overcome the enormous mental and physical rigors of Saturday's take-down of the Boks. Some gurus have questioned whether it is humanly feasible to win again after such a truncated build-up.
Keir Wenham-Flatt, Argentina's strength and conditioning coach, told the Times that Japan will have seen "reduced strength and power output for at least two or three days. You may see a slight reduction in speed, strength and power endurance for four or five days. It takes a week to get better."
How Scotland will be hoping that that is true.
They said it in a more demure manner than Jones, but they're supremely confident that they will win. Matt Taylor, Cotter's defence coach, love-bombed the Brave Blossoms on Tuesday, but he was strong in his belief in his own team.
He name-checked Japan's big ball-carriers, lauded their general skill-set, praised their scrum and repeatedly used the word "exceptional" when referencing the likes of Michael Leith, the cool-as-cucumber blindside and captain, Amanaki Mafi, the relentless number eight and Ayumu Goromaru, the wondrous full-back.
But it was clear that Taylor reckons his boys have the measure of Japan.
Jones returned to his theme about Scotland being the team under pressure and he's right, no question. How they cope with the stress will tell a lot. How they deal with the dynamism, accuracy and all-round rugby nous of the Japanese will determine whether Cotter is breathing easier on Thursday morning or whether Stern Vern is a haunted man.
The peace-time stuff is over. From here on in, battles will rage.