Scotland tear up Japan script as they dare to dream themselves

By Tom English
BBC Scotland at Kingsholm
Last updated on .From the section Scottish Rugby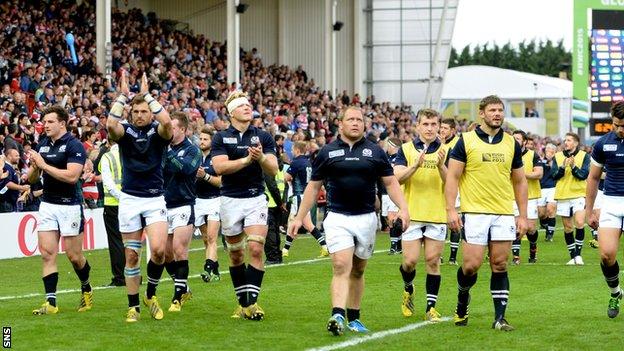 It took Stuart Hogg close to an hour to find the kind of space that he lives for.
Darting across halfway with the glee of a greyhound let loose from the traps, Hogg scythed a path through a tiring Japanese defence and caused mayhem.
Japan were struggling then, 56 minutes and their tanks were emptying. The last thing they needed was a super-charged Hogg upping the pace, but that is what he did.
His break helped bring Scotland a try for Mark Bennett to go with the one for John Hardie that preceded it in a 45-10 victory.
In those moments, Scotland came alive. They had their opponents in trouble and would not let them free. They displayed a finishing power that has been alien for the longest time.
Tommy Seymour was razor sharp in scoring his try. Matt Scott and Bennett combined cleverly for Bennett's second. Finn Russell's footwork was terrific for the one at the end - the fifth time that Scotland had crossed the line. Greig Laidlaw conducted it all particularly well.
The points mountain was all a touch surreal given the mighty toil that went before, though. Early in that second half all the momentum was with Japan. All the noise belonged to their wonderful supporters, all the thrust belonged to their team, all the signs were that another upset was on the cards.
The wonderful number eight, Amanaki Mafi, blasted his way through the Scottish defence, not once but twice, his fellow marauders in cherry and white running with him and asking the kind of questions of Scotland that Scotland do not usually come up with the answers to.
Then, Mafi went down. And he stayed down. He was stretchered off the field and taken away to hospital and with him went Japan's verve. It was the 45th minute and it was a two-point game. Too close to call.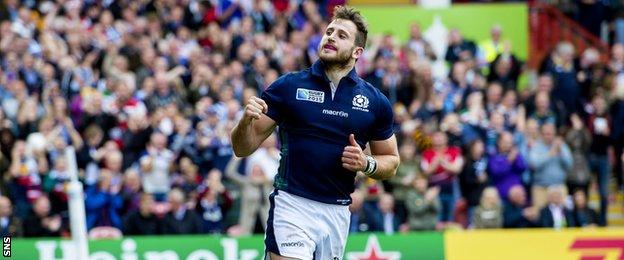 What happened next was deeply impressive from Scotland. Wit took over. Wit and pace and devilish execution from a set of backs that are beginning to quicken the pulse.
For how long have we bemoaned Scotland's lack of it? For how long have we seen them labour in an opponent's 22, battering away at the door with one fruitless forward surge after another?
In recent years, Scotland have spent endless minutes camped on another team's line only to cough up ball and impetus. They have reduced the spurned opportunity to a fine art.
We know that things are changing. How quickly? The coming weeks will give us an answer, but right now they have a pair of half-backs that can make things happen. They have a midfield and a full-back with pace and power and genuine threat.
It's painfully early to say that the days of beating their heads off rugby's equivalent of a brick wall are over, but there are reasons to believe.
Nobody in blue should kid themselves about the major turning point of the day. It was Mafi's exit. The floodgates only opened when he left and when Japan's energy levels ran dry, but in seizing the moment, Scotland had composure and class and, in the end, a thumping victory. This was a seriously good beginning to their World Cup.
In predicting that Japan would last the pace better than Scotland, Eddie Jones, their coach, presented his team as some kind of physiological force of nature, a freakish crew that could shake the weariness from their bodies and beat Scotland four days after draining themselves in victory over the Springboks.
It was not to be. They might have beaten the Boks, but they could not beat their own bodies. Fixture scheduling was not kind to them and neither was fate. You can only hope that Mafi recovers in time to resume group action on Saturday when Japan play Samoa in Milton Keynes.
Vern Cotter needed this, not just to confirm the feeling that his team is improving but also to hammer home the point about his judgement in the John Hardie affair.
The coach has been criticised for parachuting his fellow Kiwi in from Otago. Cotter has fielded question after question about Hardie's right to wear the jersey despite never having spent a wet day in Scotland before his ascent to the squad.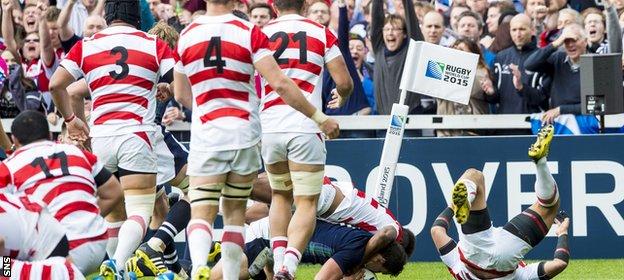 Cotter never veered from his line. A quality player, he said of Hardie. Huge work-rate. Intelligent. Born for Test match rugby. In Paris, in a World Cup warm-up match, we saw a snapshot of what Cotter was on about. At Kingsholm we saw it even more clearly.
Hardie scored a try, that is the headline act. His work in the creation of it was excellent and the manner in which he finished it was uncompromising. His score came at a critical moment, just a few minutes after Japan were reeling from the loss of Mafi. It settled Scotland down and gave them belief. It was a huge moment.
The openside made 21 tackles. Nobody made as many. He has gone from controversial to imperative in the relative blink of an eye.
Hardie helped build the platform for victory, but he wasn't alone. Alasdair Dickinson will rarely get a gong when post-match awards are doled out, but he was mightily impressive. The entire pack did its job. They looked a hungry team against Japan. And a ruthless one when the chances came.
There was an expectant air around Kingsholm, the expectation based on the belief that Japan might do to Scotland what they did to South Africa. Another kill and a new chapter in rugby's great fairytale.
Scotland ripped up the script and reminded everyone that Japan are not the only ones daring to dream.