Rugby World Cup 2015: Brain expert warns of concussion "anxiety"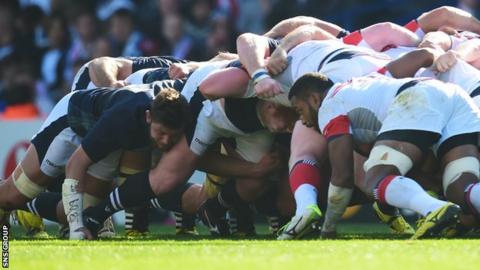 The risks of concussion should not frighten people from playing sport, says a world-leading brain expert.
Consultant neuropathologist Dr Willie Stewart has called for "measure" and "clarity" as research uncovering the potentially profound effects of sporting brain injuries mounts.
"We don't want to turn people into couch potatoes to try and solve the concussion problem," said Stewart.
"There are so many benefits to participation in sport."
Stewart and his research at Glasgow's Southern General Hospital were featured in a recent Panorama investigation for the BBC - Rugby and the Brain - Tackling the Truth, and the neuropathologist revealed that he and presenter John Beattie had received contact from a host of concerned former athletes and their relations since its airing.
Stewart played an integral role in the implementation of Scotland's standardised cross-sport concussion guidelines - a world-first that he hopes will set a precedent for head injury management elsewhere.
Collaborating with Scotland's chief medical officer, Dr Caroline Calderwood, and sports and exercise medicine specialist Dr Andrew Murray, Stewart scribed an editorial piece published in the British Journal of Sports Medicine last week aiming to dissuade the public from shying away from sports participation.
"I'm conscious that each time this comes up, more and more people begin to kind of surface with issues that may be related to this, and I'm sure most of them certainly are," he said.
"But I'm also conscious that what we don't want to do is what's happened in America, where the fear and anxiety over what we now understand can happen to some people with head injury translates into a failure to engage with sport.
"The benefits of participation in sport run through a whole list of diseases and ailments which are benefited by activity.
"What we don't want to do is for a small, difficult to quantify risk of problems, either immediate or long-term, create more problems - a whole bunch of people with cardiovascular disease, respiratory diseases in 20-30 years' time.
"We're just trying to call for a bit of measure and some clarity so that people understand: yes, it can happen, what we used to do was wrong, and what we must now do is be much more cautious."
Stewart has scrutinised the brains of numerous deceased athletes, and in 2013, diagnosed the first case of a degenerative brain disease known as Chronic Traumatic Encephalopathy (CTE) in a rugby player - Kenny Nuzum, an Irishman who died aged just 57.
World Rugby's top medic, Dr Martin Raftery, told Panorama that the game's governing body were considering law changes to reduce concussion.
With the World Cup underway, however, Stewart, a member of World Rugby's concussion advisory panel and an avid follower of the sport, argues the mooted regulatory tweaks are too late.
"My feeling is they could have done this risk reduction six months to a year ago and had this World Cup played under different rules, so there would have been fewer concussions than we're currently seeing," he said.
"Each month, each year, each cycle that no change is made means that the players are potentially exposed to greater risk.
"If we're now saying that at elite level, there's a concussion every two-and-a-half matches, that's at a level where I think people will turn round and say, something needs to be done about that now - not in two or three seasons, now."
Stewart hopes to see changes implemented around the tackle and breakdown, where players often dangerously and illegally "clear-out" opponents with scant punishment.
World Rugby laws demand arriving players bind on a team-mate or opponent "using the whole arm".
"At the breakdown, there are a lot of people going across the top of a ruck or entering a ruck without any attempt to bind onto anything," added Stewart.
"They're just launching themselves like a missile. You see guys going in using their head almost as a battering ram to clear-out.
"The competitive nature of World Cup games is going to rise and rise.
"I think the injury level takes a step up, and that's what worries me. We've had a couple of weeks of gentle introduction to the game and we've seen a reasonable amount of injuries.
"What happens when you get to knockout level? It may well be knockout for some players."