South Africa v Scotland: Jannie du Plessis wants clinical Springboks

By Tom English
BBC Scotland
Last updated on .From the section Scottish Rugby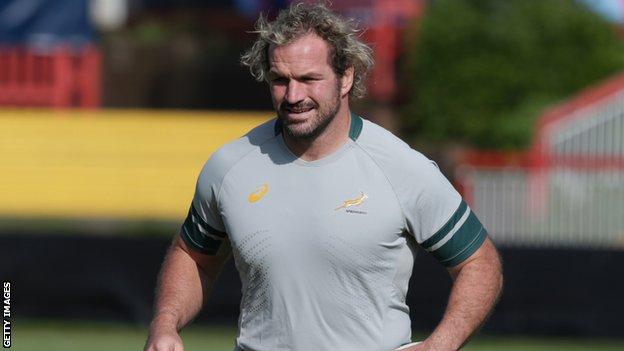 Rugby World Cup: South Africa v Scotland
Date:
Saturday, 3 October
Venue:
St James' Park, Newcastle
Kick-off:
16:45 BST
Coverage:
Listen on BBC Radio Scotland & 5live; live text commentary on BBC Sport website
Jannie du Plessis is telling the story of the day the Springboks decided to change their entire line-out book in the build-up to Saturday's World Cup match with Scotland.
The tight-head prop, with 66 caps packed into his near-33 years, bows his head and laughs.
"It was Monday. Black Monday," he explains.
"Our forwards coach came in and said, 'OK, on the weekend Scotland will have Josh Strauss and WP Nel in their team. We respect them as rugby players and we respect their ability to understand line-out calls in Afrikaans. So we're changing our calls.'
"We said, 'What? All of them?' Our coach said, 'Yes, every one. We start today.' There was more than one sigh of frustration in that room, I can tell you. We were saying, 'No! How am I going to learn all of this in a week!' Maybe it's a blessing. We made so many mistakes with the old ones. Maybe we needed to change anyway."
For a player who intends to inflict death by scrummaging when the Springboks face Scotland at St James' Park on Saturday, Du Plessis says the nicest things.
Springbok Scots
Du Plessis is sitting in the South Africa team hotel in Gateshead and is love-bombing the Scots with a thoughtfulness that makes you think he's being sincere rather than just another cog in a Springbok mind game.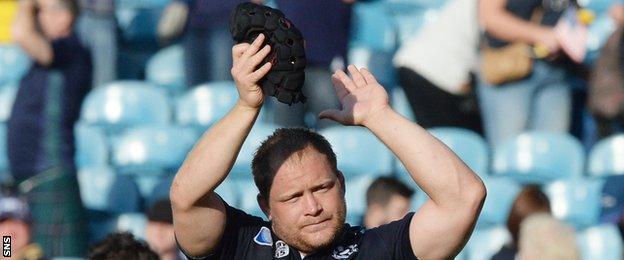 Du Plessis talks of Nel and the regard in which he's held by those who played with and against him. He mentions Nel's background at Western Province and Boland and the Free State Cheetahs and points out how seamlessly he has moved into international rugby.
"He made a huge difference when he came on against America last weekend," Du Plessis says. "He's a fantastic player.
"And Josh, I played against him many times. He joined the Golden Lions when they were a losing team and he was one of the main guys who made them winners. He was captain when they won the Currie Cup final in 2011. I was in the other team, the Sharks. They hammered us 42-16. You don't forget things like that.
"It doesn't matter that WP and Josh weren't born in Scotland. They'll still be huge adversaries on Saturday. The Scots are probably playing the most consistent rugby of everybody. In their first two games they were more than clinical. They were surgical, almost.
"They kept it tight and then 50 minutes into each game they put it into fifth gear. That's the kind of thing that rugby coaches tell you since you were a small boy. Drain the life out of a team and then score your tries. They've done it perfectly. We have a massive respect for what they can do."
A tough choice
Respect cuts both ways. It's easy to have a high regard for Du Plessis for surviving for so long - he made his debut against Australia on the seventh day of the seventh month of 2007 - in the hugely competitive position of tight-head prop, but easier still to admire him for his life away from rugby.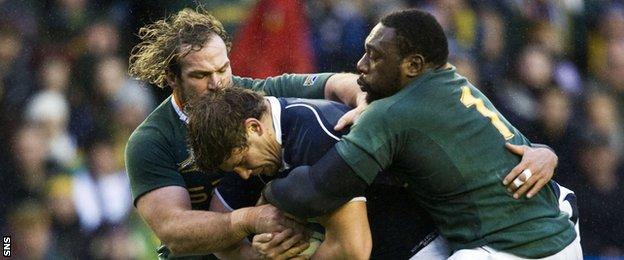 He grew up in the Free State with his mum Jo-Helene, dad Francois and younger brother Bismarck, who will be alongside him in the front row on Saturday.
Jannie played his rugby for the Cheetahs by day and by night he studied to be a doctor.
The twin pursuits were brutally hard. He remembers arriving at training barely able to think, such was his tiredness from his shift work at the local hospital.
He remembers thinking that if only his opponents knew how exhausted he was they might ease up on the physicality.
In 2003 he had a chance to change his life. He received an offer to play professional rugby in Argentina. It was tempting. His dad had been diagnosed with Parkinson's and the money offered was twice what his mum made as a teacher.
He felt he should abandon medicine and take the money and go abroad, sending a chunk of it back home to help the family.
Du Plessis was 21 at the time. He was three years into his studies with another five to go. He asked for his mother's opinion and while she ruminated, he rode a horse around the farm with Bismarck, then went to church and came home to hear Jo-Helene's assessment of the situation.
"She put a letter in my hand and said, 'Listen, you're a big man now and I can't make decisions for you, but this is the money that I have invested in your education and if you stop studying, this is the amount that you will have to pay me back.'"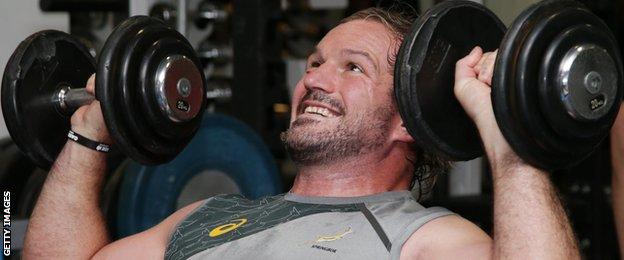 The amount was a multiple of anything he could have hoped to have earned in Argentina. So he stayed and studied and thanked his mother every day for keeping him on the right path.
He qualified as a doctor, moved to Durban to join his brother at the Sharks and at the same time set up an Aids clinic at the military hospital.
If rugby fulfilled him then it was as nothing compared to his work in the field of the stricken. "It gave me the satisfaction that sport could not," he says.
He combined rugby and medicine until three years ago when married life, a young family and the increased demands of his sport meant something had to give.
Du Plessis realised if he carried on with his regime he would have a job, but no wife, so his medical work now consists of short sessions in different hospitals. It's a world he will return to when his rugby is finished.
De Villiers injury 'so unfair'
This will be his last World Cup and he says he feels blessed to be part of it, particularly since he's seen up close how cruel this game can be. At the weekend, South Africa lost their captain, Jean de Villiers, who has now retired.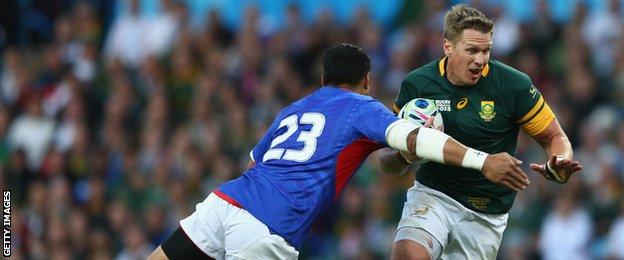 Du Plessis is in the same boat - one bad injury away, perhaps, from his last Springbok Test.
"The sentiment around Jean is that sometimes I don't understand how life works because it feels so unfair," says Du Plessis.
"He's been in World Cup squads four times and he's been injured four times. I feel sorry for Jean. I feel incredibly sad that a guy who has led us with distinction for four years is injured. I wish we can make him proud."
These Springboks have known unprecedented turbulence these past weeks. Du Plessis still wears the scars from Brighton - that storied day when Japan shook up the world and beat his team.
"Sometimes adversity propels you into a new direction," he says. "Adversity re-grounds you and you can use that to be even better than you have ever been. When we played our second game, against Samoa, we played with desperation, we played for our own survival. The guys realised that there was no second chance.
"We said, 'If you're going to tackle then tackle hard, if you're going to run, then run hard, if you're going to maul, then maul hard. But the thing about desperation is that it can tire you out. Desperation is good, but you can't play every game for seven weeks with desperation because, as we say, educated bullets will always beat untutored courage."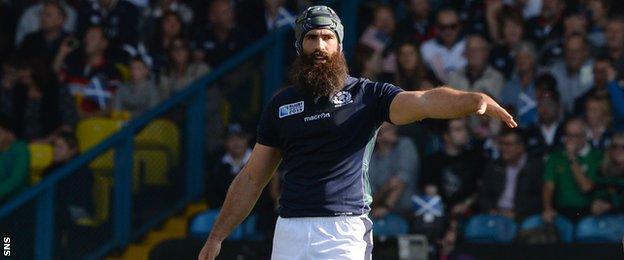 That's his way of saying that you can't live on emotion all the time.
"You play with courage, for sure, but you also have to be educated and use educated bullets as well," he continues. "We might have to call on desperation again, but what we want to do now is do what Scotland have been doing and put up a clinical performance. We have to try to emulate them and be ruthless."
He returns to the subject of the transplanted South Africans in Scotland's ranks.
"They've gone overseas and been successful and that takes a bit of grit," he adds. "People have asked me if I'll give them some verbals on the pitch but I've seen too often that if you talk too soon then your chat can blow up in your face. Anyway, my feeling is that they can chirp better than any of us."
Du Plessis laughs again, then picks up his rucksack and heads for the exit, bound for the train station. His wife arrives into London from South Africa on a late-night flight and he wants to be there to meet her.
"See you Saturday," he signs off. "It should be fun."