England v Australia: David Pocock a campaigner on and off the field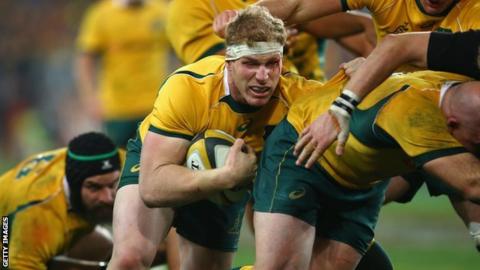 *This article first appeared on 1 October before the England-Australia pool match
How do the English feel about Australian sports stars? Usually it follows what we might call the Hayden-Ponting Curve: peak of playing career, significant antipathy; later career, grudging respect; retirement, actually, they're not a bad bloke, are they?
Which is where Wallabies back-row forward David Pocock bucks the trend, as he does in every aspect of his life.
For Pocock - the thieving jackal of the Aussie pack, a man with forearms like most men's thighs, perhaps the single biggest threat to England's hopes of staying in the World Cup on Saturday - is the Australian sporting hero it's OK to like from the beginning.
The 27-year-old might just be the most interesting man at this World Cup. Environmental activist, gay rights campaigner. Charity advocate, charismatic leader. Sufferer of two horrendous knee injuries, back from both to once again spearhead his country's charge.
This is a man who not only does things on the pitch that other players cannot. He does things off it that most seldom consider.
Last year Pocock was arrested after chaining himself to a digger as part of a protest against the Maules Creek coal mine in New South Wales.
Last season, upset at the homophobic abuse being dished out by a rival player in a Super Rugby match, he complained to the referee and took a wider stand against the issue when the match had finished.
He is patron of the SAVE African Rhino Foundation and co-founder of Eightytwenty Vision, which tries to help disadvantaged rural communities in his native Zimbabwe to become self-sufficient.
It is unfair to portray most other modern-day sporting stars as one-dimensional automatons. Ask only of sport and you will never discover the hinterlands.
It is also true that Pocock is set apart from many of his peers. If former England skipper Steve Borthwick had chained himself to anything it would have been his laptop, the better to study even more video footage of line-out drills.
That is not to decry the character of Borthwick, a dedicated man obsessed by the skills necessary for his role. This is what professional sport generally looks like: a necessary self-obsession, a stripping away of the extraneous.
Yet neither is this easy posturing from Pocock. A committed Christian, he has refused to marry his fiancee Emma until same-sex marriage is given equal footing in Australia.
The mean of spirit might mock his idealism - he keeps nine chickens in his Canberra garden and grows his own fruit and vegetables - yet he is having an effect. His mid-match protest not only ignited a debate about homophobia in Australian society but also saw Jacques Potgieter, the South African forward who made the remarks, help out with training sessions at the Sydney Convicts, a gay rugby team.
"People say that sport and politics shouldn't mix," Pocock has said. "But I think it is important that sports people are interested in stuff outside of sport and talk about it.
"Rightly or wrongly, kids look up to professional athletes. If I can get young kids thinking about those sorts of issues that is a positive thing."
That perspective off the pitch helps him on it. On Thursday, under what could have been antipodean blue skies in central London, he was a study in calm amid the hype around a game that probably justifies it.
Physically the man nicknamed Bam Bam is built for battle. South African lock Eben Etzebeth has arms so big he has to have his own supersized 75kg dumbbells custom-made - but Pocock is not far off the bespoke end of the strength scale either.
Mentally his formative experiences - not least being forced to flee the family farm in Zimbabwe aged 12 as the country fell into lawlessness under Robert Mugabe - have given him the perspective to differentiate between conflicts of the sporting kind and those that matter more.
"My family, being white farmers, were the victims in some ways," he has said. "But we were incredibly privileged to be able to move to Australia and start a new life. That wasn't the case for millions of people."
On Saturday, the Aussie immigrant kid will look to pay his adopted nation back once again.
In the long years he was out injured his preferred place at open-side flanker was filled with alacrity by Michael Hooper. The solution of head coach Michael Cheika, now he has two world-class open-side flankers available? Pick them both - one at seven, one at eight.
It shouldn't work. In footballing terms it is playing Frank Lampard and Steven Gerrard together in central midfield. Both men play the same type of game: muscular pickpockets at the breakdown, wrecking-balls aimed at the opposing foundations. Both want to be in the same place at the same time.
But work it has. The combination outplayed their vaunted All Blacks counterparts to win the Rugby Championship in Sydney a few months ago. Against Fiji last week, the pair made 41 tackles. Pocock made five turnovers alone.
The pairing not only taps into that latent fear in English team sport of being confounded by overseas tactical innovation ("They're doing WHAT?"), in its portmanteau of 'Pooper' it threatens to wreck the English party.
"The two lads have played too well together so far for me not to select them," says the affable Cheika. "The two games they've played together, they haven't just played well individually, they've combined well together, and that's the important part - being able to pick players that complement each other, both in character and playing."
Such is the expectation around Saturday night at Twickenham - a defeat would confer on England the unwanted distinction of being the first Rugby World Cup hosts to go out of their own tournament before the knock-out stages - that every little augury is being picked over.
England are looking for inspiration from the past: the 26-17 win over Cheika's side last November, featuring a pair of tries from Pocock's opposite number Ben Morgan, and the even more stirring victory in that horribly tense World Cup quarter-final in Marseille eight years ago.
Australia might do the same: when they last beat England at Twickenham, in the autumn of 2012, not only was the same opposition front row in place - Joe Marler, Tom Youngs and Dan Cole - but so was the referee, Romain Poite.
Pocock was present at neither. This is less about the old narratives than a new man doing new things. Ahead of the game, ahead of the curve.