Rugby World Cup 2015: Scott Williams eyes end of season return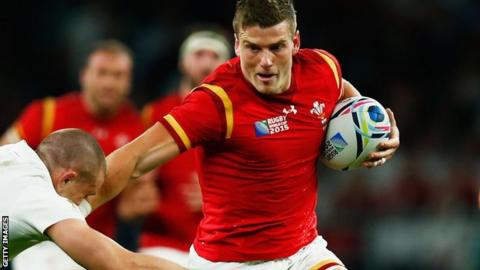 Wales centre Scott Williams hopes to return from his World Cup-ending knee injury before the end of the season.
The Scarlet, 24, damaged his anterior cruciate ligament in the 28-25 win against England and will miss the 2016 Six Nations.
But he could be a part of Wales' three-Test tour of New Zealand next June.
"Hopefully I'll maybe get a couple of games in at the end of the season and then hopefully make the summer tour," Williams told BBC Wales Sport.
"For now it looks like I'll be out for roughly six months.
"It's tough but it's part of the job really. Everyone has injuries with the game being so physical and everyone being so big."
'I knew there was something wrong'
Williams had impressed for Wales with a strong display of powerful midfield running against England.
But as he planted his foot to throw a simple pass after 62 minutes, disaster struck.
"I felt something snap in my knee and a sharp pain," said Williams, who was taken off on a stretcher.
"After a couple of minutes there was no pain at all so I was hoping it was alright and I had just jarred my knee.
"But 20 minutes after the final whistle it just swelled up and I knew there was something wrong."
Having scored the winning try in their 2012 Six Nations encounter, Williams had already tasted victory at Twickenham.
And despite the anguish of his injury, the 34-cap centre ranked the World Cup win higher than his Triple Crown-clinching exploits of 2012.
"It was an even bigger occasion, with England being at their home World Cup and there was so much pressure on them and us," he said.
"It was probably one of the biggest wins of my career and I was gutted not to be on the field when the final whistle went, but I was still proud to be a part of such a great victory."
'Everyone was singing but I was in the other room'
Wales, who have beaten Uruguay, England and Fiji, are in the the quarter-finals after hosts England were beaten by Australia.
For Williams, however, the celebrations at Twickenham were tempered by his injury.
"I managed to walk out to watch the end of the game and then came in with the boys," he added.
"Everyone was singing and dancing but I was in the other room on the physio table.
"At the time I was just devastated. I kind of knew it was over for me but I just tried to look at the positives and tried to celebrate with the boys."