Rugby World Cup: Wales 'spent' after Fiji win - Sam Warburton
Last updated on .From the section Welsh Rugby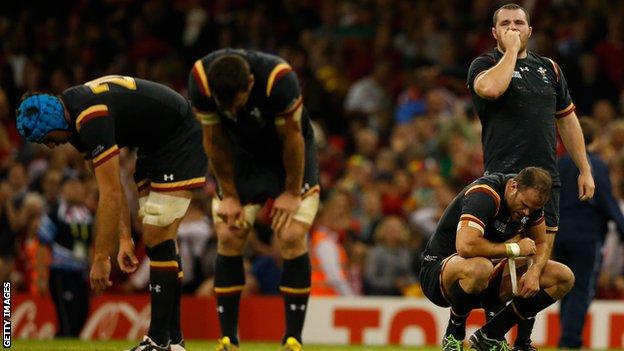 Wales captain Sam Warburton said the 23-13 World Cup win over Fiji was one of the hardest games of his career.
The victory in Cardiff put Wales top of Group A and means they will reach the quarter-finals if England lose to Australia on Saturday.
Scrum-half Gareth Davies and hooker Scott Baldwin scored tries, with fly-half Dan Biggar adding 13 points.
"The boys are absolutely spent," said Warburton. "You would have thought we'd lost if you looked at the guys now."
Wales led 17-6 at half-time at the Millennium Stadium, but Fiji came on strong in the second half, with Niki Goneva crossing.
The Pacific Islanders put Wales - who had a five-day turnaround after beating England last Saturday - under intense pressure.
"That was one of the toughest Test matches I've ever played - including sides like New Zealand, South Africa, England, Australia, France," said Warburton.
"It was completely different to after the England game. After that we were delighted, the boys were absolutely bouncing and it was probably one of the best changing rooms I've been in.
"This one was just... I wouldn't say relief but the boys are so tired, that five-day turnaround was extremely tough."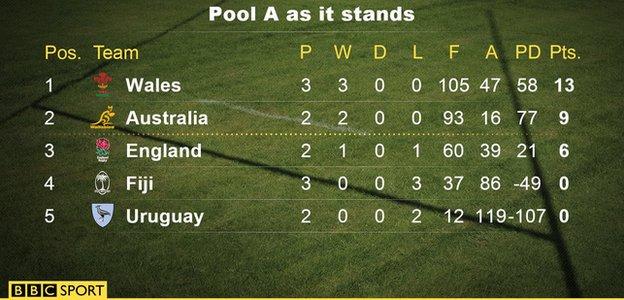 Warburton said Wales were "delighted" to make it three wins out of three but admitted there were "sore bodies" in the changing room.
He added: "I really feel for the tier-three nations who have to have short turnarounds and play, because we found that extremely tough."
Wales did not manage to score the four tries they needed to claim a bonus point, but Warburton said the most important thing was following up victories over England and Uruguay with another win.
"In the week's prep going into this game we didn't talk about getting a bonus point," Warburton said.
"I think it would be a little bit disrespectful to Fiji to do that because they were so good. Australia didn't manage to get a bonus point against them."
With just over 10 minutes to go, Warburton spurned the chance to press for another try when he opted for a kick at goal to secure three more points.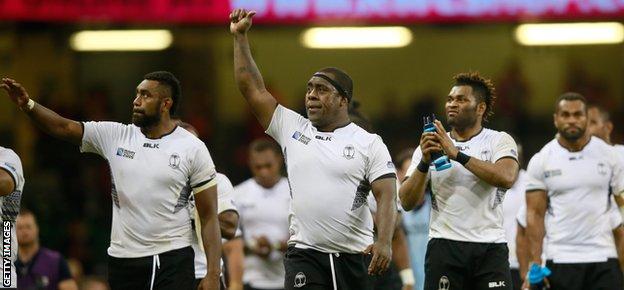 He said: "Some of the boys looked to the corner, but I think it was so important just to get the three points over the sticks and get that 10-point cushion, and make sure we won the game.
"Say we went for the corner, didn't quite get a try and they were attacking like they were at the end. That would have been a terrifying moment to try and defend our line and prevent a draw.
"The most important thing was the win... I'm so delighted we got four points and we're sitting top of the table."