Rugby World Cup 2015: Scotland battered, bruised, but not out

By Tom English
BBC Scotland at the Rugby World Cup
Last updated on .From the section Scottish Rugby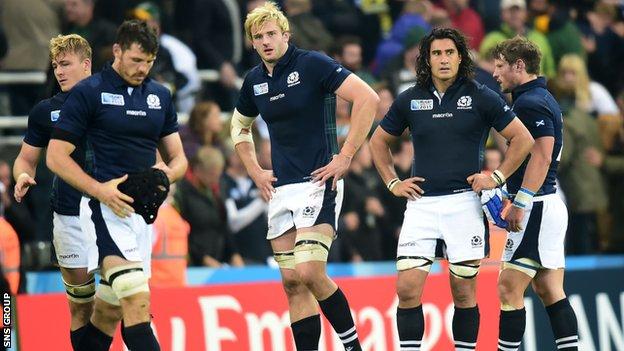 Scotland's inner-circle could scarcely have been more funereal had they held their post-match conference in the Edinburgh Dungeons, their demeanour about as dark as the faded light above St James' Park.
In the midst of the post-mortem after the 34-16 loss to South Africa, a 15-minute bemoaning of their inability to get physical parity and front-foot ball, Vern Cotter - of all people - found the time to crack a joke.
The Scotland coach was asked about his side's next focus - the must-win game next Saturday against a Samoan team that cannot now qualify for the quarter-finals.
Cotter said that he might get his management team to send some crates of beer to the Samoan hotel in an effort to get them relaxed and disinterested ahead of the weekend denouement.
He remained deadpan, of course. A gag is one thing, but a smile is a step too far when it comes to Stern Vern.
The mighty Boks
This game was what we thought it would be - an exhibition of Springbok power, an illustration that the South African intensity is now at fever pitch following their tumultuous loss to Japan.
The Boks are not pretty, they don't play cosmic rugby, they don't often carve open defences with their pace and their footwork and their footballing nous.
Maybe they can and maybe they will, but right now, and since the misery of Brighton, they have gone back to basics.
Their way of winning a Test match is through a line-out that is precision personified and a brute force that is hard to contain.
If they don't dominate with their physicality, they just throw in more physicality. If that doesn't work, they throw in some more.
They are direct and brutal and unyielding. And, in Newcastle, they were way too powerful for Scotland.
Ponderous Scotland left pondering
Scottish dejection was rooted in another woundingly slow start. That's three games in a row at this World Cup that they have begun poorly.
They knew about the risks this time. They knew that a repeat of whatever ailed them in the opening 40 minutes against Japan and United States would not, for a third time, end with a victory and tries and a bonus point.
The Springboks haven't been at their best lately, but they don't have much of a reputation for compassion for teams who take a while to get motoring.
Scotland needed to do an array of things to overturn massive odds. They needed to come out of the blocks quickly but didn't. They needed to eat into the Springbok line-out and limit the destruction they cause with their line-out maul, but they didn't do that either.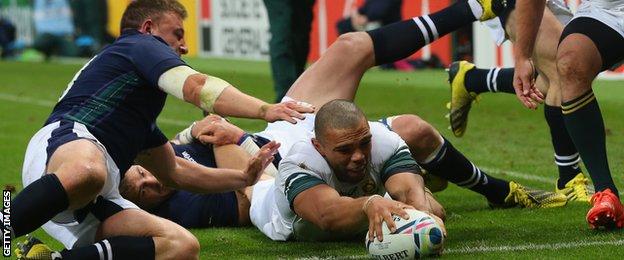 They needed to front-up physically in the collision areas, but they were second-best there too.
They turned around with a 17-point deficit. Teams have been able to play catch-up against these Springboks in recent months - Australia, New Zealand, Japan - but, bar a flicker of hope early in the second half, Scotland rarely looked capable of joining the list.
They roused themselves in that second half, it's true. Ten unanswered points dropped from the heavens when nobody was expecting them.
The gap went from 17 to seven, back to 10 and then down to seven again. On the face of it, it was a contest. But it was savagely hard work.
Feisty forwards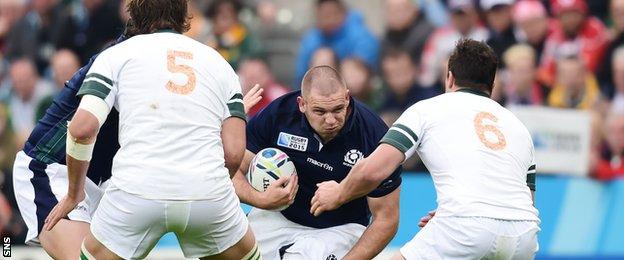 In the vanguard of the resistance, Blair Cowan stood tall. He made 20 tackles, covered a massive amount of ground and rendered laughable the decision to omit him from the original 31-man squad.
In front of him, the Gray brothers put in monstrous shifts. Richie Gray made 21 tackles. Nobody made more. David Denton had 14 carries. Nobody carried more than the number eight. Gordon Reid tackled himself to a standstill. They all did.
The effort required to make it a seven-point game in the wake of Duncan Weir's epic break and the link-play between Tim Visser and Tommy Seymour was immense.
In that moment, when Seymour went over, you wondered if something remarkable was about to happen. Cotter wondered too. He admitted it later.
"The hope was that, if we stayed close for long enough, they would get unsettled," said Cotter. "We needed to get our hands on the ball, apply some pressure and do the simple things well."
They couldn't do it. The restart after Seymour's try was a mess, then came Greig Laidlaw's yellow card and, later still, the line-out started to shake anew and the penalties came on the back of it.
Having half-scaled a mountain, Scotland then proceeded to hurl themselves from the cliff face and straight to the bottom of the climb.
They tried to go again, but the Springboks wouldn't allow them. Handre Pollard stretched the gap back to 10 points, then 13, then Bryan Habana made it 18.
Too much power, too many waves.
Scotland were downcast, but they will look at the world with different eyes in the days to come.
They are an improving side, no question. Their threat - though not all that evident against the Boks - has increased.
Their discipline has seen a huge improvement. Where in recent Six Nations championships this team was a penalty machine, now they have gone three straight games with a penalty count in single figures. Scotland have not posted those kind of numbers for the longest time.
After the big one, the big one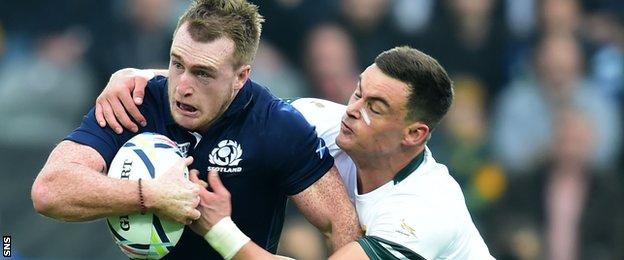 They have character and, at full strength, enough class to take care of Samoa and enough threat to give any of their likely opponents a problem in the quarter-finals.
The hope is that Cotter will be picking from a full deck by then. Finn Russell and John Hardie were both unavailable against South Africa and Stuart Hogg went off midway through the second half.
The medics have a busy few days ahead. It was ever thus.
At the end, you had to admire the intensity of the Springboks while at the same time sparing a thought for the spread-eagled Scots.
It was a rough day, but not a knockout day. The big one has yet to come.