Lome Fa'atau says Samoa v Scotland is his country's final
By Jamie Lyall
BBC Scotland
Last updated on .From the section Scottish Rugby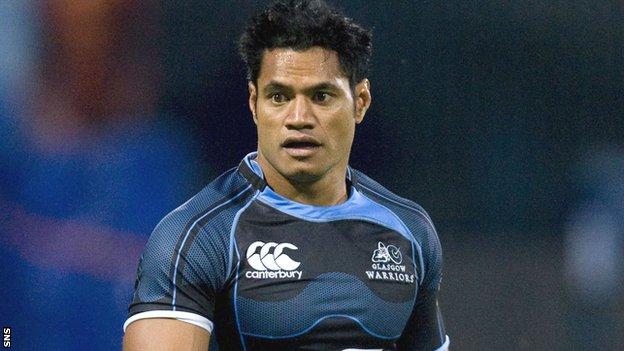 Rugby World Cup Pool B: Samoa v Scotland
Date:
Saturday, 10 October
Venue:
St James' Park, Newcastle
Kick-off:
14:30 BST
Coverage:
Listen on BBC Radio Scotland & 5 live; live text commentary on BBC Sport website
As 19-year-old Lome Fa'atau lay prone in the living room of his parents' Wellington domicile, and the first foreboding tap of the tattooist's primal-looking instrument broke his skin, he wondered what on earth he had got himself into.
Nine days of intense inking beckoned, the pain rising and falling in waves, mercifully numbing his legs then cresting in bouts of indescribable, unrelenting agony lasting for hours at a time.
This was Fa'atau's pe'a - the ancient Samoan man's rite of passage, an intricate, indelible mark of bravery and identity flowing in deep black arcs from his sharply-defined lower abdomen to his kneecaps.
"Hammer and chisel is probably the best description for it," he chuckles.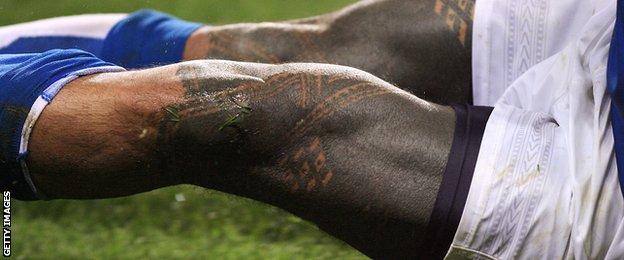 The teenager was born and raised by Samoan parents in New Zealand's capital, always retaining fiercely strong bonds with his Pacific heritage.
Knowing the Island passion that simmered irrepressibly in his heart, and the shame failure to complete the pe'a process would bring to his family, Fa'atau broached the subject with his parents.
"For them to hear me say this was what I wanted, they were both proud and worried," he recalls.
"They've seen so many people go through it, and unfortunately so many are not able to complete it.
"There are a lot of family heartbreaks when someone of the family is not able to complete the tattoo.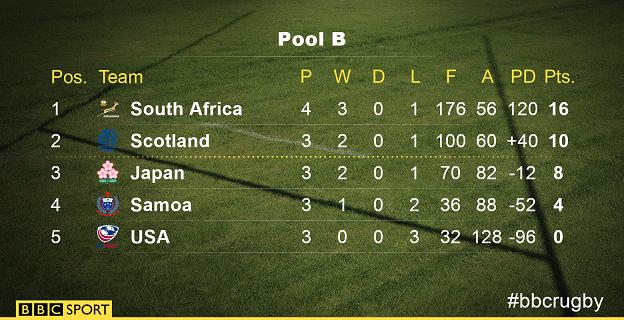 "I just really fell in love with the tattoo itself and what it stood for - pride in your culture, who you stand for, the storyline about your family and where they've come from.
"It was easy for me to tell people that I was Samoan but it was a lot more different when people actually saw the tattoo."
With family and friends at their side, Fa'atau and his father underwent the tattooing together, bringing revered Samoan artists to Wellington, and taking it in turns to face the "hammer and chisel".
"It was a ceremonial kind of support from family and friends who would come in through the days to show their support and watch you lie there as a canvass," he says.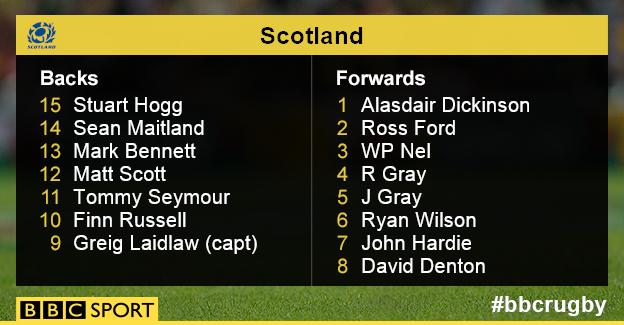 "And for the tattooist to express his patterns and art motifs on you, while you are being supported and celebrated with family members around you."
That was some 20 years ago now, and today, Fa'atau is able to reflect with pride upon not just his surmounting the pe'a, but a stellar rugby career that saw him play with and against the world's best, and yielded 35 Samoa caps.
A winger of iron constitution and searing pace, his distinctive piston-like legs propelled him to a regular berth in a Hurricanes (Wellington's Super Rugby franchise) backline featuring All Blacks stalwarts Tana Umaga, Ma'a Nonu and Conrad Smith, as well as the phenomenon that was Jonah Lomu.
Those were treasured days, no doubt, but there's a degree of trepidation in Fa'atau's tone when conversation turns to the tribulations of Samoan rugby.
He's something of an anomaly in that regard, born and raised in New Zealand but representing the Islanders, when so many others tread the opposing path to the All Blacks.
For some time now, dispute and anger has raged over the perceived exploitation and unfair treatment of Pacific Island teams by rugby's wealthier nations and authorities.
Behemoth winger Alesana Tuilagi's five-week ban for "leading with the knee" against Japan this week poured fresh salt on old wounds.
"It's pretty much getting more ridiculous with the citings that are going on," Fa'atau says.
"I don't want to jump on the Pacific Island bandwagon of getting picked on, but it seems to be heading that way. It's almost like there's not a lot you can do on the pitch.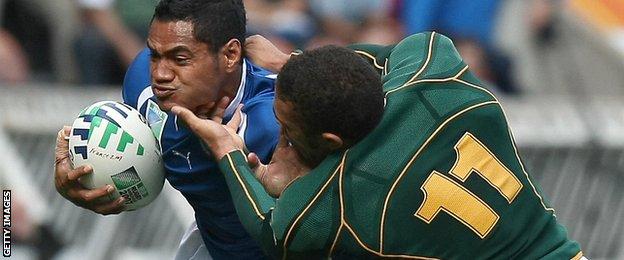 "I don't think it's entirely a Pacific Island kind of thing; I think it's more about the colour of jersey you wear. There are plenty of Pacific Islanders in the All Blacks and Australians and they tend to get by fine.
"But I think it's tough when you have that kind of stigma on you as a Pacific Island team. At the same time we've just got to be aware of that tag that is stuck to us, that we need to be more disciplined when we're on the pitch.
"I don't think it's a stigma we're going to be able to remove for quite some time. In some cases that's something we take with us onto the pitch and sometimes we make it a lot harder for ourselves, especially when we play tier one teams."
Warriors sign a warrior
Fa'atau's Test career spanned seven years and two World Cups, his last cap coming in the 2007 showpiece.
He then moved north, swapping Wellington for Glasgow and two seasons with the Warriors, a team several years of growth and enhancement short of the Pro12-conquering 2015 vintage.
"Although a lot of Scotland reminds me of New Zealand, greenery, mountains and countryside, the one thing that really got me was the accent," he laughs.
"I've seen Glasgow massively change since I've left. It's great to see the likes of Peter Horne and Rory Hughes who were just coming through while I was there, seeing where they are now.
"They've been knocking on the door with the Pro12 for some time; they've played a lot of good rugby and to see them standing at the top holding that trophy has been really good.
"They deserve it."
Back in the present, this World Cup has proved a chastening anti-climax for a Samoan team boasting no shortage of talent. A thunderous defeat to South Africa and a 21-point loss to Japan swiftly curtailed their quarter-final aspirations.
Saturday's clash with Scotland in Newcastle was eyed pre-tournament as a winner-takes-all battle for second place in Pool B - and so it remains for Scotland - now, it is a matter of dignity for the Islanders.
Playing for pride
"Samoan people are very proud, family-oriented people," Fa'atau says. "They're churchgoers, but we have a love for sport.
"It doesn't matter what tool or equipment you might have out there, a tennis ball or whatever, you pick it up and start playing rugby with it.
"This is Samoa's final."
Fa'atau works on Tyneside as a personal trainer, but he won't be at St James' Park this weekend - he's otherwise occupied coaching North Shields side Percy Park on league duty against Dinnington.
For all the recent Samoan failings, however, a man whose warm nature and fierce dedication to his culture took the toughest of forms would predict only one result.
"I'm going to have to go with Samoa!"