Rugby World Cup: Samoa is Scots' biggest game since 2011

By Tom English
BBC Scotland
Last updated on .From the section Scottish Rugby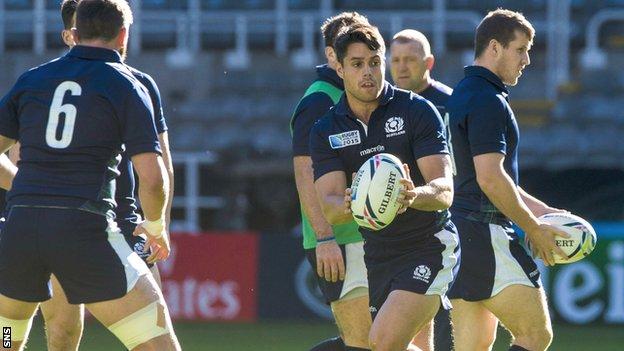 Rugby World Cup Pool B: Samoa v Scotland
Date:
Saturday, 10 October
Venue:
St James' Park, Newcastle
Kick-off:
14:30 BST
Coverage:
Listen on BBC Radio Scotland & 5 live; live text commentary on BBC Sport website
Four years have passed, but in the mind's eye the scenes are as vivid now as they were then, on that grim night in Wellington, New Zealand in September 2011 when Scotland imploded against Argentina and edged themselves towards the exit in the World Cup.
One by one, the stricken Scots spoke of the devastation of losing to a sucker-punch try from the Pumas. Richie Gray called it the worst moment of his career. Chris Paterson said the feeling was "hellish". Max Evans looked into the distance and said he was still in shock. He wondered when he was going to "wake up from this nightmare".
The loss to Argentina meant that Scotland had to beat England in their final pool game, which they failed to do. Their early exit from the World Cup was a cataclysm, the memory of it still burned into the psyche of the six men who were then and who are still here now - Gray, Ross Ford, Alasdair Dickinson, Alasdair Strokosch, Richie Vernon and Sean Lamont.
Another - Nathan Hines - has since swapped his playing kit for a coaching tracksuit and remembers what it was like when the axe came down on Scotland with those defeats to Argentina and England. The latter was his last Test and he broke down in tears in the aftermath. A colossus reduced to rubble in front of our eyes.
History can't repeat itself...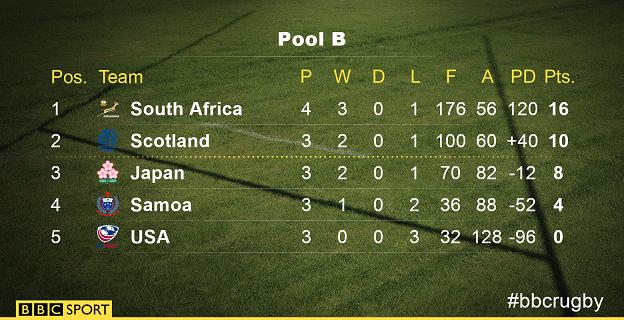 The years since 2011 have not been kind to Scotland. In competitive Tests (four Six Nations championships) their record is so abysmal it makes you wince.
They have three wins from 20 matches and three Wooden Spoons in four years. They've also had three coaches - Andy Robinson, Scott Johnson and now Vern Cotter. The fact that a vast army of supporters continued to follow the team through the thick and thicker years was an illustration of the fans' loyalty and desperation.
Lord knows what would happen if Scotland were ever to threaten at the top end of a championship rather than scrapping for survival at the bottom.
The supporters are here again in force, bringing their colour and their noise to Gloucester, Leeds and Newcastle, the three venues where Scotland have played their pool games. The support has been immense and the optimism at its highest point in years.
You can see why. There is an elan to some of what Scotland do, a thrill that comes with seeing a young and fearless backline coming together. Wins have been scarce, but tries flow easier now. Scotland can break down defences with a rapier and a bludgeon. The bottom line in the Six Nations tells you a different story, but this team is moving forward. There is a feeling that once they mature then something good is going to happen.
But can it happen now?
Scotland have reached the point of no return. Their denouement is upon them. To avoid the same fate as Wellington 2011, Scotland must beat Samoa on Saturday.
Things are in their favour. Samoa have been a major disappointment and can't make the quarter-finals. Their discipline has been wretched, their defence leaky, their spirit questionable after their pummelling by Japan last weekend.
They have fallen eight places in the world rankings in three years - from 7th to 15th. Samoan greats of the past have lined up to give the decision-makers in Samoan rugby a fair old kicking.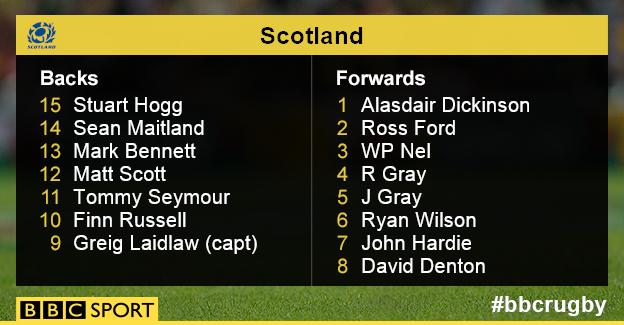 There is always the danger of a reaction from them, of course. Always a threat that in adversity they may find something that could salvage something from their World Cup.
Scotland have to cut out that Samoan hope at source. If they are to deny Samoa a reason to believe - as Japan did so clinically - then the Scots need to get over the first-half syndrome that has dogged them these past weeks. They toiled for 40 minutes against Japan, toiled again for 40 against America and were blown away in the opening half against the Springboks.
It looks like Scotland are going in with a clean bill of health. Ford and Matt Scott still have to pass the final protocols after their head knocks against South Africa, but they are in the team and Cotter is pretty confident that they will stay there.
No excuses
John Hardie is back on the openside having passed his own concussion protocols. Finn Russell returns to the fold after damaging his ankle against the USA. Short of the injured Grant Gilchrist in the second-row, Scotland are at full strength. They have no excuses and are not looking for any.
They know this is their biggest game in four years. None of them are hiding from that fact.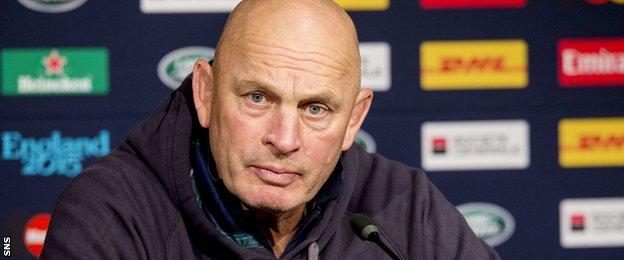 "We're extremely motivated," said Greig Laidlaw, Scotland's captain. "We're desperate to win this match as we want to be in the World Cup quarter-finals. We have worked very hard to come from where we were to get to where we are at the moment. Now we need one more push this weekend.
"We need to put the fact we are regarded as favourites to win the match to one side and just look at Samoa. I still think they are a dangerous team. Maybe the fact they have nothing to play for will make them slightly loose this weekend but if we defend properly we feel there will be opportunities for us to attack.
"They have dangerous individuals and we will be on guard to make sure we cover up. We'll give all the respect to Samoa, but I feel if we get our part right we will put ourselves in the best position to win."
Discipline a key
If you're a Scotland player with a penchant for giving away penalties then the chances are that you're not going to survive long around Cotter.
The improvement in Scotland's discipline has been stark given how they were a collective penalty machine not that long ago. Scotland have conceded just nine in each of their three games so far. Samoa, on the other hand, conceded 19 against Japan alone - and 39 in the pool.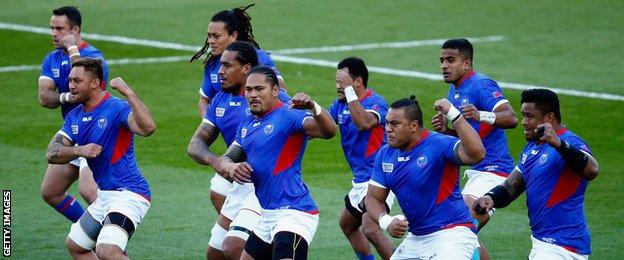 The 19 against Japan included three from their loosehead prop, Sakaria Taulafo on top of the three he conceded against South Africa. Taulafo will go up against WP Nel on Saturday. Nel has enough scrummaging power to add to his opponent's tally, no doubt about it.
Samoa got three yellow cards against Japan, an overdue clamping down on some of the things they get up to. As a nation they have been hard done by. They have been treated shabbily by World Rugby in a manner of different areas, but for too long a blind eye has been turned to some of the reckless things they do on a rugby field.
More than any nation, Samoa use the no-arms tackle, the shoulder barge that is not just banned but dangerous and a blight on the game. They will be without Alesana Tuilagi against Scotland after his five-week ban for leading with the knee in a collision with Japan's Harumichi Tatekawa last Saturday.
Tuilagi has been supported by any number of players from any number of countries who see his sanction as excessive. Many argue that he deserved no punishment at all. For all the admiration of Tuilagi as a man and as a player, a ban was warranted. Whether it warranted five weeks is debatable.
The difficulty comes with the inconsistency of it all, when other players, playing for bigger nations, are not met with the same punishment when they commit the same offence. This is what feeds Samoa's sense of injustice, their attitude that the world is against them. Scotland will hope that their frustration manifests itself in pity rather than defiance.
On Saturday it won't be the world they face, just dear old Scotland, a nation trying to deal with its own problems, its own ghosts from 2011.
When asked if this was the defining moment as a coach, Cotter gave his usual deadpan response. "I'm sure you can make a story out of it if you want to," he said. "But it's not about me."
It's about all of them.