John Hardie overcoming doubters ahead of Samoa v Scotland

By Tom English
BBC Scotland
Last updated on .From the section Scottish Rugby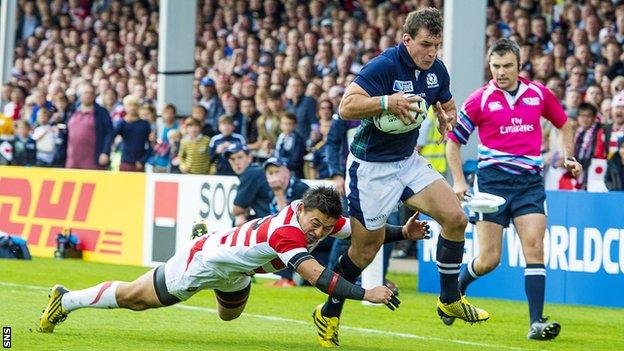 Rugby World Cup Pool B: Samoa v Scotland
Date:
Saturday, 10 October
Venue:
St James' Park, Newcastle
Kick-off:
14:30 BST
Coverage:
Listen on BBC Radio Scotland & 5 live; live text commentary on BBC Sport website
The hamlet of Dipton - population in the hundreds - lies 60km north of Invercargill on New Zealand's south island.
It's the tiniest dot on the landscape. Farming country straddled by the Oreti River and the Taringatura Hills - at least that's what we're told.
You could look at a map all day and you'd struggle to find Dipton, the hometown of Scotland's transplanted Kiwi, John Hardie. But this is where he hails from, this is where he was schooled and this is where he was discovered.
Teachers have their stories to tell about Hardie. Peter Skelt recalls seeing him play as a 12-year-old boy "carving" everybody up. "I remember thinking, 'This is a wee guy with a lot of ability'," said Skelt.
Richie Crean is principal of Dipton school - roll call of about 60 kids - and he spoke recently about a fundraising event that Hardie contributed to.
Crean needed money to hire an extra teacher and reached out to Hardie, who had by then left New Zealand to pursue a new life in the country of his grandmother's birth.
They hatched a plan that Hardie would be interviewed on Skype by the kids at the school about his life in rugby with the Southland Stags in Invercargill, the Highlanders in Otago and his early experiences in Scotland and that the interview would be played at a fundraising night.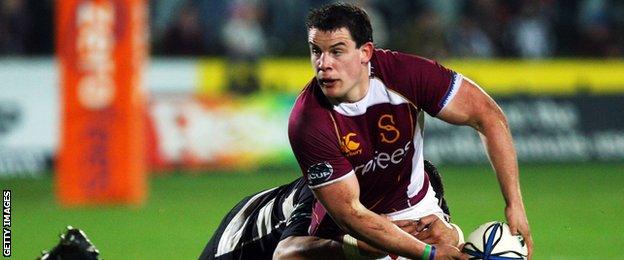 The session went well and now Crean calls Hardie a local hero. "Scotland would be the number two team as far as Dipton is concerned," he said. "Everybody is following John at the World Cup."
From uncapped to automatic pick
Hardie's previous life is worth exploring because the open-side flanker has, in very quick order, become an important player in this Scotland team.
Those who were uncertain about him before are beginning to be won over. Those who were affronted at him being parachuted in from Otago without spending so much as a wet day in Scotland have had their discomfort eased by his performances.
He has just three caps and yet he is an automatic pick, championed by head coach Vern Cotter who has lauded him - as much as Cotter lauds anybody - for his work-rate, defence and ability to get to the wide channels to create.
For the player, it's been a whirlwind. "It's been pretty full-on," he said on Thursday, when returning to the Scotland team, to play Samoa, after missing their previous two games with concussion.
"I'm learning all about my family tree now. My grandmother went over to New Zealand in 1925 on a ship and I've seen her name and her signature on the shipping list.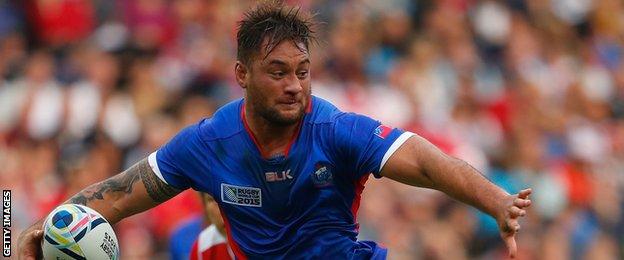 "We looked up all that sort of stuff and it was really cool to see where she came from. I want to print it out and show my mum and dad because they're over here. They arrived three days before the first game. The Japan game was awesome for them."
Mum and dad are Russell and Helen, farmers from Dipton who, no doubt, dreamed of seeing their boy play for the All Blacks but who are now committed members of Scotland's travelling entourage. When Hardie is asked how long his parents are intending to stay he says they'll be here until Scotland are out.
That could be Saturday, of course, if Samoa beat them. This is the biggest game of Hardie's life.
Injury set-back
Japan was his third cap - after World Cup warm-up appearances against Italy in Turin and France in Paris - and it brought his first try, his first try assist, a huge tackle count and a display of high class. It also brought a bang on the head late in the day, a bang that required him to pass the tests before being cleared to play.
It took him a while, but he's passed them now. "It's been two weeks but it feels like a couple of months," he explained.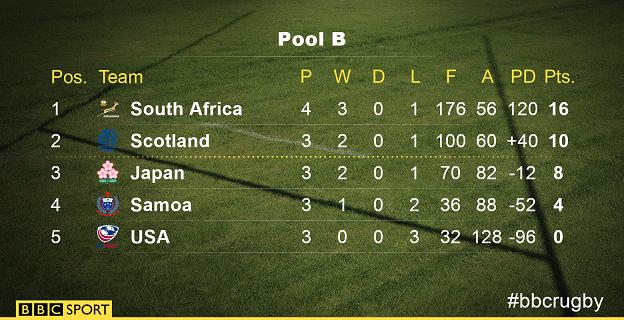 "It's been frustrating, but the doctor [James Robson] has been really good with me. It wasn't really a bad head knock, it was just a test that I failed a couple of times. To be honest, I might not have passed it even if I hadn't had a bang."
The test? "Crossword," said Cotter, in one of his rare moments of jollity. Not that anybody was making light of what is an increasingly serious business. Far from it.
"I've a couple of mates who have had head knocks and they've been really bad, so I treated it with a lot of respect," said Hardie. "Ben Afeaki [former prop with the Chiefs] had to retire because of concussion. You only get one head."
Hardie is not a physically imposing character - 6 ft and 16 st 3 lbs is on the small side by today's monstrous standards - but he's explosive and clever and works like a trooper.
He's young in terms of caps but experienced in other ways. He's 27 and has played 53 times for the Highlanders in Super Rugby, his last season in New Zealand dogged by injuries that kept him out of the glorious run-in to the title.
"I came over [to Scotland] and people said it was a big risk," he said. "But I didn't think it was a risk, I thought it was an opportunity. I knew it was going to be tough and I knew I had to work really hard to prove myself. I was out of my comfort zone.
"I'd been with the Highlanders for seven years and I was in my comfort zone. Coming over to Scotland really brought the best out of me as a person and I think it's helped my rugby as well."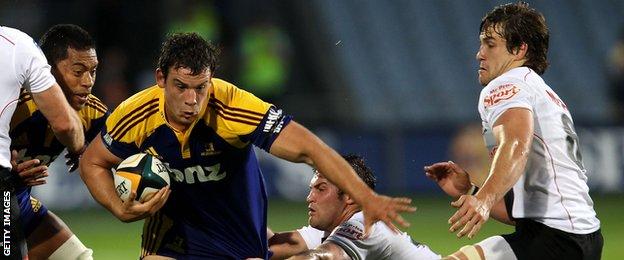 Cotter has always maintained that Hardie wasn't on a promise when he bailed out of Otago and took his chances in Scotland. The head coach said that he never guaranteed the player anything, but from early on it looked like all Hardie had to do was to stand up straight in order to make the cut for Cotter's squad.
The way Cotter spoke about him was bordering on the effusive. Cotter met talk of John Barclay's credentials with a stare while responding to mention of his rival for the number seven jersey, Hardie, with detailed comments about his quality. You could read the tealeaves long before the 31-man squad was finally announced.
'We know what's coming'
It's early days, but Cotter's faith looks well placed. Samoa, though, will be the ultimate test of it.
"I think Samoa have got some really exciting players," added Hardie. "They can play from anywhere, they can offload, they're big boys and can hit. They can run over you, they can do anything.
"We're going to have to stick to what we know best and be really structured. We all know the threats, we know what's coming.
"They've got a really aggressive mindset when they defend. All I know is that they hit hard and they're really passionate.
"I'm just really looking forward to it. When I missed the games against America and South Africa I saw things with a different perspective and I realised how lucky I was when I was playing against Japan. I really want to get back out there."
Those who know him best say that Hardie relishes the pressure of battle. It's just as well for that's exactly what's coming his way.