Rugby World Cup 2015: Scot's Al Dickinson unfazed by Australia

By Tom English
BBC Scotland
Last updated on .From the section Scottish Rugby
Alasdair Dickinson didn't bat an eyelid when he was told of the early doomsday predictions for Scotland's World Cup quarter-final against Australia on Sunday.
The loose-head prop was talking in Newcastle just before heading south for Surrey and that meeting with the Wallabies at Twickenham.
And he was unmoved by the soothsayer in the morning paper who predicted that Scotland would go down in flames to the Wallabies to the tune of 20 points.
"It doesn't bother me," he said. "If you look at it, who would think we have a chance?
"That's just the way it is. I wouldn't say anybody is going to say that Scotland are going to win.
"You might get the odd one putting a tenner on us, chancing his arm. Or, if he's Scottish, it wouldn't be a tenner, it would be 50p.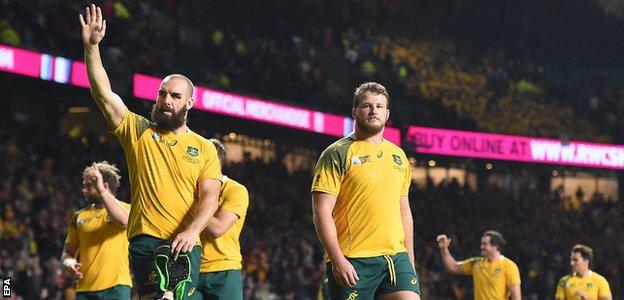 "Australia are the form team so far. Definitely. They were outstanding against England and showed how clinical they can be in that Wales match.
"They've only conceded one try, so it will be difficult. It seems like they've built a brick wall across their line.
"There's no doubt we're going to be massive underdogs, but we can take confidence from that fact we've got out of a pretty tough group to reach the quarter-finals.
"We've nothing to lose. I don't think anybody expects Scotland to win this match."
Scotland face second favourites
Certainly, the bookmakers don't give the Scots a prayer, placing them at odds of 8-1 to turn over Michael Cheika's Wallabies.
Australia are second-favourites, behind holders New Zealand, to win the World Cup outright.
Of the eight nations left standing, Scotland are by a million miles the least fancied. If you have money to burn, you can have 150-1 on them winning the Webb Ellis.
"If we put in a performance like we know we can then we have a real chance," said the prop. "I'm pretty sure that most of the Australian media will be talking about the semi-final already, but for us, this is our final."
For Dickinson, this is all blessed relief given his past experiences in the World Cup. He made his international debut in the 2007 tournament in a 40-0 hammering at the hands of the All Blacks at Murrayfield.
His second World Cup was in New Zealand four years later, a tournament of undiluted misery for Scotland. Vern Cotter's team are in a better place now than Andy Robinson's team were then, of course.
They have masses of things to work on - the consistently sluggish way they are starting games, their terribly lax defence in the first half against Samoa, their troubles at restarts - but at least they are still alive.
Not that long ago, Scotland wouldn't have been able to dig themselves out of the hole they plunged themselves into against Samoa. In terms of mental strength, they have made strides.
"Some little things let us down in the Samoa game," suggested Dickinson. "Our restart receptions were probably the main thing.

"We would do well to get up the park and score some points and then hand the ball back right away and put ourselves under pressure again.
"A lot of people were quite surprised by how close the game was, but Samoa are a world-class team. They have some unbelievable athletes.
"Just the sheer size of them is impressive. So, when you give them a lot of momentum, they're hard to stop. We need to look at making sure we don't give away easy possession from restarts.
"It was quite a nervous game at the weekend. It was a must-win game. You could see that Samoa had nothing to lose.
"They were chucking the ball around and throwing off-loads left, right and centre. It was one of those games where everything stuck for them.
"There was a lot of pressure on us, but I thought we coped with it well enough."
Party goers at wrong party
Scotland are now entering a whole new dimension. Australia have a devastating attack, a devastating defence and an ability to embarrass Scotland if the Scots aren't pin-sharp in almost everything they do, which has not been the case in any of their games so far.
"We need to improve our defence because we know how potent Australia will be in attack," said Dickinson. "What used to be their weakness was their set-piece, but you can't say that anymore after watching what their scrum did against England. It's up there with the best in the world.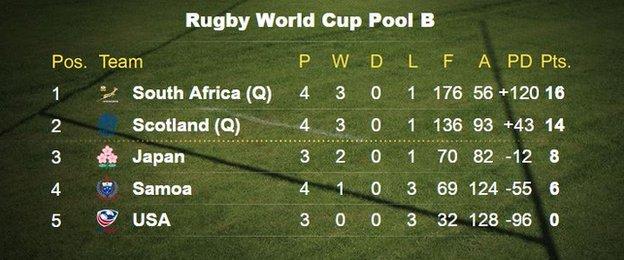 "Their weak points are few and far between, but we've got to concentrate on ourselves, see where we can improve and try to expose Australia where we can."
Dickinson spoke of the psychological dangers of seeing a quarter-final place as job done. "It can be a problem, but we're not happy just getting out of the group.
"You shouldn't play sport if that's the way you think. We'll be trying to win the game. We're not just going down to make up the numbers.
"It's a World Cup and you only get so many chances to play in it. We'll give it our all and what will be, will be.
"Australia will be very confident. Twickenham seems to be a very happy stomping ground for them.
"We just have to stay with them and apply as much pressure as we can and hopefully they will make a few mistakes and we can capitalise. If we go out, we go out fighting. We have to embrace the occasion."
Of course, if things had worked out for England, it would be the hosts against Scotland at the weekend and not the Wallabies. There's surely going to be many England fans in the crowd on Sunday. Party-goers at the wrong party.
Dickinson smiled when he was asked where English loyalties may lie at Twickenham on Sunday. "They may hate the Aussies more than they hate the Scots," he said.
Truly, Scotland would take support anywhere they can get it when facing these formidable Australians.