Richard Cockerill: Leicester Tigers to play more expansively
Last updated on .From the section Rugby Union
Leicester Tigers will play a more expansive style of rugby under their new-look coaching set-up, according to director of rugby Richard Cockerill.
"Last year was difficult with injury and we didn't score a lot of tries but that was hopefully a one-off," Cockerill told East Midlands Today.
"We will play expansively with ball in hand. We want to see that skill-set."
Tigers appointed Aaron Mauger as head coach and defence coach Scott Hansen in the close season and Cockerill believes their influence is already beginning to tell.
"The new coaches have settled in really well and we are playing reasonably well and are getting in to the way we want to play under Aaron's coaching," Cockerill said prior to his side's first game of the season away against London Irish on Sunday.
"I signed Arran previously and worked with him and coached him before and he has had five years coaching in New Zealand. We set out what we wanted from him, his responsibilities and what I wanted from him.
"He knows what he wants and how he wants to play. He is very direct in his leadership and he knows what he wants from his players and we are starting to see that on the field.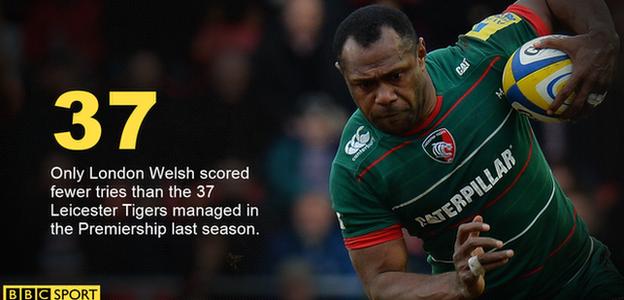 "We get the best of both worlds; we get the best of what Leicester is about and we get the best of southern hemisphere rugby - and it is mixing very well."
Versatile back Mathew Tait said Tigers were well prepared for a long season and aware of the expectations from supporters.
"A club this size demands success," Tait told BBC East Midlands Today.
"It is about winning games and competitions and as a group we are very much aware of it and we should embrace it.
"It has been a long, long pre-season and this season it will be relentless with back-to-back games and no breaks. It will test the squad."