Rugby World Cup 2015: Scotland sitting ducks against Australia?

By Tom English
BBC Scotland
Last updated on .From the section Scottish Rugby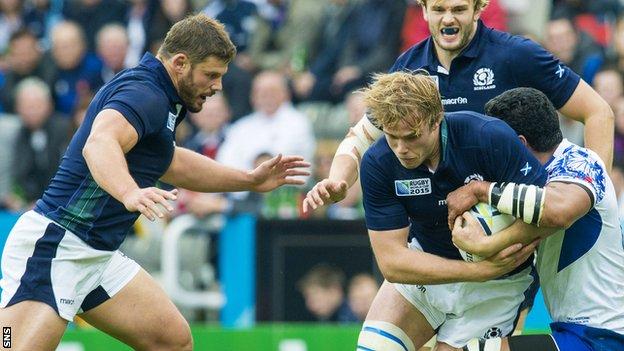 Rugby World Cup quarter-final: Australia v Scotland
Date:
Sunday, 18 October
Venue:
Twickenham, London
Kick-off:
16:00 BST
Coverage:
Listen on BBC Radio Scotland & 5live; live text coverage on BBC Sport website
You would have to search far and wide to find somebody outside Scotland's inner-sanctum who thinks they will upset the world order and beat Australia at Twickenham on Sunday.
After the disciplinary hearing that led to Jonny Gray and Ross Ford being banned for the quarter-final with the Wallabies, that search for a believer just got further and wider.
The hearing stretched from daylight into darkness, a verdict finally coming in just before 21:30 BST on Tuesday.
And, for Gray and Ford, it was a devastating verdict. A three-week ban apiece means their World Cup is over unless Scottish Rugby launches a successful appeal on their part. They have 48 hours to make their move.
Gray, who is 21, will come again on the biggest stage, but for Ford, who is 10 years older, this is almost certainly his last World Cup.
Disciplinary inconsistencies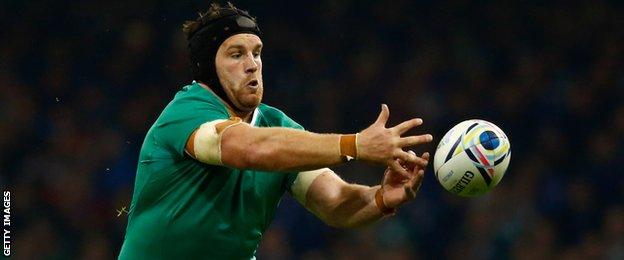 The decision to ban the Scots for three weeks while simultaneously suspending Ireland flanker Sean O'Brien for just one week for striking France lock Pascal Pape in the stomach shone a light once again on the World Cup's disciplinary procedures.
There has been fuss and conspiracy on social media about the nationality of the man who cited Gray and Ford - the citing commissioner, Scott Nowland, who hails from Australia - who Scotland play next.
Nowland's birthplace is irrelevant, though. He was entitled to cite Gray and Ford. He did not hand down the punishment, that is not his job. He just flagged up the incident and he had every cause.
What is relevant is the mounting and blatant inconsistencies in the justice delivered by the judicial panels at this World Cup. Some of the disparity in punishment has been mind-boggling.
O'Brien is found guilty of slapping or punching an opponent and he gets a week's ban. Argentina's Marcelo Bosch is found guilty of a tip-tackle on Namibia's Theuns Kotze and he also gets only a week. Fiji's Dominiko Waqaniburotu tip-tackles Jonny May of England and he, too, is banned for a week. The same with Waqaniburotu's team-mate, Nemani Nadolo against Australia. Another tip-tackle and another one-week ban.
No wonder there is disquiet about the three weeks given to the two Scottish forwards. Was their offence really three times worse?
We could go on a while here. England flanker Tom Wood's shin makes contact with the head of Wales' Liam Williams and Wood receives just a warning, but no suspension. Michael Hooper, the Wallaby flanker, is cited for clearing out England full-back Mike Brown at a ruck and Hooper gets a one-week ban after his use of a shoulder was deemed illegal.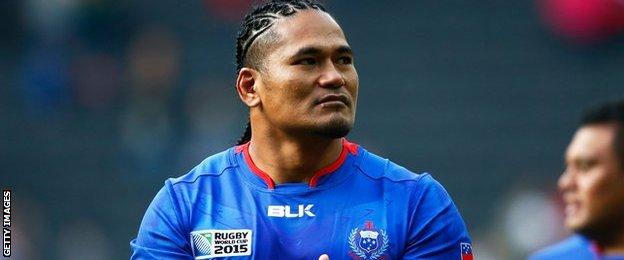 Alesana Tuilagi was given five weeks for leading with the knee in Samoa's match against Japan, a suspension that was then reduced to two weeks on appeal. Whether you agreed with the five-week ban or not, if the appeal panel still believed that he led with the knee (and they did) then it was a pretty odd decision to cut the sanction so dramatically. Why do it? To be nice?
There is precious little consistency in all of this. So many high tackles and no-arm tackles have been waved on, unseen by referees, ignored by fellow officials and not picked up on by citing commissioners. Most games have thrown up such moments.
On Saturday, at St James' Park, there was at least one dangerously high tackle by a Samoan on a Scot and one stamp by a Scot on a Samoan. Ryan Wilson got a yellow card and it could so easily have been red. The fact that Wilson was not cited was a surprise.
The Scots still have a chance of lodging a successful appeal, for Ford more than Gray, it has to be said. Gray looks to have committed a tip-tackle and even though others have done it and got a small sanction - and even more have done it and got nothing at all - he got rightly cited and punished. He was the one who got caught.
Ford's role in it looks minor. If what he did now equates to a three-week ban then the game is going to run out of rugby players very quickly. It would be a surprise if Ford's three-weeks was not reduced.
The problem is that it most likely will not be eliminated, so the Australia game will almost certainly pass him by.
The verdict will come as a blow to head coach Vern Cotter. He probably saw it coming, but that will not have lessened the impact of losing two important players in the week his side faces arguably the World Cup's form nation.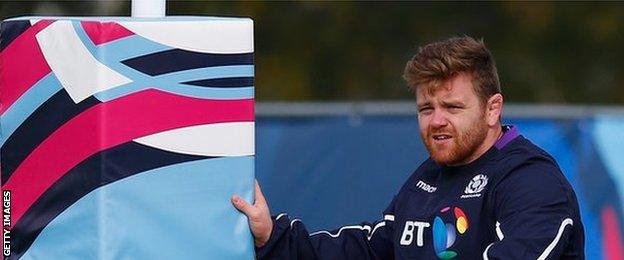 It is not that the Newcastle Two's probable replacements in the team are lightweights - Fraser Brown has been good when filling in for Ford and Tim Swinson has brought a ball-carrying hardness to proceedings when he has come into the second row.
The issue here is about depth. To fire their best shot at Michael Cheika's team, Scotland needed their top XV on the park to begin with and their eight heaviest hitters waiting to pounce from the bench.
They will not have that now. Scotland needed Ford and Brown (or Brown and Ford) as their match-day hookers against a scrum and, most particularly, a line-out that is as good as anything left in this World Cup and that has, in Dean Mumm, a lighthouse who stole more opposition line-out ball than any other player in the group stages.
Scotland cannot expect to drill down too deeply into their resources without mortally damaging the chances of bringing the fight to the Wallabies.
Australia's pre-eminent pains in backside
Australia beat England with a massively impressive combination of set-piece domination, forward power and cutting edge behind the scrum. They did it a different way against Wales - defending like demons even when reduced to 13 men for an eight-minute spell when it looked almost impossible for them to hold back the Welsh waves.
They are an all-round team who can win in a variety of ways. They, too, have some concerns going into the quarter-final, but they look to be clearing up. Israel Folau, the great full-back, has a problem with his ankle but might well make it.
There is also the probability of the Michael Hooper-David Pocock axis being reunited at six and seven. Hooper missed the Wales game through suspension, while Pocock went off with a sore calf in the second half.
In the winning of the breakdown battle, these guys have the precision of surgeons and the impact of wrecking balls. They are the world's pre-eminent pains in the backside.
Scotland are now stretched. Brown, as good as he has been, has just two starts in his 14 caps and was second-choice hooker at the outset of the World Cup. Now he is the main man against Stephen Moore, who is about to make his 100th appearance for the Wallabies.

Kevin Bryce, three caps but no starts, was fourth-choice hooker and not even in the squad until Stuart McInally was ruled out through injury, and is now in the 23 for Scotland's biggest game since their last World Cup quarter-final against Argentina in France eight years ago.
This is not to talk down the replacements. It is about looking at what they are going up against and knowing that, even at full strength, these Scotland players need to produce the performance of their lives.
Australia's attack has been a thrill while Scotland have just lost one of the World Cup's top tacklers in Gray. With 49 tackles, he is only two behind the leading guys in that category - Michael Leitch of Japan and Francesco Minto of Italy.
Swinson will probably come into the second row. Again, like Brown, he has made a contribution these past weeks, but the fact remains that, when the original squad was named, Swinson was fourth-choice lock and then became third-choice after Grant Gilchrist departed.
Scotland have now just two second-row forwards available to them - Richie Gray and Swinson - and, unless those two in the boiler-room at Twickenham can last the full 80 minutes, Cotter will have to, at some stage, turn a back row into a second row - Ryan Wilson or Josh Strauss, perhaps.
It's become very messy all of a sudden.
Reid bills Scots 'The Mighty Ducks'

What Scotland need is a serious blast of Reid - Gordon Reid. The loose-head will not start on Sunday, but his passion and self-belief are some of the qualities that might elevate the mood in the Scottish camp in the wake of this disciplinary decision.
Reid is a powder-keg of positivity, the Saltire visible on the right arm, put there, he says, in his rebel years in Ayr from the age of 15. He also summoned up an image on Tuesday that made everybody smile.
"We're playing against not just any team, it's one of the biggest teams in the world," he said. "It'll be amazing.
"We've got a bit of belief. Our first objective was to get through and we've done it and it's knockout rugby now and anything can happen.
"Everybody puts us as underdogs, I don't care. It's awesome. In the movies, The Mighty Ducks are underdogs and we can be like the Mighty Ducks.
"It's awesome being the underdogs. Hopefully we can go out and do ourselves proud on Saturday."
To those of you unaware of the cinematic wonder that is The Mighty Ducks, it is a trilogy about a kids' ice hockey team who overcome the odds.
The Ducks are beginning to look like superpowers compared to Scotland after this double suspension has struck at the heart of Cotter's team.