Gloucester hoping for pre-New Year sale
Last updated on .From the section Rugby Union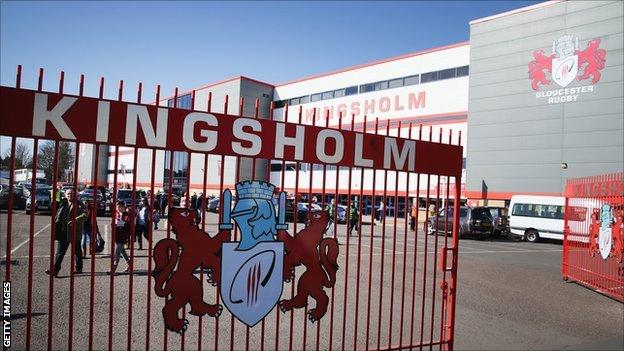 Gloucester managing director Stephen Vaughan says he expects the ownership situation at the club to be resolved by the end of the year.
However, Vaughan says the Premiership outfit are under no financial pressure to force a quick sale.
"I would like to say this side of the new year," he told BBC Gloucestershire. "If the right people aren't there, we won't rush."
Gloucester are controlled by Ryan Walkinshaw, who took over following the death of his father Tom - a former Formula 1 team owner - in 2010. They have been owned by the Walkinshaw family since 1997 and they feel now is the right time to sell.
"The owners have reached a point where they believe a new injection of cash could take it to where I want it to be," said Vaughan.
"There is always a price and we are comfortable that there are the right people there with the right finances to move on."
He added, however, that they would not be rushed into selling the club.
Vaughan continued: "We don't want people in here who have got the wrong objectives and things that don't match our aspirations at Gloucester.
"We are not in a situation where we are in a fire sale here. The owners don't invest any money in the club any more but they don't take any money out so it is self-sustainable and we make a very small profit.
"Any profit goes straight back into the club, and if we don't find the right people that can springboard the club forward, then there won't be a sale.
"We have very little debt, own our own stadium and are self-sustainable. It would be a very sound investment should we find the right people."