Josh Strauss says adversity can galvanise Scots against Australia

By Tom English
BBC Scotland at the Rugby World Cup
Last updated on .From the section Scottish Rugby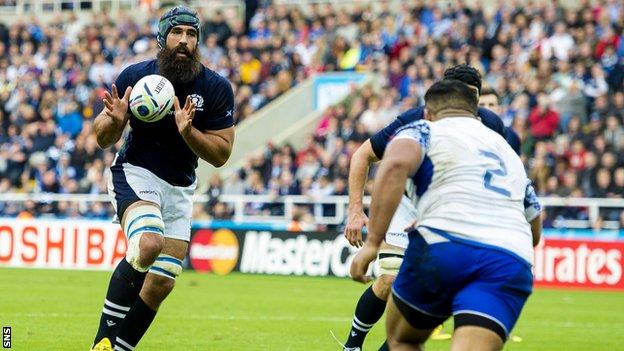 Rugby World Cup quarter-final: Australia v Scotland
Date:
Sunday, 18 October
Venue:
Twickenham, London
Kick-off:
16:00 BST
Coverage:
Listen on BBC Radio Scotland & 5live; live text coverage on BBC Sport website
The fallout from the banning of the Newcastle Two - Jonny Gray and Ross Ford - continued in the Scotland camp on Wednesday.
Gray and Ford were suspended for three weeks having been found guilty of a dangerous tackle in their victory over Samoa last weekend.
Scotland are expecting the full written judgement on the case on Wednesday and will then decide whether to appeal against the sentence. They have 48 hours after the receipt of the disciplinary report in which to do so.
If there was a World Cup for beards then Scotland back-row forward Josh Strauss would be among the favourites, but such levity was scarce as the No 8 spoke of his anger at the punishment and his support for his team-mates.
"We're all very disappointed for them," said Strauss. "We're a close group of guys who know each other very well and these are two very timid guys. It's a tough call. I don't make the calls but we feel it's tough on them.
"When I heard the news I was angry for them. I imagine myself in their shoes and how I would feel if it was me. Personally, that motivates me. I want to put in a performance for them, if I'm selected. You want to make them proud because they have made all of us proud. They've played really well.
"As their friend I can say that it was quite harsh, but we took the disappointment last night as a group. Rugby is an environment of adversity and we've all had to experience things like this in the past and it will just make us stronger. You bank your emotions and focus on the game."
Duo undeterred by bans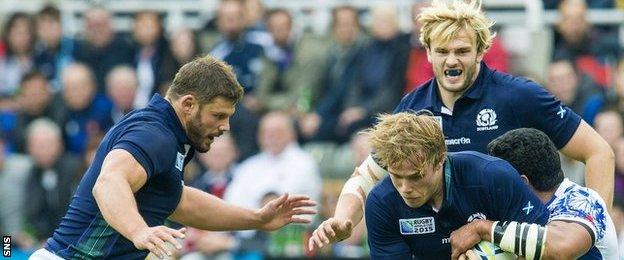 Gray and Ford learned of their fate late on Tuesday but were both bright as buttons at training on Wednesday, said Strauss. "They were really good, really positive," he explained.
"They're both mature enough and experienced enough to know that there is no point in sulking about it because it would impact on the morale of the other players.
"I was really surprised how energetic they were in training and the positive vibe they were bringing. Even if you don't get selected you have to be at your best in training, you have to give the players who have been selected the best platform. That's the mentality."
A storm of protest has raged across social media about the suspensions. It's obvious that Gray has a case to answer, but Ford's culpability is far less clear. The fury has come, largely, on the back of rampant inconsistencies in the punishments doled out by these disciplinary panels.
Gray and Ford got three weeks for a tip-tackle but others involved in similar incidents in different matches have received a lesser sanction or no sanction at all. Argentina's Marcelo Bosch was found guilty of a late tip-tackle and received just a one-week ban. Francois Louw, the South Africa blind-side, could have been banned for a tip-tackle in the Springboks' game with Samoa but wasn't even cited.
'Biggest game I'll be involved in'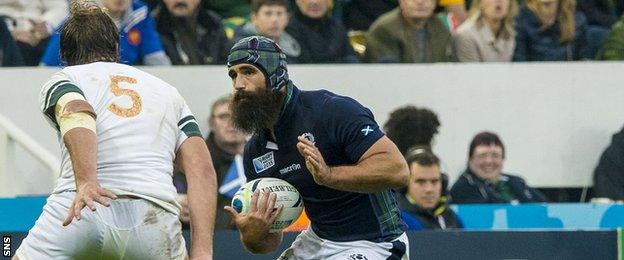 There are numerous examples of twisted logic in the disciplinary verdicts. Strauss said that all of this could galvanise his team.
"The goal is to win [against Australia in Sunday's World Cup quarter-final] and if that is overcoming adversity, then brilliant," said Strauss.
"We have achieved so much as a group that we're not going to let anything stand in our way. This is the biggest game I'll be involved in, if I am involved. That's the focus.
"You don't come into this competition not believing you can win. I have been lucky enough to play against a few of the Australian players in Super Rugby and anybody can be beaten.
"We've earned the right to be here and we're going to show it at the weekend. The feeling is that we're going to win.
"It's just a matter of being clinical. Yes, there are areas that we're looking to improve on - we want to start well and we want to put in an 80-minute performance and if we do that then there's no reason why we can't win this game."
This is fighting talk from Strauss. Whether it has any basis in reality is for us to speculate on, but in his mind he's convinced that Australia have a major battle ahead of them.
Combating the Wallabies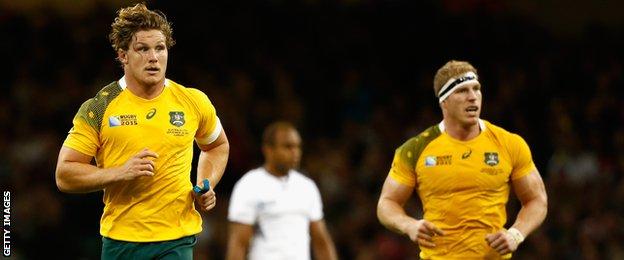 Some of the preamble to this quarter-final will centre around the back-row war that Strauss hopes he will be involved in from the start. Namely, the conundrum of how to stop the devastating impact of Michael Hooper and David Pocock, the twin Wallaby sevens playing on either side of their back row.
"They're good players, there's no way around that," said Glasgow Warriors' Strauss. "You have to be physical, you have to be there quicker, you have to be better. It's knock-out rugby. It's about fronting up and being in their face all day.
"You want to nullify their strengths especially at the breakdown and if you are in there quicker and stronger you will put them out of the game, but it's easier said than done.
"They're a great team. They've gelled really well and they've got great experience. I don't need to mention the names, everybody knows them, but they have brilliant players and a good mix of young and old. It'll be a challenge for us to nullify that."
Asked about the one thing that Scotland need to get right above all others, the one dimension of the game that they must command and Strauss didn't need to think, not for a second.
"Physicality. In every aspect," he added.
In Gray and Ford, they have the cause around which they can rally. That's the only positive they can take from this damaging business.