Danny Cipriani: England omission a mistake, says Steve Diamond
Last updated on .From the section Rugby Union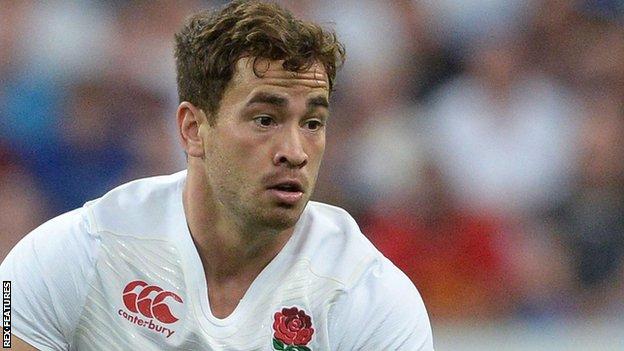 Danny Cipriani would have given England much-needed versatility in their Rugby World Cup campaign, according to Sale director of rugby Steve Diamond.
Playmaker Cipriani, 27, was omitted despite a try in a warm-up game against France and in his absence England were dumped out in the group stage.
Owen Farrell and George Ford were selected to fill the fly-half spot.
"He was right on picking the two 10s, but Cipriani is a utility player," Diamond told BBC Radio Manchester.
"Danny plays full-back, centre and 10 and is a goal-kicker. I would have picked him and they made a mistake."
Diamond continued: "You have to look at all the scenarios, where England have fallen down is on selection.
"If you carry a lad on the bench like George Ford and don't play him, he's only played in one position whereas if you carry Danny he plays three positions.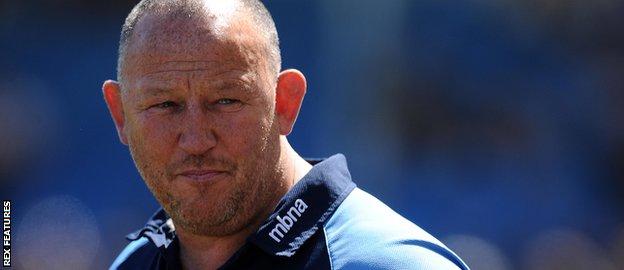 "It's about knowing when to utilise your bench, that's why I would have picked him."
It emerged before the final group game against Uruguay that Cipriani and attack coach Mike Catt had a disagreement in camp, although Cipriani and head coach Stuart Lancaster both played down the issue.
Meanwhile the Rugby Football Union, led by chief executive Ian Ritchie, has confirmed a review will be carried out of the national team's disappointing performance at their 'home' World Cup.
It could lead to the removal of current head coach Stuart Lancaster, and Diamond - who has been linked with the post himself - believes experience is key to any future appointments.
"When they do the review, whoever does the review, will look at all avenues. An overseas coach is one matter, no one man can do it by himself," he said.
"Stuart Lancaster put himself in a position where he wanted control and got it with his coaches, but anyone who's been in the game coaching, I'm 16 years after 20 years playing, would have a committee around you, people paid or unpaid to help with the selection.
"You don't need to coach these players to hit a ruck or pass a ball, you need to know your combinations and England didn't know their combinations.
"I know my combinations at Sale and the limitations, when I fiddle with it, we can go positive or negative. In club rugby you get 35 games a year to play around with that. If you're selected to coach (England) you have nine to 10 games a year."
Steve Diamond was the special guest on BBC Radio Manchester's Rugby Union Extra which you can now download as a podcast.