How Australia's yellow brick wall made them World Cup contenders

By Tom Fordyce
Chief sports writer
Last updated on .From the section Rugby Union
We all love flair, dash and daring in sport. But sometimes stopping the other team can be the most beautiful thing of all.
So it was when Wales met the Wallabies at Twickenham last weekend. Just as the NFL has 'The Block', the defensive move that won the Green Bay Packers the 1967 championship game, and English cricket the blocker, Mike Atherton's match-saving 10-hour, 492-ball 185 not out at Johannesburg in 1995, so this World Cup has a one-off wonder of its own: the Yellow Brick Wall, created by the modern-day wizards of Aus.
For 13 second-half minutes, when leading 12-6, the Wallabies were a man down. For seven of them they had two men in the sin-bin. Yet despite wave after red-shirted wave of assaults they somehow kept Wales not only from their try-line but from scoring any points at all.
"Quote me - that Aussie defence has just won them the World Cup," tweeted 2003 winner Matt Dawson. "One of the greatest 10 minutes of rugby I have witnessed," agreed his old England team-mate Will Greenwood.
How did the wall stand firm under the most intense pressure? What does it tell us about Australia's chances of winning the Webb Ellis Trophy for the first time in 16 years, and what chinks of light might there be for Scotland, their opponents in Sunday's quarter-final?
And can Wales yet salvage something from the wreckage that could help them pierce an equally obdurate Springboks defence in their own quarter-final on Saturday?
This is the story of a sporting epic, told by Wales legends Jonathan Davies and Martyn Williams, former Wallaby captain Stirling Mortlock, Dave Ellis - 11 years as France's defence coach - and Australian supporter and blogger Brett McKay.
Warning: even almost a week on, it may still make you sick with nerves…
The first assault: 56 mins 29 secs to 59:10
Having been camped inside the Australian half from the 52nd minute, Wales win a penalty on the 22. When scrum-half Gareth Davies taps and goes, his opposite number Will Genia brings him down without retreating 10 metres - yellow card, Australia down to 14 men. Wales kick to the corner for a line-out.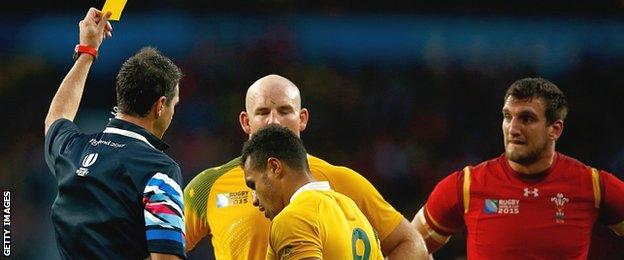 Stirling Mortlock on BBC Radio 5 live: "Edge of the seat stuff here - Australia know what's coming…"
Australia desperately defend the maul. Another penalty leads to a second line-out before Alun Wyn Jones takes the ball up and Liam Williams is stopped only a metre short.
Davies and Sam Warburton take it on before Taulupe Faletau burrows over. He seems to have scored - only for replays to show that last-ditch work from Tevita Kuridrani has somehow dislodged the ball.
Brett McKay: "It's 4am in Canberra. It's been so intense even before this point that I'm already thinking sleep is going to be impossible after this game.
"I thought Faletau had got it down for sure. And when I saw he'd dropped it, I thought, jeez, that's promising. Although it didn't necessarily kill the fear that a try was coming."
Dave Ellis: "When you're a long way from your line, you tend to get the first defender really low to chop the legs from the ball-carrier. When it's close to the line it's more difficult, because the man will be coming in really low.
"The only thing you can do - and the Wallabies did this really well - is target the ball. Either stop it or get underneath it.
"Before Faletau lost it, Australia put some real good impact into the contact area. If Wales' body position had been lower, and they had a support man on both inside and outside shoulder, they probably would have scored. Because it's virtually impossible to stop a ball-carrier if they have someone protecting both his inside and outside shoulder as he drives forward."
Wales come back for an earlier penalty. What to do now?
Martyn Williams, BBC Radio Wales: "Go for the corner. Try to get another yellow card. You can't stop this Welsh maul at the moment."
Yellow fever strikes again: 59:21 to 60:45
Wales do indeed kick to the corner. And when lock Dean Mumm is penalised for interference on Alun Wyn Jones, referee Craig Joubert pulls out his yellow card once again. Australia, already under the pump, must now try to hold out with just 13 players.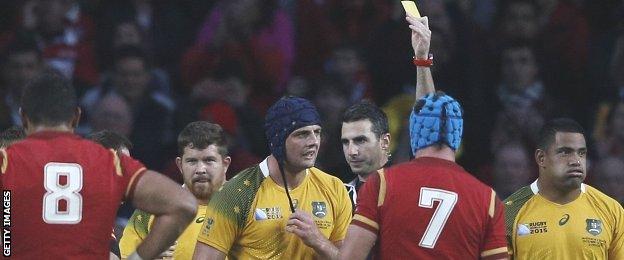 Jonathan Davies, BBC Radio 5 live: "Wales have to score here. They have to score in the next 10 minutes."
Brett McKay: "The Welsh maul was really strong, so when Mumm goes off it's a double whammy, because that's our major line-out jumper gone and they're deep in our 22. At this point, the feeling is not brilliant."
Three line-out drives end in another penalty. With the Wallabies' inspirational flanker David Pocock limping off, Wales opt to take on the seven-man opposition scrum.
It is the right call, but what follows is not. Just as the scrum appears to be gaining momentum, the Wallabies going backwards, Faletau allows the ball to pop out the back. And when Davies picks it up and goes down the blind-side, he is scragged before he can release Liam Williams outside him or Faletau inside.
Dave Ellis: "The critical factor in the Aussies' survival was the way they tackled. They were never going for leg tackling, because by doing that they would eliminate their tackler, the ball-carrier would have gone to ground and the Welsh support come in and play quickly.
"Instead the first Aussie defender targeted the ball. The next defender targeted the ball too, so now you have two tacklers on their feet.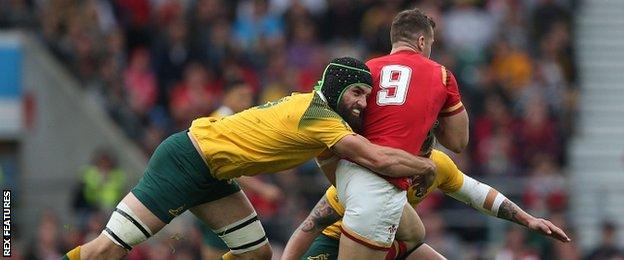 "The Welsh support players come in and try to make the contact zone go forward, so they push their ball-carrier. The two initial defenders would hold it as long as they could and then let it go down, and automatically a third defender came over the top to contest the ball.
"The two initial defenders then step off and rejoin the line, so suddenly you have a ruck with five Welshmen - ball-carrier, two support players, another guy to contest the ball and the scrum-half - against one Australian.
"Every time that happened they gained valuable seconds to reorganise. That was the key to keeping a pretty good defensive line in place."
Stirling Mortlock: "It's electric here - the crowd is going nuts. But the Wallabies defence is holding…."
The first hold-up: 61:06 to 62:10
Wales at last decide to go wide. But the Wallaby backs spot it, are up on fly-half Dan Biggar as he receives the ball and almost intercept his pass.
Dave Ellis: "The defender has to get off the line as quick as he can. Target the man in front of you. Get there just as he's getting the ball, or a little bit before. That's all you can do. If you can then come up with a good shot, that's perfect. "
Wales recycle the ball 30 metres out. Davies goes right and finds Alex Cuthbert and then Jamie Roberts, who off-loads to George North with the corner beckoning. The wing accelerates and steps inside only for the sprinting Bernard Foley to half-stop him before Ben McCalman somehow gets underneath man and ball as they crash over the try-line.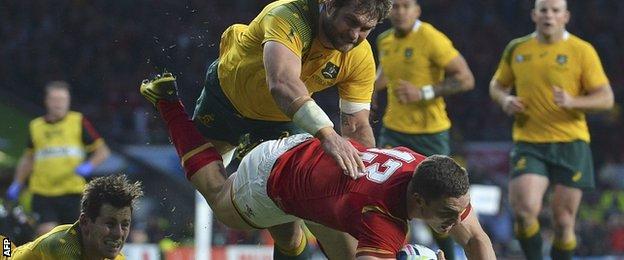 Jonathan Davies: "What a tackle! What a tackle! Amazing tackle!"
Brett McKay: "Foley came from absolutely nowhere. And then McCalman, who had already had a massive 20 minutes, came from nowhere too. That was a remarkable moment - it was two try-saving tackles in one motion."
Martyn Williams: "I can't take any more of this. This is just unbelievable. The tension - the Australians scrambling, all hands to the pump…"
The Wallabies' back line is almost unrecognisable. They have their inside-centre Matt Giteau at scrum-half, their outside centre Kuridrani at fly-half, and both wingers in the centres.
Dave Ellis: "When you look at numbers, you think, why on earth did Wales not have massive overlaps? Well often they did - but by the time they got the ball out of the ruck and moved it into that space, the outside defenders had pushed up on them. They couldn't get the ball out to them."
The pivotal scrum: 62:24 to 65:50
Wales have a scrum in the right-hand corner. Captain Sam Warburton attempts to rally his troops - "Everything we've got - one big scrum!"
The first scrum goes down. So does the second. Referee Joubert warns Aussie hooker and skipper Stephen Moore, but does no more.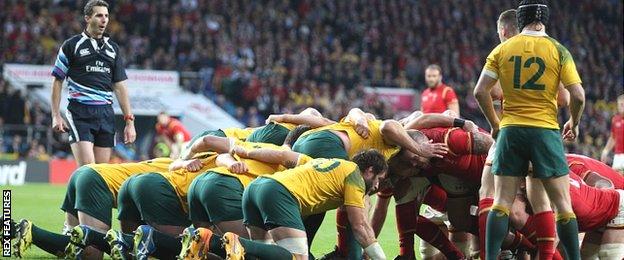 Dave Ellis: "Psychologically the referee is under pressure. He's sin-binned two Wallabies within a few minutes - is he going to be brave enough to sin-bin another one? I would suggest not.
"So the Wallabies, in that second scrum, keep getting it reset. The ref could have sin-binned another, but instead he made the Welsh play from that scrum.
"Well done to the Wallabies, because they kept their cool under that immense pressure and kept pushing things to the limit all the time. Almost half of that critical seven minutes was taken up with the scrums on either side of the pitch. They kept getting them reset."
There are now just three minutes left on the first sin-bin. Wales go left, and use Roberts and North on the crash-ball to limited effect. When Biggar goes wide to Gareth Anscombe, the full-back is held on the left touchline.
Stirling Mortlock: "The atmosphere is crazy. How have they not scored yet?"
Davies wriggles to three metres out, Luke Charteris to two. North is screaming for the ball wide right, but instead Biggar chooses the inside ball to Roberts once again.
Jonathan Davies: "They have to score, they have to score…"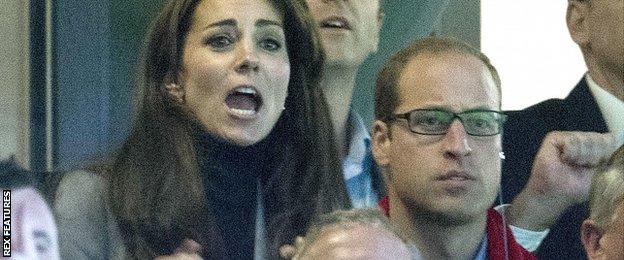 The second hold-up: 65:58 to 66:40
Giteau is now down injured on the far side of the pitch. Australia slow the ball down at a ruck in front of the posts, and when the ball eventually gets out to Anscombe and North on the right they are well marked.
From the resultant ruck Liam Williams comes thumping in. This time it is Kane Douglas who throws his body in the way to somehow keep him off the try-line.
Stirling Mortlock: "Amazing defence! Unbelievable stuff! I can't believe the Wallaby line has held through that consistent, controlled attack."
Dave Ellis: "There were opportunities for the Welsh to kick over the top, or kick to the corners. But they were terrified that they might let Australia off the hook by kicking and not recovering the ball. So they kept turning Roberts back inside, to go up the middle and try to power their way through.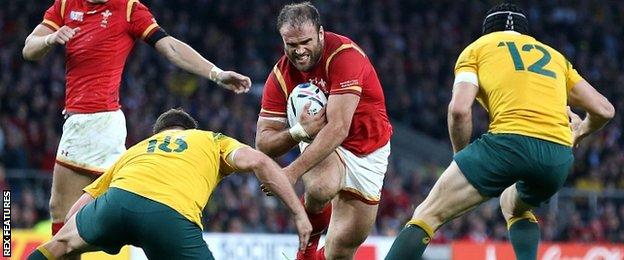 "The Aussies were quite happy about that because they could put a tackle in, and it gave them time to readjust their defence on the open side.
"Had Wales stood the forwards a little wider and attacked around the second or third defender area, they would have eliminated a couple of defenders instantly. Do that on a couple of occasions and you will get numbers on the outside. Commit the defence. Manipulate it.
"They came close with pick and goes, but they needed to go wider, or change the direction and come back the other side. Get midfield position, so you can attack either side."
Last chance saloon: 66:46 to 67:59
Martyn Williams: "The Aussies are out on their feet here - Wales just need to be patient. Keep the ball!"
Wallabies coach Michael Cheika throws fresh bodies into the trenches - Tatafu Polota-Nau for Moore, Matt Toomua for Giteau and Kurtley Beale for Drew Mitchell.
Wales have a five-metre scrum on the Aussie right. It crumples, and Joubert gives another penalty. "How many times, ref?" shouts a Welsh forward.
We talk about flair in attacking situations. The Wallaby rearguard, battered, exhausted but hanging on, is now showing remarkable creativity in finding a way - any way - to keep the defence from being breached.
Dave Ellis: "You have to adapt to what's in front of you, just as you would when you're attacking. It's backs to the wall, and it becomes instinct more than anything else.
"We make a tackle, we get in position to make the next, we keep doing that until the pressure subsides.
"Get breaks for injury, so messages can come on with the water-carriers - 'Keep it going, boys…' 'Three minutes until we're back to 14…'"
Wales kick to the corner again. Genia's sin-bin is up, Nick Phipps coming on in his place. From the line-out drive, scrum-half Davies runs left, ignores Roberts thundering in on the reverse angle and Cuthbert lurking behind him and instead hits Biggar, standing deeper and wider.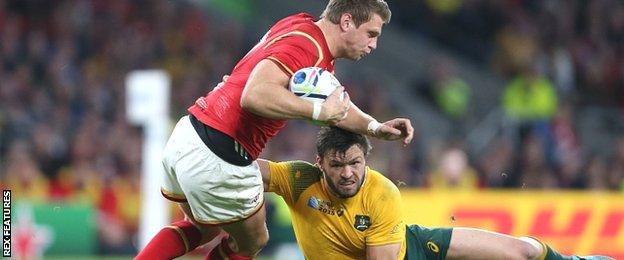 At the same moment Adam Ashley-Cooper, coming out of the line like a yellow-shirted missile, crashes into Biggar too. Both men go down. Ashley-Cooper is up, hands on ball, Beale in behind him, fighting for his team's life. Wales are penalised for holding on, and the siege is lifted.
Mortlock: "Oh my God! That is unbelievable stuff! Inspired defence by the Wallabies, and eventually the line speed cut them in half!"
Brett McKay: "Ashley-Cooper has come in from outside centre and absolutely barrelled him. And that's a massive tackle - it's high risk, because if he misses that and Biggar gets his pass away, it's probably four on two out wide. But he barrelled him over, stood up, got his hands on the ball, Wallabies penalty. When they got that, I remember thinking 'they will win this from here'."
Australia kick their penalty to touch. They are out of their own half. They have survived, and they will never look back.
Jonathan Davies: "You either stick it up your jumper, or you suck the defenders in and then go wide. Unfortunately Wales did neither, and they came away with nothing."
Chris Jones, 5 live commentator: "That spell of Australian defence, that's World Cup-winning stuff."
Martyn Williams: "As a Welshman I'm absolutely devastated. But that was heroic defence. That was sensational."
Dave Ellis: "It was an outstanding feat. What people have got to realise is that in rugby, the only time the entire team work together is in defence. You can recover from a scrum struggling or a back dropping the ball. But if one person makes a mistake in defence, everybody suffers.
"There was something special that bound that team together in those moments. You almost can't explain it. It was one of those phenomenal things that happen sometimes in team sport."