Rugby World Cup 2015: Scots' new flank alliance must excel

By Tom English
BBC Scotland at the World Cup
Last updated on .From the section Scottish Rugby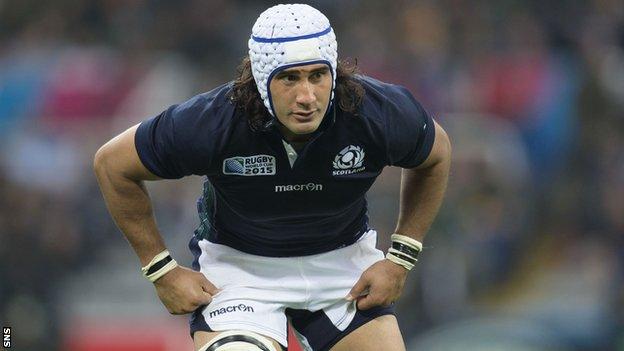 Rugby World Cup quarter-final: Australia v Scotland
Date:
Sunday, 18 October
Venue:
Twickenham, London
Kick-off:
16:00 BST
Coverage:
Listen on BBC Radio Scotland & BBC Radio 5 live; live text coverage on BBC Sport website
Vern Cotter doesn't strike you as the kind of guy that would have been on tenterhooks waiting on news from the Wallaby camp of the fitness of David Pocock ahead of Sunday's World Cup quarter-final at Twickenham.
When, on Friday, the Scotland coach was given an update about the doubt surrounding Pocock's selection, his demeanour didn't budge. Cotter's poker face is as good as anything you'll find over the card table in Vegas.
He must have been pleased - deep down in the bowels of his soul where the emotion is hidden - when Pocock was ruled out.
As one of the game's most influential back-row forwards, Pocock's absence is an undoubted blow to the Wallabies.
So, too, is the loss of Israel Folau. Not on the same scale, but wounding none the less. The full-back hasn't been at his wondrous best at this World Cup, but the thought of him clicking back into glory mode was a troubling prospect for Scotland.
After a difficult few days, their twin absence will come as a crumb of comfort for the Scotland coach.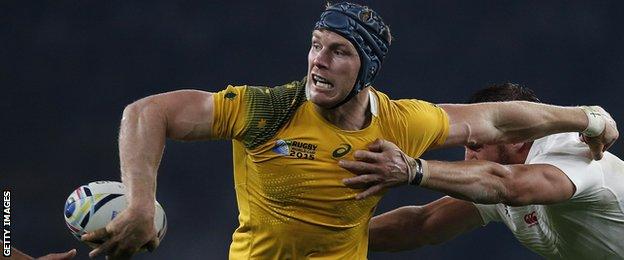 Australia have wonderful options, of course. They still have vast, and unprecedented, experience on the field.
With a collective 818 caps, this is the most capped Wallaby team in World Cup history. In their games so far, their weaknesses haven't been obvious - ruthless at the breakdown, phenomenal in defence and incredibly clever in attack.
By the time the definitive news about Pocock had become public, Cotter had already named his own team. It wasn't a major surprise that the coach went with two opensides of his own - Blair Cowan at six and John Hardie at seven - in order to try to combat the Wallaby groundhogs.
He did it, surely, on the basis that Pocock and Michael Hooper, the yin and yang of breakdown excellence, would be coming at Scotland on Sunday.
But, even if he knew Pocock was going to be missing, he'd surely still have made the same call.
Scott Fardy at six and Ben McCalman at eight, with Hooper running the show at seven, is still a mighty proposition for Scotland. Sean McMahon, another quicksilver back-rower, will likely come off the bench.
Breakdown battles
The logic of a Cowan-Hardie axis is blindingly obvious. Much of what Australia do begins with fast ball won at the breakdown by its scavengers. To give yourself a chance of stopping the Wallaby back-row wreaking its havoc, you have to get to the ball quicker than them.
If you're a split-second late, you may as well not turn up. It's all about getting there first and denying them cosy possession and momentum.
It's about shaking them out of their go-forward rhythm, which can be devastating for any opponent. It's about cutting down their opportunities to feed a backline capable of inflicting awesome damage.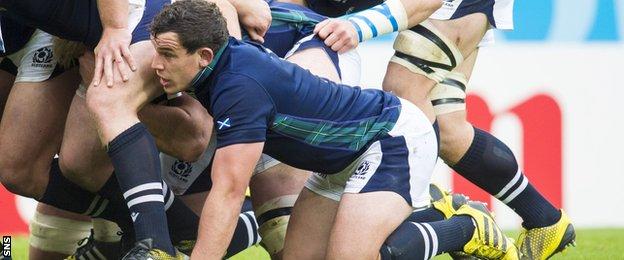 Scotland need to starve the Wallabies of good ball and one of the key parts of the mission is winning the breakdown.
In picking Cowan and Hardie, Cotter is playing the Australians at their own game. It's not a shock that Cotter is playing them, but it would have been useful had he played them before now.
Cowan and Hardie are veritable strangers as a unit. They have never shared the same pitch for Scotland.
When Cowan played the first World Cup warm-up match against Ireland in Dublin, Hardie was absent. Cotter did experiment with two opensides in his back-row that day, but the second one was Hugh Blake.
When Hardie made his debut against Italy in Turin a week later, Cowan was rested. When Hardie won his second cap in France, Cowan had already been cut from Cotter's World Cup squad of 31. He only came back on the scene because of the injury to Grant Gilchrist.
What you have now is the golden boy (Hardie) and the prodigal son (Cowan) coming together in an alliance that has never been tested and yet must hit the ground running in the style of Usain Bolt.
It's a lot to ask. It's a puzzler why Cotter didn't give them some game-time together before now - in Dublin, in Turin, in Edinburgh against Italy. Anywhere.
"We're playing against a team that likes front-foot ball and who, when they're going forward, have been impressive," said Cotter. "Having two quick people (Cowan and Hardie) on the paddock who might be able to anticipate and shut down their initiatives may help. We hope it will."
More from rugby:
Get World Cup alerts direct to your phone
Rugby World Cup 2015 fixtures and groups
For the latest rugby union news, follow@bbcrugbyunionon Twitter
Scottish spoilers
Cowan coming in for Ryan Wilson is not the only change, of course. In the backline, Peter Horne replaces the injured Matt Scott. It's a sore one for Scott, who's terrific in full-flow, but Horne is a stand-up centre and a nice footballer.
Fraser Brown and Tim Swinson replace the suspended Ross Ford and Jonny Gray. For Brown - for all of them - it's the biggest day of their rugby lives. The hooker has just two starts for Scotland (14 caps in all) and he's going up against Stephen Moore, who will win his 100th cap on Sunday.
"I don't see it as daunting at all," said Brown of his head-to-head with the centurion. "I've had to battle with Fordy over the last year and he's not far off a hundred caps. Stephen's a fantastic player, but it's a huge opportunity to prove myself against him and Australia, in front of my coaches and in front of the world.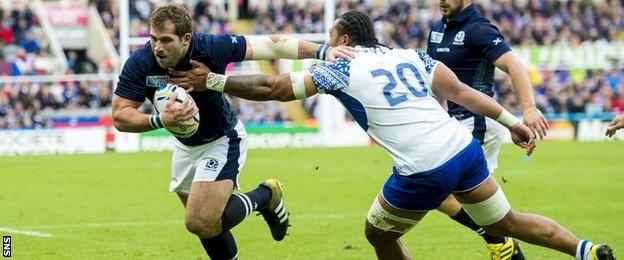 "Our job is to make sure this match lasts 80 minutes. They (the Australians) might think it'll be over after 50-60 minutes. We have to make sure that doesn't happen.
"The longer you stay in the game, the more pressure on them as favourites. They'll expect to pull away at some point, the media will expect it, everyone expects it.
"We have to make sure they have a horrible, horrible day from the first minute to the last minute. We need to frustrate them and make them feel like they're almost suffocating under the pressure."
Perfection imperative
For Scotland, the only hope is that everything on their checklist comes off for 80 minutes - a thunderous start, parity at the breakdown, set-piece solidity, defensive excellence, accuracy in attack.
"Australia are a team that are very impressive when they move forward," said Cotter. "They're favourites not only to beat us but to go on and win the World Cup.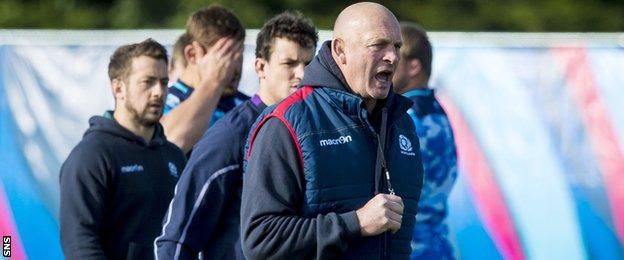 "We've watched Australia play, we've seen clips of them and know that we have to improve our performance defensively and, once we get our hands on the ball, we need to be effective and score points every time.
"It's a team that I feel is most dangerous at the end of the game. They've pulled away from teams right at the end, so any minor lack of concentration, we'll pay the price."
More than anybody, Cotter knows what's coming down the track at Twickenham. What he can't know is how well his own team can apply the brakes to this Wallaby train.