Rugby World Cup 2015: Scotland up against odds - and Australia

By Tom English
BBC Scotland
Last updated on .From the section Scottish Rugby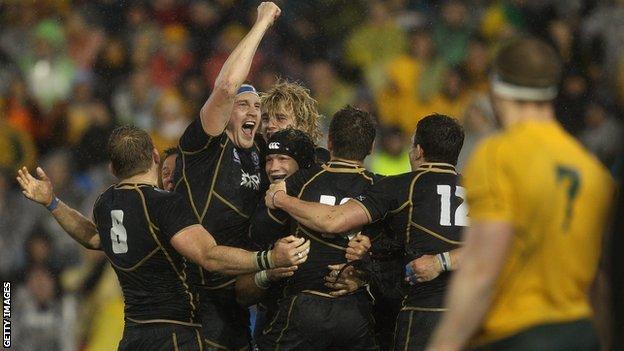 Rugby World Cup quarter-final: Australia v Scotland
Venue:
Twickenham
Date:
Sunday, 18 October
Kick-off:
16:00 BST
Coverage:
Listen on BBC Radio Scotland & BBC Radio 5 live; live text coverage on BBC Sport website
It's known that some of the Scotland players like a little gamble in their downtime, a game of cards to occupy the hours, some harmless fun between training sessions, video sessions and honesty sessions.
If any of them were to look at the bewildering array of bets available on their World Cup quarter-final against Australia at Twickenham on Sunday, they might be tempted to pick up the phone - if only to throw it against the wall in anger.
To say that Scotland are underdogs doesn't even begin to scratch the surface of how unfancied they are to beat the Wallabies, even after Ross Ford and Jonny Gray dramatically won their appeals against suspension and were cleared to play.
They're available at 9-1 to win the match with the most probable Australia winning margin - according to the odds-layers - being somewhere between 11-15 points.

Australia, in most places, are favourites to score first and to score last, favourites to be ahead after 20 minutes, 40 minutes, 60 minutes and 80 minutes, first favourite, second favourite and third favourite to win man of the match, with their players also occupying the top eight options for the game's opening try-scorer.
Scotland are ahead in a few categories, none of them complimentary. They are, for instance, deemed to be the team most likely to get a yellow card, or most yellow cards. The fact that the Wallabies had double the number of yellows than Scotland in the group stage is, seemingly, neither here nor there with the bookmakers.
They can't see past Australia.
What to do with the Newcastle Two?

The credibility of the World Cup's disciplinary system lies in tatters, but Vern Cotter isn't going to get himself involved in the politics of rugby. He has enough on his plate.
Ross Ford and Jonny Gray are now available and the head coach had a decision to make. He's made it already, but he doesn't have to make it public until an hour before kick-off. So we wait and we speculate.
There are two ways to go. The first involves Cotter going to Fraser Brown and Tim Swinson and saying: "I don't care about the appeal verdict. I believe in you. Jonny and Ross are on the bench and you're starting."
In that scenario, it would be easy to see how Brown and Swinson would go into the game with a huge lift and a renewed determination to run through walls.
Cotter still has two liberated big hitters to come off the bench when he needs them, two guys who'll just be happy to be in the 23 given all that has gone on this week.
The alternative road is that Cotter gets brutal and says: "Look lads, Jonny is our number one lineout caller and most prolific tackler, plus we need Ross's experience to go up against Stephen Moore. So, sorry, but you're now on the bench."
He now has his two frontline players back in the team, but, possibly, two others on the bench, Brown and Swinson, who've just taken a big bang to their confidence. What does Cotter do? It's a big call. The comfort, of course, comes in the fact that he has to make it.
Wallaby complacency?

For any Scot hoping that Australia will go into Sunday with one eye on the quarter-final and the other on the semi-final a week later, Michael Cheika's words came as bad news.
Cheika has gone out of his way to stress that his team will not, and cannot, take Scotland lightly. He said that his boys are ready for a "lot of pain" in what he believes will be their toughest game in the World Cup so far. He doesn't accept that Australia are favourites.
He's over-egging it, but the mantra from all corners of this Wallaby squad has been the same. They respect what Scotland have done and what they are capable of doing. Another story emerged from the Australia camp that poked a giant hole in any complacency argument.
Early last week, Cheika gathered his squad together and spoke of Australia's unexpected exit from the World Cup in 2007, at England's hand in the quarter-final.
He pointed around the room to six people who were involved in a defeat that haunted Australian rugby for years after - current players Stephen Moore, Drew Mitchell, Adam Ashley-Cooper and Matt Giteau, plus the former fly-half and now attack coach, Stephen Larkham, and ex-hooker and now media manager Adam Freier.
It was Cheika's way of reminding them what can happen when they take their eye off the ball. And it was a message that Moore, who will win his 100th cap on Sunday, re-iterated at training on Friday.
"Moorey said that we were in a similar position in '07, where we went all right in the pool stages and then took it a bit for granted," said second-row Kane Douglas.
The Wallabies don't sound like a team that are heading for Twickenham with their head in the clouds.
The battle of the back row

Vern Cotter thought his team would be coming up against the magnificent sevens - David Pocock and Michael Hooper. As it happens, Pocock is injured, which is a heaven-sent blessing in a hellish week for the Scotland coach given the Gray/Ford debacle.
Pocock is the game's - and this tournament's - pre-eminent turnover specialist. He'll be a mighty loss for the Wallabies, especially if Cotter's plan comes off.
It's hastily put-together, it has to be said, but the Scotland coach is going with two opensides in his back-row - Blair Cowan at six and John Hardie at seven.
Why he spurned the opportunity to get them together in a Scotland team before now is something we'll ask him later, but for now, it's a selection that excites. If Cowan and Hardie can get to the breakdown quicker than Hooper and his battalion of heavies then Scotland could deny the Wallabies their much-needed front-foot ball.
Deny. Spoil. Hassle. Harry. Be world champion pains in the backside. That's the job of Cowan and Hardie. It's just one piece in the jigsaw of how Scotland can be competitive.
The possession stakes
| Scotland v Australia | 10 previous meetings | since 2000 |
| --- | --- | --- |
| 23 November 2013 | Murrayfield Stadium, Edinburgh | Scotland 15-21 Australia |
| 5 June 2012 | Hunter Stadium, Newcastle (Australia) | Australia 6-9 Scotland |
| 21 November 2009 | Murrayfield Stadium, Edinburgh | Scotland 9-8 Australia |
| 25 November 2006 | Murrayfield Stadium, Edinburgh | Scotland 15-44 Australia |
| 20 November 2004 | Hampden Park, Glasgow | Scotland 17-31 Australia |
| 6 November 2004 | Murrayfield Stadium, Edinburgh | Scotland 14-31 Australia |
| 19 June 2004 | Stadium Australia, Sydney | Australia 34-13 Scotland |
| 13 June 2004 | Etihad Stadium, Melbourne | Australia 35-15 Scotland |
| 8 November 2003 | Suncorp Stadium, Brisbane | Australia 33-16 Scotland |
| 11 November 2000 | Murrayfield Stadium, Edinburgh | Scotland 9-30 Australia |
Scotland have to get their hands on the ball more often on Sunday than they have done in any of their four games so far.
Against Japan, they only had 40% of the ball, against the USA they scraped it with 51%, against South Africa they were down to 46%, against Samoa it was 50%. It's not enough. Against the major nations, not nearly enough.
If Australia have more ball than Scotland then they have the players to make it pay unless the Scottish defence is extraordinarily tight - and it hasn't been.
Against Samoa, they got pulled out of position then lost confidence in their defensive system and went into themselves. If it can happen against Samoa, it can happen against Australia.
Losing the possession battle is not a good landscape for Scotland. It puts too much pressure on their defence, which is tolerable when you're playing a tired Japan, a one-dimensional USA or a freewheeling Samoa, but it's asking for a beating when you're up against the superpowers.
Scotland have had to make way too many tackles - 197 against Japan (more than the Welsh had to make against South Africa in the first of the quarter-finals on Saturday), 124 against the USA, 166 against the Springboks and 98 against Samoa.
Scotland need more possession, they need more phases, they need to take the heat off their defence and ask more questions of the opposing defence rather than being constantly asked questions of their own. Against Australia, there are only so many answers you can come up with before you run out.
Hope

There is hope. No team is unbeatable. Australia's victory over England was a brilliant study in set-piece excellence and wondrous back-play. Against Wales, it was all about taking their few chances and defending like men possessed.
They've won pretty and they've won ugly. They're a hell of a team, but they're not invincible.
Against lowly Uruguay, they conceded 15 penalties and got one yellow card. Against Fiji, they lost the possession battle - 53%-47%, lost four lineouts, missed 21 tackles and got another yellow card.
Against England - as superb as they were - they missed 22 tackles. Against Wales, they lost three lineouts, conceded 12 penalties and got two more players sent to the bin.
They won because their defence was tighter than a drum but also because Wales were predictable, constantly trying to power their way over from close-range instead of trying to stretch the depleted Wallaby defence and creating overlaps.
Wales showed that Australia can be put under pressure, can be bossed in possession and can lose their discipline. Scotland need to repeat the trick - but also execute. If Cotter's team can win front-foot ball, they have players with pace and wit; guys who can make things happen.
It's a mountain, yes. A huge one. There's a list as long as the pitch at Twickenham of things that Scotland need to get right if they are to challenge to the last minute.
At no point in Cotter's reign have Scotland put in the kind of 80-minute performance that would have the Wallabies panicking coming down the stretch.
"We hope Sunday is the day we deliver it," said the coach.
Everest awaits them all.