Rugby World Cup 2015: Du Preez targeted tired Wales
Last updated on .From the section Welsh Rugby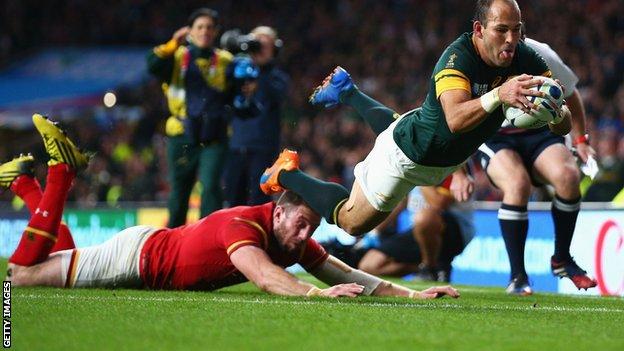 South Africa's match-winner Fourie du Preez felt Wales were "out on their feet" after an hour of their World Cup quarter-final defeat.
Du Preez, who plays club rugby in Japan, said he asked his team to step up when he thought Wales were flagging.
"I think around about 60 minutes I could see a few of their players were lying down," he said.
"They were slowing the game down and I told the guys, 'they're out on their feet at the moment, we've got a lot of gas left, so let's keep on pushing them and we'll pull it through'."
Wales led 13-12 at half-time and survived their sticky patch around the hour to lead 19-18 going into the last 10 minutes before Du Preez struck.
But the 2007 World Cup winner praised Wales' resilience against an immense South African onslaught.
"I tried to put pressure on our guys to lift the tempo and go for the knockout punch at that stage, but it took until the 75th minute for us to break them."
Anatomy of a match-winning try
Springboks coach Heyneke Meyer revealed that the blindside move from a scrum which led to Du Preez's try was the player's own idea.
Meyer said his captain was a tactical genius and added "I want to kiss him".
Du Preez said the move was a result of careful analysis.
"During the week we'd seen that their scrum-half was defending behind the scrum and I just said I'd dummy to the right and Veermu [Duane Vermeulen] would go left and hand on to the winger.
"Obviously I didn't think he was going to give a back-flip pass and I'm going to score. Credit to Duane, it was an unbelievable pass and to give it like that at that stage just shows what a big match player he is."
Wales coach Warren Gatland conceded it had been a defensive lapse by his side, but also praised Vermeulen's dexterity.
"Potentially [scrum-half] Lloyd Williams should have gone in hard on the ball because the scrum had screwed a little bit, and maybe Alex [Cuthbert] should have stayed out," said Gatland.
"But it's a great piece of skill, isn't it? He's got a pass around the back.
"It's disappointing but you have to acknowledge the skill of South Africa."
Wales' 2015 World Cup games
Pool A: Sunday, 20 Sept, 14:30 BST:
Wales 54-9 Uruguay,
Millennium Stadium
Pool A: Saturday, 26 Sept, 20:00 BST:
England 28-25 Wales,
Twickenham Stadium
Pool A Thursday, 1 Oct, 16:45 BST:
Wales 23-13 Fiji,
Millennium Stadium
Pool A: Saturday, 10 Oct, 16:45 BST:
Wales 6-15 Australia,
Twickenham Stadium
Quarter-final: Saturday, 17 Oct, 16:00 BST:
Wales 19-23 South Africa,
Twickenham Stadium