Cornish Pirates 'lack energy' in Doncaster defeat, says coach
Last updated on .From the section Rugby Union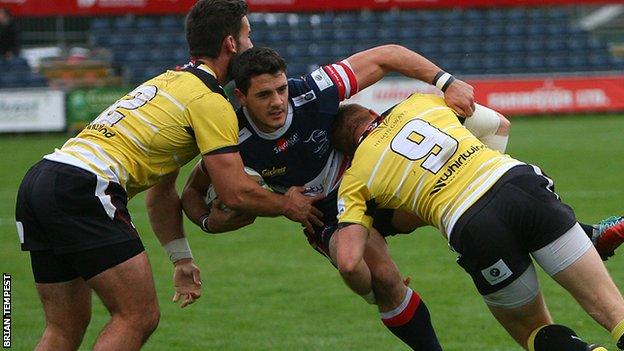 Cornish Pirates boss Ian Davies accused his side of lacking energy after they lost 28-11 at Doncaster, their fifth defeat from seven games this term.
The Pirates conceded four tries in the first 50 minutes before Will Graulich got a consolation score as they went second-from-bottom in the Championship.
"We were comprehensively beaten," Davies told BBC Radio Cornwall.
"We looked low on energy, we lost the collisions, and Doncaster scored their points," he continued.
Bottom side Ealing, whose only win this season came against the Pirates, are just two points behind the Penzance-based club.
"Every away trip, every match in the Championship, is tough and if you're not on your mettle and you don't have your energy you'll lose, and that's what we saw," said Davies.
"It's nothing to do with distance, we've done it for years, and teams come down to us and win, so it can't be the distance.
"We've got to look at what we did in the week, sometimes you've got to put your hand up and say the boys weren't there today."
He added: "Doncaster at home, the crowd got behind them, we gave them field position, they got some points and it gave them energy.
"We'll have to speak to the players and see what it was, but we didn't have the same energy levels we had last weekend.
"Maybe it's the accumulation of two tough weeks against Leeds and (London) Scottish, which were high-energy games, has taken its toll."