Referee Craig Joubert viewed as the villain in Scotland exit

By Keir Murray
BBC Scotland
Last updated on .From the section Scottish Rugby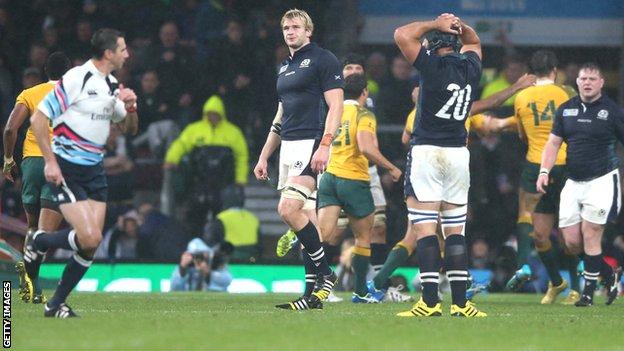 Scotland were a whisker away from a Rugby World Cup semi-final against Argentina.
Following Pool B wins over Japan, the United States and Samoa, they led 34-32 in the final two minutes of their last-eight tie at Twickenham against Australia, one of the tournament favourites.
And then, as the rain fell, sporting disaster struck.
Line-out, Scotland out, fall-out
A poorly executed Scotland line-out proved calamitous.
Fraser Brown threw the ball too long, David Denton could only tip the ball backwards and in the blink of an eye South African referee Craig Joubert had awarded Australia a penalty which Bernard Foley struck between the posts to clinch a dramatic winner.
Joubert, 37, had deemed Scotland's Jon Welsh to have deliberately caught the ball in an offside position after it had been played forward by the shoulder of team-mate Josh Strauss.
To the horror of the fans and TV viewers, Joubert, who was in charge of the World Cup final four years ago - when he upset the French as they lost to hosts New Zealand - did not refer the incident to the television match official (TMO).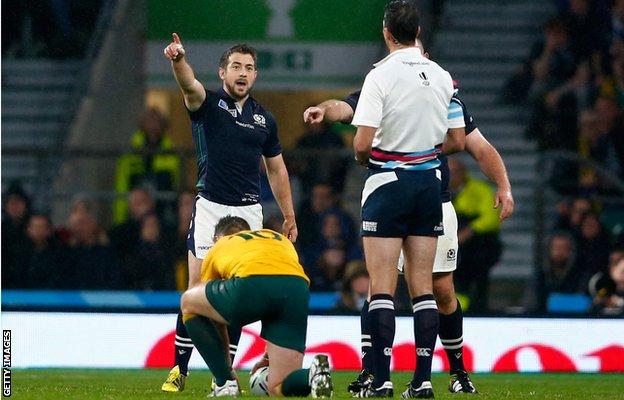 However, he may have seen on the giant screens replaying the incident that the ball appeared to come off Australia's Nick Phibbs last, which would have meant Welsh was onside.
That, perhaps, would explain why, when Joubert blew for full-time, he didn't hang about to shake hands with the players. Instead, he ran straight up the tunnel.
Australia coach Michael Cheika offered another explanation on Monday.
"Someone threw a bottle at him, didn't they? I'd be racing off, too, if I saw a bottle coming. I don't think anything of him going off quickly," he said.
"I don't like the way that people are making something out of the way he ran off the field."
Hastings horrified
Former Scotland captain Gavin Hastings was horrified.
He told BBC Radio 5 live listeners: "If I see referee Craig Joubert again, I am going to tell him how disgusted I am. It was disgraceful that he ran straight off the pitch at the end like that.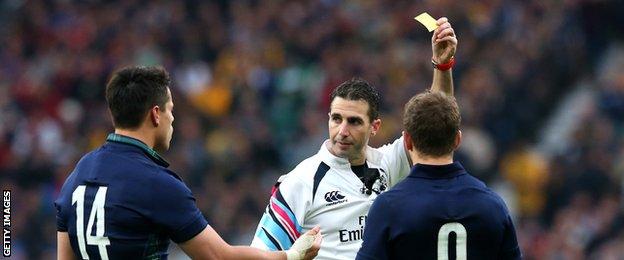 "The referee is not expected to make the right decision all the time. That's what the TMO system is in place for. This is the quarter-final of a Rugby World Cup. This is the highest end of our sport and they have to get these decisions right."
And former England scrum-half Matt Dawson said on Twitter: "Craig Joubert you are a disgrace and should never referee again!! How dare you sprint off the pitch after that decision!!!"
The Durban official's sharp exit and his refusal to refer the incident to the TMO meant social media burned with indignation for the hours that followed.
The laws of the game
However painful for the Scotland players, Joubert was correct not to consult the TMO. He was following guidelines issued by World Rugby earlier in the tournament.
The TMO can be used only in the following circumstances:
Determining the grounding of the ball in-goal for a try or touchdown and/or whether players were in touch or touch in goal before grounding.
Determining whether a kick at goal has been successful.
Confirm if an infringement has occurred in the build-up to a try or prevention of a try (infringement must be within two phases of the try or touchdown).
Considering acts of possible foul play.
Former World Cup winner Lawrence Dallalgio summed up the opinion of many fans when he tweeted: "The referee protocol suggests that the TMO is not in place for decisions like that last penalty!! To hell with protocol when it's so crucial."
Joubert applied rule 11.7 when he considered Strauss shouldering the ball to Welsh as a knock-on.
Laws of the Game: 11.7 Offside after a knock-on
When a player knocks-on and an offside team-mate next plays the ball, the offside player is liable to sanction if playing the ball prevented an opponent from gaining an advantage. Sanction: penalty kick
After the match, Australia's Phipps admitted he had tried to gather the ball at the same time as Strauss.
He said: "I think everyone was trying to win the ball. We were all going for it."
This, therefore, brings rule 11.3 into effect, meaning Welsh was onside and play should have continued.
Laws of the Game: 11.3 Being put onside by opponents
(c) Intentionally touches ball. When an opponent intentionally touches the ball but does not catch it, the offside player is put onside.
"I think you can see from the way he was taking his time. He was certainly having a look at the big screen and wasn't sure himself," said a crestfallen Laidlaw afterwards, who was also irked by Joubert's harsh sin-binning of Sean Maitland for a deliberate knock-on.
On Monday, Brett Gosper, chief executive officer of World Rugby, said there would be a review of the match, including Joubert's dash for the changing room.
"Craig Joubert is a superb referee and has been for a long time, and he's a good man. There will be reasons for what Craig did, I am sure," he said.
"We are not complacent. We will look at everything in this tournament and make changes if we think it is the right way to go."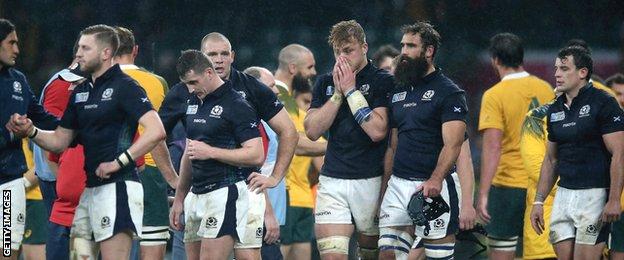 For all Scotland's dismay, it is worth remembering another, less dramatic, moment in the match, when Joubert ruled out an Adam Ashley-Cooper try for an Australian knock-on.
Very few would have spotted that one.