Harvey Biljon: Jersey errors caused loss at London Welsh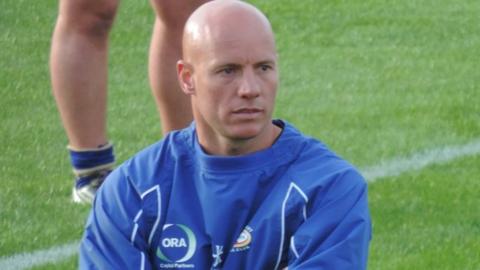 Jersey boss Harvey Biljon says his side were guilty of too many errors in their Championship defeat at London Welsh.
They came away with a bonus point from the 14-8 loss at Old Deer Park, their fourth of the season so far.
"It's pretty frustrating, but I think we've only got ourselves to blame," Biljon told BBC Radio Jersey.
"There were probably three or four moments where we let ourselves down at crucial points and we'll need to go away and make sure we get that right."
Biljon said he could not be too harsh on his players as they lost to a side which playing in the Premiership last season:
"In a game of small margins, we've come away from home and away with a point against a top London Welsh team," he added.
"Some of us will be pretty frustrated with those couple of unforced errors that would have given us a better opportunity to put a little bit more pressure on.
"But we're under 10 penalties again and I feel for the players because I know they put a lot of effort in, but we've got to balance that effort with accuracy."