Former Scotland captain Rory Lawson calls for TMO rule change
Last updated on .From the section Scottish Rugby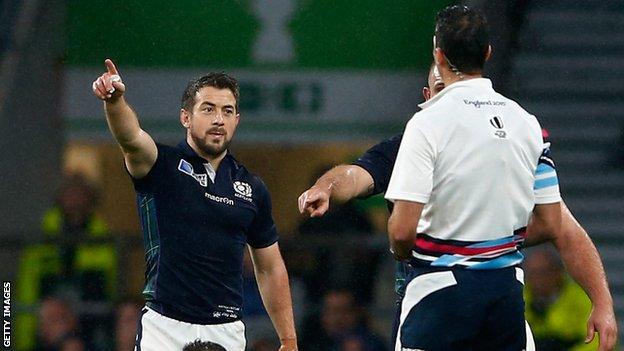 Former Scotland captain Rory Lawson has called for World Rugby to change its rules on when the television match official (TMO) may be consulted.
His offside call from a knock-on is not an area that is covered by the TMO.
"For me, there has to be an allowance for exceptional circumstances," Lawson, 34, told BBC Scotland.
"Ultimately it is a tragedy that we are coming out of what was an unbelievable game of rugby and having to talk about a refereeing decision starving Scotland of a place in the semi-finals.
The TMO can be used only in the following circumstances:
Determining the grounding of the ball in-goal for a try or touchdown and/or whether players were in touch or touch in goal before grounding.
Determining whether a kick at goal has been successful.
Confirm if an infringement has occurred in the build-up to a try or prevention of a try (infringement must be within two phases of the try or touchdown).
Considering acts of possible foul play.
"There is something fundamentally wrong with the process that you can have the outcome of a game dictated on a decision like that.
"Had Craig Joubert said to the TMO, 'this is a decision that is going to dictate the outcome of the game, can we have a look at it?' no-one is going to question that outside of World Rugby."
Scotland were leading Australia 34-32 at Twickenham when, two minutes from full time, their long throw at a line-out resulted in Josh Strauss knocking the ball on to Jon Welsh, who gathered in an offside position.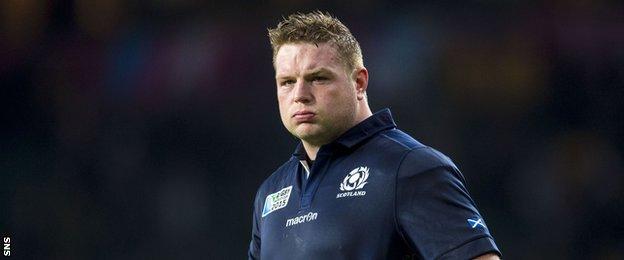 TV replays showed the ball seemed to hit Australia's Nick Phipps, who was trying to control it, a fraction of a second after it left Strauss, thereby playing Welsh onside.
However, South African referee Joubert, who ran up the tunnel as soon as he had blown for full-time instead of shaking hands with the players, was not at liberty to ask the TMO to review the incident.
"They [referees] have to be convinced that the decision is the right one but if that is [fellow World Cup referee] Nigel Owens I think we end up with a different scenario," added Lawson, the former Edinburgh, Gloucester and Newcastle Falcons scrum-half.
"It has cost Scotland a place in a semi-final against Argentina.
"I look at it and say it's a knock-on but Nick Phipps has played at it so the Scotland player is onside."
While Lawson sympathised with his former team-mates, he suggested the decision-making about replacement hooker Fraser Brown's line-out could have been better.
"It's a high pressure situation," he said. "Each individual involved will be wondering what they could have done better. Ultimately it is on small matters like that that games are dictated.
"You can't control the referee but the Scottish players will understand that that was one of the things that they could have controlled."