Rugby World Cup 2015: Where do Scotland go from here?

By Tom English
BBC Scotland at the Rugby World Cup
Last updated on .From the section Scottish Rugby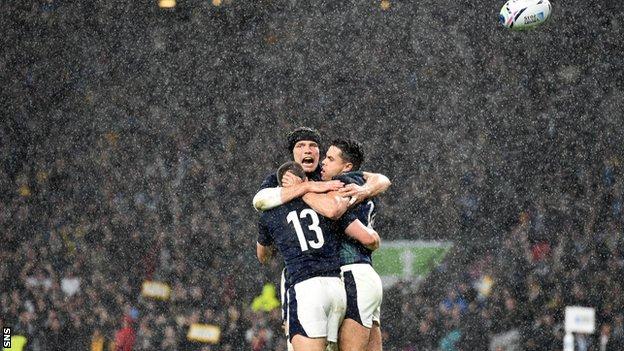 The deluge of flak being emptied on the head of referee Craig Joubert will eventually ease to a trickle and, as the Champions Cup and the Six Nations come into view and normal rugby life resumes, the trickle will stop altogether.
The game in Scotland will be left with that feeling you get when anger has gone but is never forgotten.
Joubert whistled his way into history on Sunday night. His rank bad officiating - and World Rugby has now accepted he got that last fateful call totally wrong - has put him at the top of the pantheon of people who raise the hackles of the Scots who love the oval ball.
Brian Moore - you've been an admirable servant, but step aside now for your days as the rugby nation's cartoon baddie are at an end. Your time as the man the Scottish fans most loved to hate - but actually liked without ever wanting to admit it - are over.
It's all about Joubert now. The ref who got it wrong and then ran away. And on Monday it became a little bit about Brett Gosper, too.
When you're on your knees and angry, it doesn't help to hear the head of World Rugby make light of one of the reasons why you're in despair.
Gosper, World Rugby's chief executive, offered up a feeble answer in response to Joubert's rapid exit, a getaway that was as disrespectful as it was unprecedented in rugby at this level - and maybe any level.
He said the reason behind Joubert's disappearing act was, perhaps, because he was "keen to go to the bathroom, who knows?"
Who knows? Gosper could have done us all a favour and found out. As the boss of global rugby, would it have been too much to ask him to pick up the phone to Joubert and get answers without having to wait for the South African's report to land?
We can get overly sanctimonious about these things - and it was poor decision-making, or non-decision-making, that stands apart - but scarpering in order to avoid criticism was a pitiful display.
The storm of protest will blow itself out. It always does. We'll soon stop analysing Joubert and his multiple errors and start delving into where Scotland are at after this World Cup and where they might be going. Five games have thrown up all manner of talking points.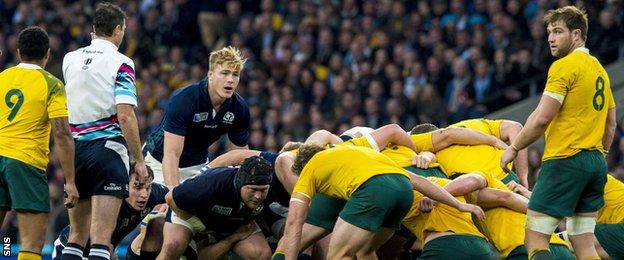 Lessons not learned
This is a young and talented Scottish team but it needs to start growing up fast. Their naivety cost them a place in the World Cup semi-finals. Simple as that. They had done monstrously well to put themselves into a game-winning position and they let it go.
We can bang on about Joubert, but that last lineout at Twickenham on Sunday exposed the death-wish that still exists in this team. We saw it against Italy in the Six Nations and here we saw it again when the stakes were a whole lot higher.
Why throw that lineout ball long on a wet night and with time fast disappearing on the clock? It was the riskiest throw imaginable at the worst time possible. It was a heartbreaking lapse under severe pressure.
There was more than one lesson to be learned in the tournament, though. Scotland never really got to grips with their kick-off reception and it cost them points along the way. They never figured out a way to deal with an opponent's lineout maul and that was a recurring theme. Japan, South Africa and Australia all exposed them.
Those are things that have to be cleaned up once they draw breath and regroup for the Six Nations.
A changing forward pack
Coach Vern Cotter took some heat for dropping John Hardie out of the sky and straight into the Scotland team. Nobody's complaining now. Hardie was superb. A clever, brave and dynamic openside, a prodigious tackler and a number seven to celebrate.
Cotter may have stumbled on the partnership, but Blair Cowan and Hardie are flankers with a future. They were put together for the first time against Australia and they won the breakdown battle against more exalted opponents. They made Australia pine for the absent David Pocock. Their partnership is one that excites.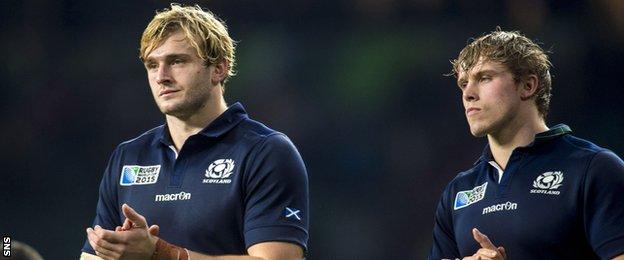 Ahead of them, the Gray brothers were immense pretty much throughout the tournament. Jonny Gray is, as its stands, the tournament's most prolific tackler and his big brother, Richie, is not far behind him. Their work-rate and influence against Australia marked them out as world class.
Richie Gray has benefitted hugely from the impressive, but unlucky, Grant Gilchrist lighting a fire under his rear-end. On the biggest stage, they performed.
In the front row there was a Eureka! moment. The emergence of WP Nel was a revelation. How silent we have all fallen on the residency rule. Nel, and the sustained excellence of Alasdair Dickinson on the other side, has helped turn the Scottish scrum from a target into a weapon.
The Wallaby scrum destroyed England. They barely put a dent in Scotland's. It was actually the other way around. Scotland went after Australia and got some joy.
The improvement in the scrum was a big feature of the World Cup. It will always be the underdog against the game's pre-eminent operators, but it looks to have made giant strides.
The new-age predators
Scotland's attacking game has gone from blunt to dangerous, from the most plodding and most predictable and most easily defended against to something that can conjure tries out of nothing.
It's too easy to say that Scotland got lucky with a succession of intercept tries. When it keeps happening you know that something else is at play. It's like that old, tongue-in-cheek line from Gary Player when asked about his good fortune in golf: "The more I practise the luckier I get."
Tommy Seymour scored intercept tries against Japan and Samoa. Duncan Weir intercepted against South Africa and Seymour got on the end of the breakaway and scored again. Mark Bennett got an intercept try against Australia on Sunday. Seymour got another 'lucky' try when Finn Russell charged down Bernard Foley.
Is it a series of flukes or is it more about a set of sharp-thinking backs with terrific game-awareness and an eye for a chance? The latter.
Time was when Scotland used to bang away in an opponent's 22 and get nowhere. Phase upon phase, forward drive after forward drive and nothing to show for it at the end.
These young Scottish backs have changed the narrative. They're great to watch. And they'll be around for years. That's one of the things that quickens the pulse. Most of them have their best stuff ahead of them.
Vern Cotter and new-found resilience
It's almost embarrassing to think back to the end of the Six Nations and the discussions being had about whether Greig Laidlaw ought to retain his place and also the captaincy of the team.
In this quarter, we had doubts, but Laidlaw has obliterated them. He's been magnificent. A real leader. His influence and that of the intense Cotter is coming through in different areas and one of them is in their resilience.
They were in a hole against Japan and dug themselves out of it. They were in a massive hole against Samoa and stayed calm and found a way to win. Against Australia they conceded early and we thought that could be the end of them. No.
Time and again the Wallabies must have thought that they'd quashed Scotland's spirit, but they hadn't. David Denton typified the mentality. Carry after carry, hit after hit, then up he got and went again. Marvellous.
It was said that Scotland teams of the recent past would have lost to Samoa. It's probably true. It was also said that Scotland teams of the recent would not have been able to live with Australia - and there is no probably about it.
They have way to go - that last lineout told you that with painful clarity - but this team are developing a mental strength where before they had the psychology of a marshmallow.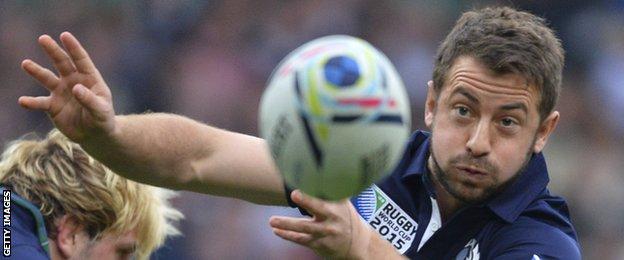 Defence - the big D
Can Scotland kick on? Only if their defence improves in a fairly dramatic way. They conceded three tries against South Africa, four against Samoa and five against Australia. For all the good things they did in those games that's a try-count that makes life horrendously difficult.
That's the next step. They have advanced down the road, from no-hopers to a team that people are now respecting, but they need to be harder to score against when playing the best.
The agony from Sunday lingers. For the players, it will never fully go away. In quiet moments years from now their minds will drift back to it when they least expect it. That's what others who have suffered in the same way tell you.
I once interviewed a man called Jimmy Nelson, a second-row forward from Northern Ireland. He was 92 years old at the time of our chat and he was talking about the lost opportunity that was his one Lions tour in 1950.
"I still get angry about it," he said. He sat up straight in his seat and spat out the name of the man he held responsible. I said, 'Jimmy, it's over 60 years ago.' He said it still seemed liked yesterday.
Scotland will have regrets, but they're a coltish team and they have years ahead of them - as long as they continue building and continue learning the lessons.