Rugby World Cup: 'Argentina better without Six Nations'
Last updated on .From the section Rugby Union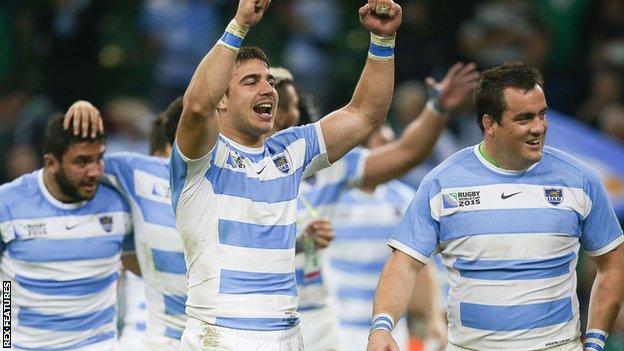 Argentina would have struggled to reach the World Cup semi-finals if they had joined the Six Nations, says defence coach Pablo Bouza.
The Pumas formally asked to join the European tournament in 2007 but the request was rejected by organisers.
Argentina instead joined New Zealand, South Africa and Australia in the Rugby Championship from 2012.
Asked if they would be as strong in the Six Nations, Bouza said: "I cannot be sure, but I don't think so."
He added: "They are quite different styles. Last year when we finished playing the championships, we struggled, we came back here and we lost against Scotland.
"But they are such different styles, when you play here in autumn. In November, the pitches are slow, the breakdown is tough, it's tough to have quick ball to play. When you have quick ball, for us it's very positive."
Argentina reached the World Cup semi-finals for the first time in 2007 and emulated the feat on Sunday by beating Ireland 43-20 at the Millennium Stadium.
They face Australia in the last four at Twickenham at 16:00 GMT on Sunday.
New Zealand take on South Africa on Saturday with no northern hemisphere countries in the semi-finals for the first time.
"Playing in the Rugby Championship for us has been great," Bouza added.
"The players used to play against New Zealand far less frequently. Before you would play them every six or seven years, and now they have played 10 matches against them in four years.
"For the players, and for us as coaches, we are always learning when we play against New Zealand."