Rugby World Cup 2015: Scotland must build on form

By Mike Blair
Former Scotland scrum-half
Last updated on .From the section Scottish Rugby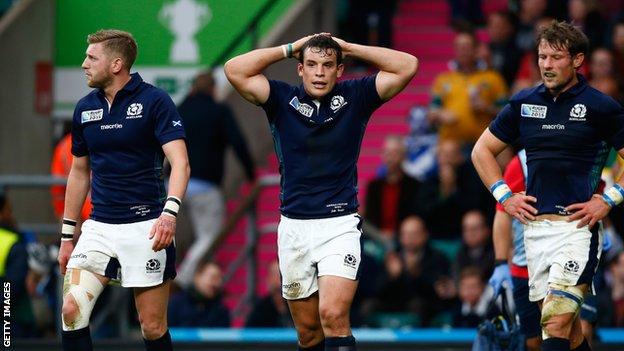 This Scotland team have come a long way.
I don't know where to start! I've tried to delay the writing of this column so I could take the emotional side out of it and try to see Scotland's World Cup quarter-final against Australia in the cold light of day. It has not been easy to do that as the emotion and the drama of Sunday's game made it what it was and it's a shame one team had to lose.
Scotland should be incredibly proud of their performances in this World Cup and they should hold their heads high. But for a few minor incidents they could be playing against Argentina next week for a place in the final.
I admit that I was concerned about how this game would pan out. Vern Cotter's side had made the most amount of tackles this tournament with the least amount of turnovers and my feeling was that if Australia got into their multi-phase game then their strike power in the backs would be too much.
Scotland posed a threat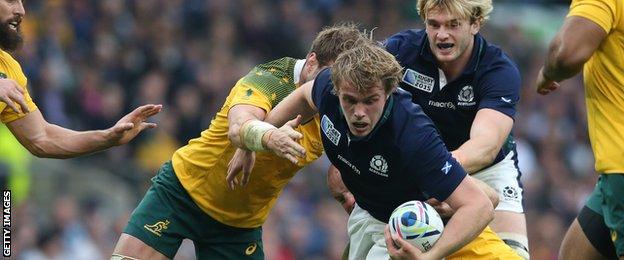 Scotland needed possession to negate the attacking threat and, in truth, they looked as dangerous with ball in hand. They were perhaps more methodical and less flamboyant than their opponents but they were pretty clinical with their opportunities and played the game very intelligently.
Jonny Gray's role within the attacking structure is key, much like Brodie Retallick's with New Zealand. Gray is, more often than not, the first forward receiver and provides both a genuine ball-carrying option and the ability to be the link player, changing the point of attack. His involvements during his time on the pitch must have been off the chart.
Speedy Australia
Scotland's defensive shape, despite conceding five tries, was generally good and there were a number of big collisions and dominant tackles - an area where Scotland have focused their attention. The issue was that even when the Australians were hit hard they were still producing very quick ball. When quick ball is created three or four phases in a row then it becomes impossible to reset your defensive line and then still come forward.
The speed to break down from the Australians was very impressive and despite Scotland playing with two open sides they barely had a sniff of the ball because of the Australian efficiency in this area.
The scrum deserves a mention as it has been a real strength this tournament. An Australian pack that troubled both the English and Welsh were neutralised and indeed Scotland came off better on the penalty count.
Joubert only human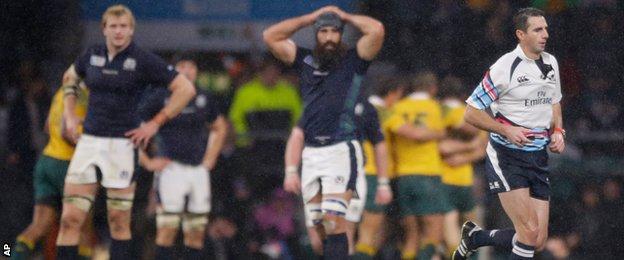 I probably need to cover off my thoughts on the decision, now acknowledged by World Rugby as incorrect, by referee Craig Joubert to award the penalty at the end. The facts are that Joubert refereed what he saw, he couldn't use the TMO and he believed the penalty was the right decision.
In hindsight it was the wrong decision but human error is unfortunately a factor in all areas of our game.
The stakes were so high, though, that the error was magnified and there must be a system to rectify it. What about in tennis and cricket where each team has a certain number of referrals to the TMO?
All in the detail
There were a couple of discussion points in those last five minutes, the obvious one being the decision to throw to the tail of the line-out, in the rain.
It's a tougher throw, but I'd imagine, with all the analysis on Australia's line-out, that Richie Gray will have also believed it would be the easiest to win and sure enough there was no contest at the tail.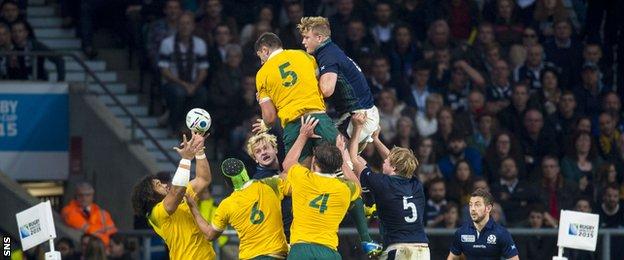 The throw was millimetres off and the timing milliseconds off but if you look closely this could all have been caused by the very cute interference of James Slipper on Jon Welsh while David Denton was being lifted.
As ex-New Zealand international Todd Blackadder used to constantly say at Edinburgh, "it's the little things..."
Another discussion point was perhaps the decision to kick long with the last kick-off. There were 30 seconds left on the clock and although Australia had a specialist catcher in Kurtley Beale placed short, there might have been a better chance of winning the ball back here and having one last crack.
Being able to pick on these small details shows how far this team have come.
I have an enormous amount of respect for what this group of men have shown over the past month or so. They have put a lot of pride back in the jersey and have the foundations of a squad that Scottish supporters can really get behind.
This is hopefully just the start of something.