Urs Meier: The football referee who knows how Craig Joubert feels
Last updated on .From the section Rugby Union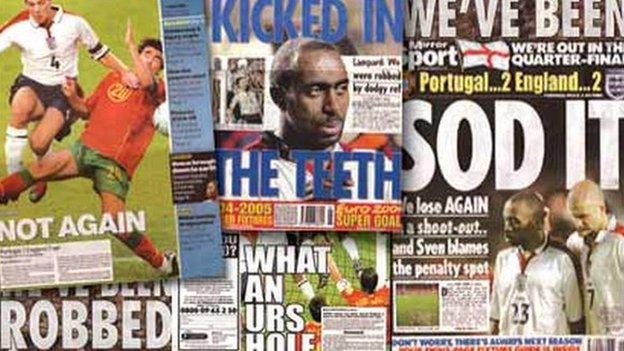 Ten days in hiding with police protection. Security guards at his place of work. 16,000 emails in one hour and the Prime Minister saying you made a wrong call.
That's the price Swiss football referee Urs Meier paid when his contact details and address were published in English newspapers after he disallowed a Sol Campbell goal as England were knocked out of Euro 2004 by Portugal.
Following rugby union referee Craig Joubert being criticised for awarding Australia a late match-winning penalty in Sunday's World Cup quarter-final against Scotland and then running off the pitch, Meier has been remembering the abuse he received.
'The whole of England was against me'
With Meier the scapegoat for another England exit from a major tournament, things started turning ugly.
"I was on the front page of the Sun for three or four days. Journalists came to my home town, asking people questions about me," said Meier, who also claimed his children were offered Premier League match tickets to speak to reporters.
"In the first day, there were more than 5,000 phone calls from England in my office. In the first hour, I got more than 16,000 emails. I had to cancel the address.
"The Prime Minister, Tony Blair, said on television that I had made a wrong decision. The whole of England was against me!
"The police in Switzerland were afraid that English supporters would come to my office, or that something would happen with my employees or my family. I had two armed security men in front of my business for a week."
'I had no contact with my family for 10 days'
Meier flew back to Switzerland after the tournament, but his homeland offered no respite.
He was kept on the aeroplane by police, taken to a garage in a city 20km away from his home town and told to change his car. He was going undercover for 10 days.
"It was a hard time," said Meier. "I had no contact with my family or with my friends - the police forbade it. I went to the French part of Switzerland in the woods, far away from anything.
"My family was really under pressure. At school, my children were attacked by their class-mates. My 14-year-old son was told 'your father made a terrible mistake - he is a bad referee'. It was not an easy time for him."
'Associations have a duty to protect referees'
Some pundits have suggested the very public censure of Joubert marks a turning point in rugby away from the total respect officials usually command - not helped by World Rugby's controversial statement.
For his part, Meier said he was desperate for public support from Uefa. To this day, he stands by his decision to disallow Campbell's goal.
"If Uefa had made a statement saying 'look, it's a clear foul', I think the campaign against me would have ended after one or two days," he said. "But they said nothing.
"The association have to help the referee. He is the long arm of the association on the field. They have a duty and a responsibility to protect referees, but there was no protection in my case"
'Have a holiday - far away'
Joubert has been backed by his compatriots, including former South Africa captain Bobby Skinstad.
But switching off from both the good and the bad might be the best option for Joubert, says Meier.
"Don't read any newspapers, any emails, or watch any television. Have a holiday for a week, far away, and try to forget what's happened," Meier advised.
"It's a hard time for the whole family, but it's a hard time for him, too. It's a difficult time because you have no support.
"I just hope that he gets some support from the referees' committee."