Italy's World Cup knockout could hurt Edinburgh - Solomons
Last updated on .From the section Scottish Rugby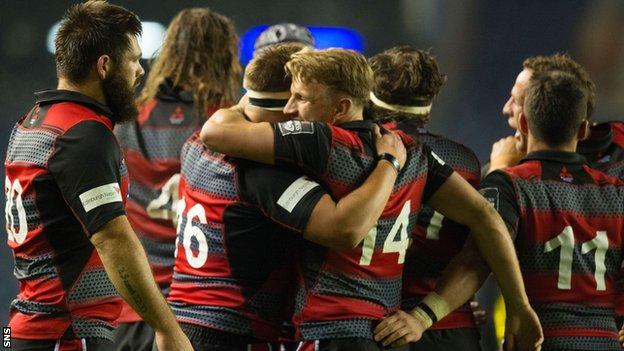 Head coach Alan Solomons warned Italy's failure to make the World Cup quarter-final could make Edinburgh's task against Zebre more difficult.
While Scotland lost out to Australia in the knock-out stage at the weekend, Italy finished third in their pool behind Ireland and France.
"All their players who played at the World Cup will have had a rest," Solomons told BBC Scotland.
"They have that advantage as well as home advantage."
Edinburgh have started the Pro12 season in fine form, winning their opening four games, and their South African coach says he is not surprised.
"It's something we've been building up to over the past couple of seasons," said Solomons.
"We had a good pre-season, our friendlies went well and we generated confidence beating Romania and beating a strong Ulster side.
"I think we've managed to take that into the season. For us it's a very positive start. We're pleased with where we are at the moment."
Edinburgh boosted their forward pack during the week with the signing of John Hardie, who was in the Scotland side at the World Cup.
"John is a terrific player and he is apparently a really good bloke," he said. "I'm sure that he's going to add a lot of value to Edinburgh rugby."
The World Cup semi-finals will exclusively be southern hemisphere teams, however Solomons does not agree that northern hemisphere rugby is on the slide.
He said: "If you look at the rankings of the teams going into the competition there was always the possibility of that.
"Both Wales and Scotland it was a hair's breath, it could quite easily have been Wales and Scotland in that semi-final. So I think you've got to see that in perspective."