Rugby World Cup 2015: How Argentina's Pumas found their bite

By Tom Fordyce
Chief sports writer
Last updated on .From the section Rugby Union100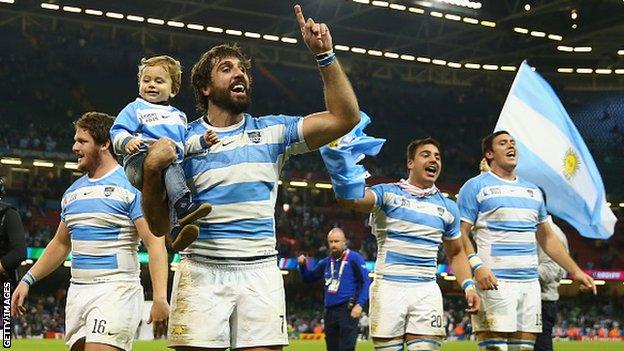 On a cold autumn day 25 years ago, Argentina walked off at Twickenham having been handed a seven-try thrashing by England. They failed to score a single point.
This weekend they return to the same famous ground, in the same iconic blue and white hooped jerseys. That much is the same. Everything else has changed.
England are long gone from this World Cup, flushed down the gurgler before the group stages were over. The Pumas roar on, into their second semi-final in three tournaments, playing the sort of open, attacking, liberated rugby that the hosts had once hoped to deliver.
This is the story of a rugby revolution. It has already demolished the best team in the Six Nations. And, with the Wallabies up next and a first World Cup final just 80 minutes away, there are bigger icons lined up in its sights.
The transformation - no more isolation
Argentina have gone deep into World Cups before - battling to third in 2007 after beating hosts France twice, reaching the quarter-finals four years ago, only to be beaten by eventual champions New Zealand.
They had heroes, too - the gnarled front row of Rodrigo Roncero, Martin Scelzo and Mario Ledesma, the dashing Agustin Pichot at scrum-half, 'El Mago' - the magician - Juan Martin Hernandez at fly-half, urbane Felipe Contepomi at 10 or 12 or anywhere else he fancied trotting.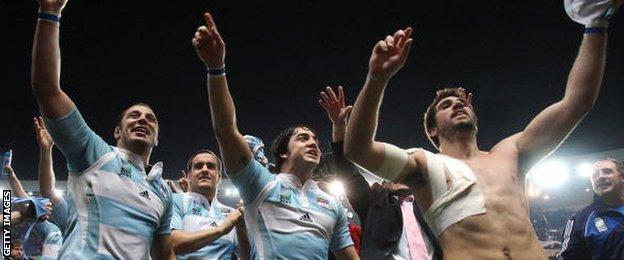 Much of that momentum appeared to have died away with this World Cup on the horizon. Argentina suffered a record 32-3 home defeat by England in 2013 and were hammered 73-12 in South Africa the same year. Even last autumn they were losing to a Scotland side who a few months later would be picking up the Six Nations Wooden Spoon.
But the seeds had already been sown: the appointment of a coach with a vision, the borrowing of the international game's brightest minds, the legacy of those earlier successes.
Daniel Hourcade might have lacked profile and top-level experience. He had coached the national Sevens and Under-21 sides, yet his only previous World Cup experience was with also-rans Portugal eight years ago.
But he had worked with all his country's best young players, and on taking over two years ago shared the view of World Cup-winning coach Sir Graham Henry when the New Zealander was brought in as a consultant: to become a real force in the world game, Argentina had to score more tries.
No more reliance on forward power alone and a game built on kicking for points and territory. No more uncharacteristic conservatism for a nation that plays sport with flair as well as aggression. And, critically, no more isolation.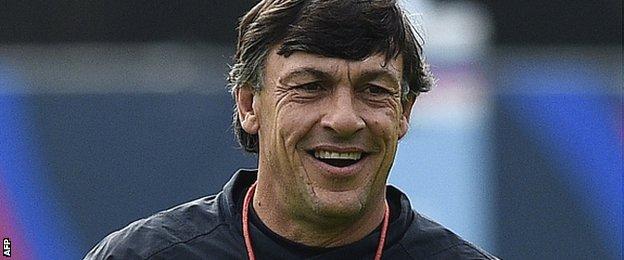 The Pumas had lobbied hard to join the European party, to base a national side in Spain and make the Six Nations seven, to enter two professional teams in the Celtic League.
Instead they stayed south, turning the Tri-Nations into the Rugby Championship in 2012. It was both a more stimulating and at times more painful education, but the lessons were slowly absorbed; a year ago, the Pumas had their first win, beating Australia 21-17 in Mendoza, and this summer, a first away triumph: outclassing the Springboks 37-25 in Durban.
"Before you would play the All Blacks every six or seven years," says the team's defence coach Pablo Bouza. "Now we have played 10 matches against them in four years. And for the players, and for us as coaches, we are always learning when we play them."
The magic blend - more than the sum of its parts
The impact of 2007 did not end when Pichot's team walked off the pitch at Parc des Princes, having comprehensively outplayed a bedraggled France in the bronze medal match.
"I have very good memories watching the games with my friends," says scrum-half Tomas Cubelli. "It was like a boom for Argentina rugby - a lot of young guys started to play rugby and the number of little children in amateur clubs grew."
Some of those kids are now alongside him in today's squad: 20-year-old lock Guido Petti, who had been in the crowd in Paris, having his photo taken with his heroes; 21-year-old winger Santiago Cordero; 22-year-old flanker Pablo Matera.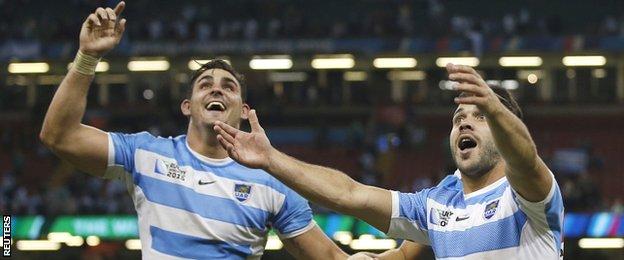 It is the balance of young and old that has driven this team on in the past five weeks. Hernandez, now 33, is playing beautifully at inside centre; 33-year-old number eight Juan Martin Fernandez Lobbe and 30-year-old skipper and hooker Agustin Creevy have never played better.
There is still a heavyweight front row in the lumpy Marcos Ayerza, Creevy and Ramiro Herrera, but also a back three of Joaquin Tuculet, Juan Imhoff and Cordero who are all pace and sharp angles. At fly-half, Nicolas Sanchez, schooled by Jonny Wilkinson and Matt Giteau at Toulon, has the sweetest boot in the tournament and the vision to set free those outside him.
There are few true superstars. Creevy is a stalwart for Worcester, Tuculet a journeyman who has passed through Sale, Grenoble, Bordeaux and Cardiff. Cordero began the season as the fifth-choice winger, destined for the Sevens team at the Pan American Games.
But this disparate group has come together as far more than the sum of its parts. And in Britain's dry, warm autumn they have found the conditions to flourish.
"In November, the pitches are slow and the breakdown is tough," says Bouza. "It's tough to have quick ball to play. But when we have quick ball, it's very positive for us."
The legend - 'we have come a long way'
Pichot is more than his country's greatest captain. He is both an inspiration to the men who have followed him into the team and the driving force behind this benign revolution.
"He is a very special man in Argentina," says Cubelli. "He was one of the best in his position and now he is one of the best working for Argentina rugby.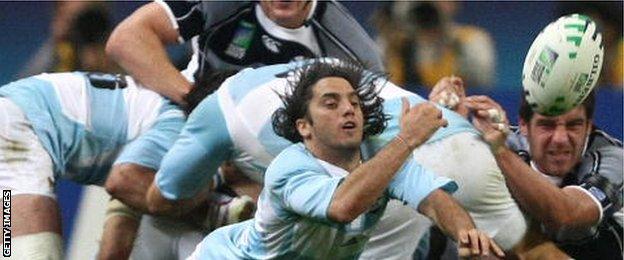 It was Pichot who brought in Henry to help the team, his connections and charisma that brought over three other wise men: Dave Rennie, coach of Super Rugby team the Chiefs, former All Blacks flanker and now Highlanders coach Jamie Joseph, and former France scrum-half and Stade Francais coach Fabien Galthie.
In these last two months he has been in the stands at every Argentina game, still living every pass and tackle, celebrating the wins as if he were still down on the pitch.
"I'm very, very proud of what this team has done," he told BBC Sport.
"We have come a long way since 2007. We have a very strong young team, and the country is very proud of it.
"To make history, we have to win the next game, and then the one after that. But this team has an edge that we never had before. Eight years ago in our semi-final we didn't really know what we were doing. This team wants to do something much bigger."
The background - an Englishman abroad
This has not been an overnight transformation. Argentina's success today can be traced back to the work first started by an unlikely revolutionary figure: former England and Leicester fly-half Les Cusworth, a man who looked 50 at his playing peak of 25, at 5ft 7in a little general dwarfed by today's more sizeable 10s.
Cusworth, assistant coach to Manuel Loffreda during the 2007 World Cup, set up the country's new high-performance programme when he returned to Buenos Aires that southern hemisphere summer.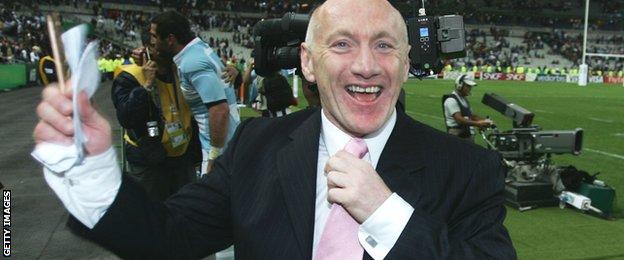 The amateur game had always been strong: 60,000 people regularly playing the game, 400 Argentines involved in professional rugby at some level in Europe, over 80 thriving clubs in the capital alone and more than 500 across the land.
But there was also a gap, no bridge between the flourishing grass roots and the harsh climate of professional international rugby.
Cusworth established a scheme to nurture the brightest young teenage talent. Pichot would run it.
World Rugby gave $10m in funding. The second-string Jaguars, under Hourcade's coaching, began to find consistent success with consecutive Americas Rugby titles; the third-string Pampas were entered into South Africa's provincial competition, the Vodacom Cup.
The kids were sent to the South African sporting hotbeds of Stellenbosch and Potchefstroom, and the learning process accelerated again. Five forwards who featured in the thumping 43-20 quarter-final win over Ireland were schooled out there; none has yet celebrated his 23rd birthday.
And it goes on. The Rugby Championship for the national side, a new Argentine franchise for an expanded Super 16 in February next year. Where once the best players were scattered overseas, now they will train and play together all year round.
The style - 'more expansive, with great skill'
Hourcade's CV is rather reminiscent of England coach Stuart Lancaster's. But where both have come up through the kids and reserves, the Argentine has managed what the Cumbrian could not, and set his team free.
The Pumas have run in 26 tries in their five matches so far, eight more than any northern hemisphere team. In the quarter-final they made twice as many metres as Ireland and more than twice as many line-breaks.
There were missed tackles, 20 of them. But there was a liberation to their play that overwhelmed any reservations. And there was width - at the start, at the end. This revolution is not a left-wing or right-wing affair. It uses both, as often as possible.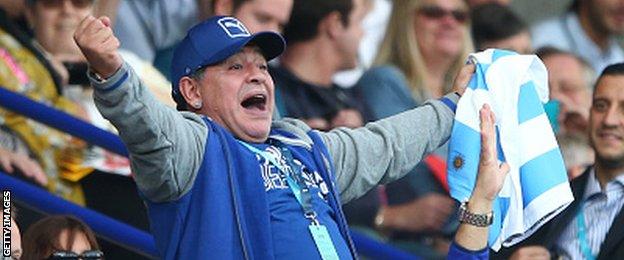 "Traditionally we have played a hard, strong, committed and confrontational style, but we are now capable of playing more expansively and with great skill," says loose-head prop and Leicester Tigers stalwart Ayerza.
"If we want to play to our strengths, we have to use our quick backs and get everyone involved in a dynamic, open style of rugby. We trust ourselves to do that now, to be competitive even against sides like Australia and the All Blacks. We have a lot of improving still to do, but this is definitely the start of something for us."
The Wallabies also like to play with pace and panache. They have men on the flanks, in Adam Ashley-Cooper and Drew Mitchell, who have 180 caps of defensive experience between them, and a coach in Michael Cheika who is astute at both identifying an offensive pattern and finding one of his own to combat it.
Yet the Wallabies will be coming up against a side with support that look and sound like no other, and a team bound together in 12 months in a way that Lancaster spent four years trying to do.
"They have something very special," Cusworth once remarked. "It is a pity you can't bottle it and sell it, because you'd make a fortune."
The home front - 'it's going to be a special day'
During the team's World Cup run in 2007, so hooked did the usually football-obsessed nation get on rugby that El Superclásico, the Boca Juniors v River Plate derby, was postponed to avoid a clash with the quarter-final against Scotland.
This time around, as they seek to pull off the rather remarkable feat of being the first nation to reach both Fifa and Rugby World Cup finals in the same cycle, it is happening all over again.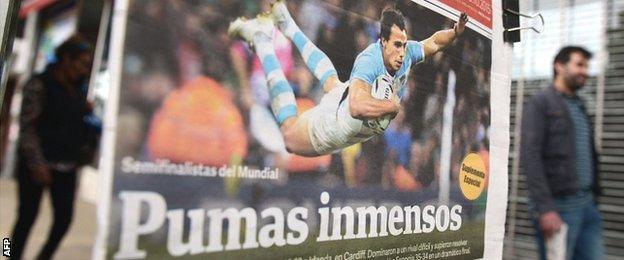 "It's madness back home," says Pichot. "During the World Cup, people from every background are stopping to watch matches."
"It's a good time to be watching a game, because they have been at breakfast or lunch on a Saturday or Sunday," says Tomas Cubelli.
"Most of the people in Argentina love football, but rugby is getting popular day by day and we're contributing to that with this tournament.
"This Sunday there is an election at home for the president, so it's going to be a very special day. I hope we can give a smile to the people of Argentina."
This team is unlikely to all play together again once the 2015 campaign is over. Some of the older warriors such as Creevy and Fernandez Lobbe are likely to stay in Europe with their existing contracts rather than return home.
In the old days that might have signalled a slump. Now the old excuses have gone. Now for the final push.