Nigel Owens: How a missed place kick led to the World Cup final
Last updated on .From the section Welsh Rugby
Rugby World Cup final - New Zealand v Australia
Venue:
Twickenham
Date:
Saturday, 31 October
Kick-off:
16:00 GMT
Coverage:
Commentary on BBC Radio 5 live; live text commentary on BBC Sport website, app & mobile devices
Nigel Owens' road to refereeing Saturday's World Cup final between New Zealand and Australia started when he missed a conversion in a schools rugby match.
Playing full-back for Maes Yr Yrfa in their last game of the season, Owens missed a kick that would have given the school their first win.
"It went closer to the corner flag than the posts," admitted Owen.
It prompted the school's rugby master to suggest a change in direction for the youngster.
"John Beynon turned to me and said 'For God's sake, go and referee something will you' and I said 'all right then' and I did," added Owens in a programme broadcast on BBC 1 Wales on Monday, 26 October.
The playing side's loss was refereeing's gain, and on 31 October Owens became the second Welshman to referee a World Cup final as the All Blacks triumphed 34-17, following Derek Bevan who took charge of the 1991 final between England and Australia.
Early promise fulfilled
Bevan recalls the young referee quickly showed the dedication that has led to him officiating in rugby's biggest match.
"My earliest memories of Nigel was a 16-year-old boy, raw, and no driving licence," he said.
"He used to catch one, maybe two or three buses on Saturday to get to the venue where he refereed - leaving the house at 10.30 in the morning and not getting home until maybe 8.30 at night. He was dead keen."
Owens quickly made it into the Welsh Rugby Union's list of first-class referees and took charge of his first international - Japan v Ireland - on 12 June, 2005 when he was still 33 years old.
He has since officiated in more than 60 Test matches and is the most experienced referee at this year's World Cup.
Biggest challenge
Owens came out as gay in 2007, and the following year published an autobiography in which he described attempting suicide at the age of 19.
The book also outlined his battle with an addiction to steroids and his struggle with the eating disorder bulimia.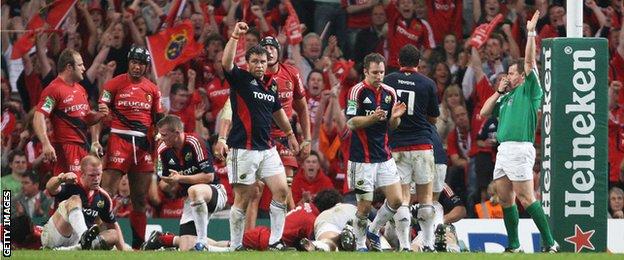 Welsh Rugby Union national match official manager Nigel Whitehouse - himself a former international referee - says the decision to come out was a breakthrough in more ways than one.
"I think it was a key moment for sport, not just rugby but for all sport, and it was a massive step forward for him," said Whitehouse.
"It probably made the sport closer and paved the way for other people perhaps in sport to come out as well. It was a big step forward for rugby union."
BBC commentator and former Wales captain Eddie Butler agrees.
"Referees are by nature open to abuse from the crowd," he said.
"So if you are coming out as the gay referee you are putting yourself in the position where anything can happen. And it hasn't.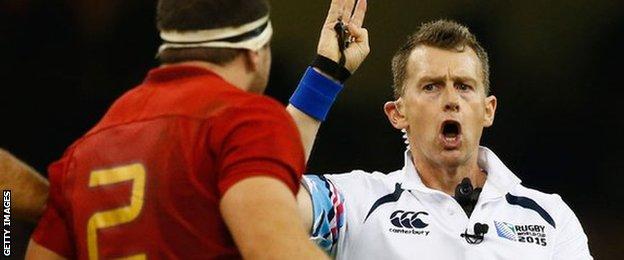 "And I think he has been a catalyst, the person who has accelerated all sport towards the point where if you find out someone is gay you say 'so what?'."
Always ready with a quip
Owens has become famous for his quick-witted patter with players during games, a trait highlighted by the fact referees now wear microphones in Test matches and their comments are broadcast live.
His one-liners and stern lectures have become a social media phenomenon, especially those where he is reminding players that he is in charge.
Owens claims none of the comments are premeditated, though acknowledges his early experience as a Welsh-language comedian has had an influence.
"People ask me sometimes if I go on the field planning what I'm going to say and I honestly don't," he said.
"It just happens and that probably comes from my background of being on stage and doing stand-up comedy."
Butler believes his rapport with the players is a key factor in Owens' success.
"It's not easy to inject humour into the landscape of an international rugby field," he added.
"But if you can and the players appreciate you for it, it says that you have established a very special rapport with the players who are at each others' throats out there."