Rugby World Cup 2015: Plate could help minor nations, says Jones
Last updated on .From the section Welsh Rugby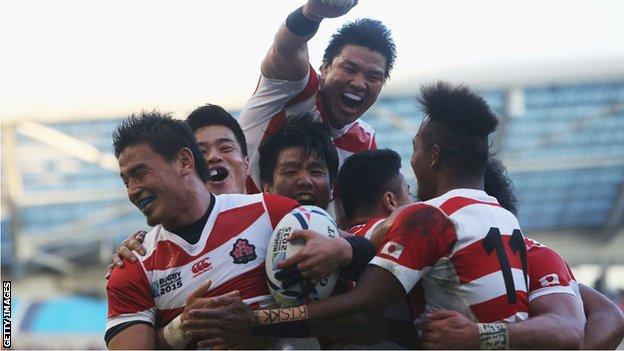 Former Russia coach Kingsley Jones wants an expanded World Cup for teams that do not reach the last eight.
Jones, now coaching at Newport Gwent Dragons, believes such a "plate" tournament would better develop European second-tier teams than promotion to the Six Nations.
"These teams prepare for the World Cup for three or four years," said Jones.
"The last 12 months of that is intense preparation towards the World Cup, and often it's all over in 10 days."
Jones, the former Wales international, led Russia into the 2011 World Cup, and was in charge for most of the 2015 qualifying competition that ended with a loss to Uruguay.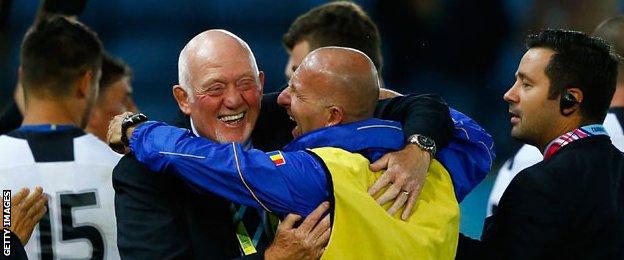 The South Americans went on to play in Pool A against Australia, Wales, England and Fiji - losing all four of their matches.
However, the 2015 tournament has seen a huge improvement among the Tier Two nations, including Japan's shock win over South Africa and Georgia's victory over Tonga.
Jones says there would be enough interest in watching teams who have not reached the knockout stages, similar to the format used on the Sevens World Series.
"Wouldn't it be nice to see England in this case playing Italy in a Plate semi-final or final, or Romania against Georgia?" he said.
"It would be nice to think they could play against (each other), maybe it could be for qualification for the next World Cup."
Rugby Europe, the administrative body, has mooted the idea of expanding the Six Nations to "seven or eight nations" but Jones is not convinced that introducing promotion and relegation to that tournament is the way to go.
"Would relegation really work from that league? I'm not convinced that would be positive," he added.
"It would be fair for the likes of Georgia to have an opportunity, but maybe on a four-year franchise as in Super Rugby.
"For Scotland to drop down, for Wales to drop down, for Italy to drop down, with all the effort and resources that's gone into those teams to get them where they are, particularly Italy, you do wonder.
"You've also got to think how realistic is it for those [Tier Two] nations to step up and be competitive.
"They'd give teams a good game, but to play six weeks on the trot would be a big ask and you might end up with one of those teams being pumped [badly beaten]."
Current European Nations Cup champions Georgia beat both Tonga and Namibia in the 2015 World Cup while Romania, coached by Welshman Lynn Howells, recorded a pool win over Canada.