Rugby World Cup 2015: Defining moments of the tournament

By Tom Fordyce
Chief sports writer
Last updated on .From the section Rugby Union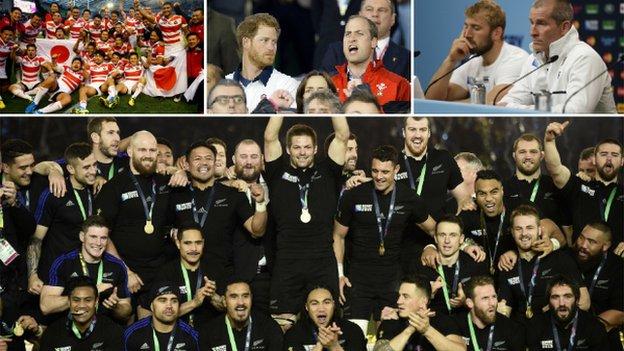 The shocks, the injuries and record crowds. From the dominance of the south to the demise of the north. Some legends departed, while new legends were created and the men in black were the last standing.
The Rugby World Cup had it all, from the moment the tournament burst into life with Japan's shock victory over South Africa to Richie McCaw lifting the Webb Ellis Cup for his nation's record third triumph.
Here are some of the defining moments from the "biggest and the best" Rugby World Cup of all time.
A Tier Two triumph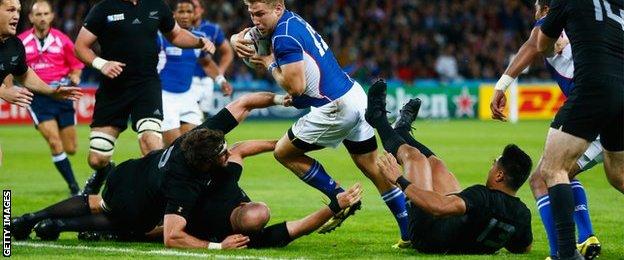 It may have been a World Cup won by the world's number one side, but in the performances of the Tier Two nations came much of the early pleasure. Namibia did something South Africa could not do and scored a try against those mighty All Blacks; Uruguay went over for their first World Cup try in 12 years; Canada gave Italy a mighty scare at Elland Road. It was so nearly Yes We Canuck, though in the end not quite, but never before has the pool of talent been so deep or so even.
Japan blossoms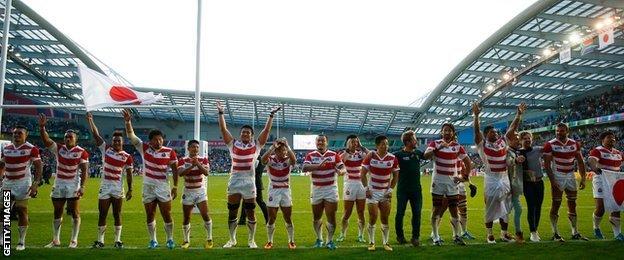 Take Japan as the perfect example. With no wins at a World Cup since 1991, they were 500-1 with some bookmakers when they lined up against two-time champions South Africa. Two hours later, they had both pulled off one of the great sporting upsets and done so with a panache that embarrassed both the Springboks and several other prosaic big-name nations. Three points down at the death, they had a penalty to tie the match; instead they went for a try and glory, and when Karne Hesketh dived over in the corner, they had both.
Princes who adore you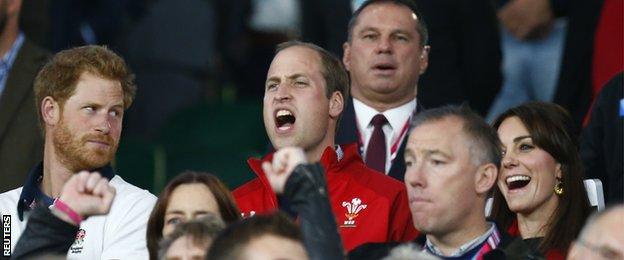 Two brothers, two nations, one winner. England had led Wales by 10 points with 30 minutes to go in their pivotal Group A showdown. The Welsh scrum was disintegrating, their line-out malfunctioning, their team so eviscerated by injury that they had a wing at centre, a scrum-half playing as a wing and a patched-up fly-half at full-back. Somehow they found a way back, just as England found referee Jerome Garces penalising them again and again for the same panicked misjudgements. Gareth Davies's late try from Lloyd Williams' brilliant cross-field kick may have won it; England captain Chris Robshaw's decision to kick a late penalty to the corner rather than the posts ensured it could not be a draw.
England's unwanted record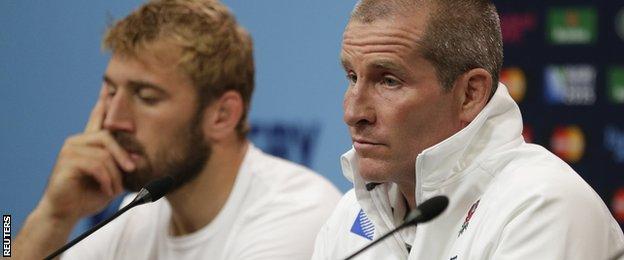 England set out to make history at their home World Cup. They did so, by becoming the first sole hosts to ever get knocked out in the group stages. As other teams accelerated into the tournament, England first stuttered and then fell - changing playing style, changing personnel, losing a big lead against Wales, losing big-style against Australia. Look after the culture and the score takes care of itself, coach Stuart Lancaster told us. A good man was proved wrong in the biggest month of his professional life. Whether he and captain Chris Robshaw get a second chance remains to be seen.
Wales hit Australian wall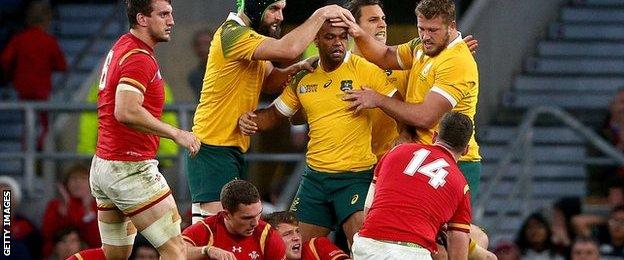 We called it the Yellow Brick Wall, put together by the wizards of Oz. For seven minutes of their critical group match against Wales, Australia were reduced to 13 men. For 13 minutes, they were down to 14. Despite both that numerical nightmare and the living hell of repeated frontal assaults from the desperate Welsh ball-carriers, they somehow held firm on their own line to come away with both the win and the easiest path through the subsequent knockout phases. We all love flair, dash and daring in sport. But sometimes stopping the other team can be the most beautiful thing of all.
Injuries impede Ireland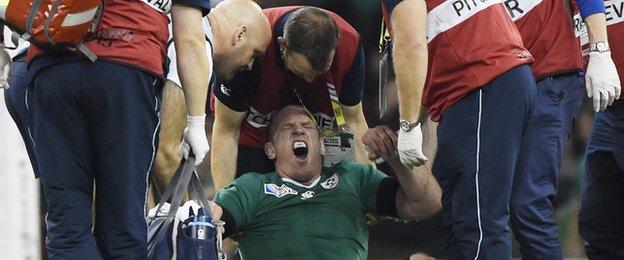 Ireland's glorious group stage victory over France would prove to be a Pyrrhic one. Exhausted by the brutality of a relentless 80 minutes, they would have nothing left to give against Argentina in the quarter-finals a week later. With the final departure of great warrior Paul O'Connell, 108 caps in, hamstring torn off the bone, they lost both a leader and a legend of the game. A rugby obsessive, as placid off the pitch as he was indefatigable on it, O'Connell would not have the international send-off his service deserved.
Scotland scuppered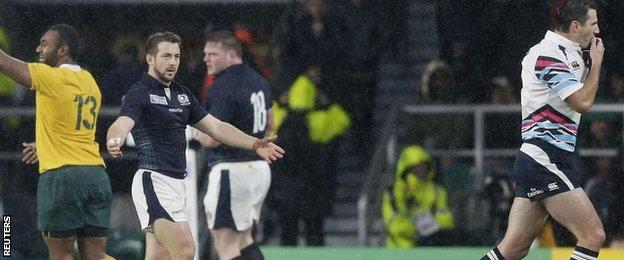 Another World Cup, another brave defeat for Scotland. This time, however, it could have been different - had they not lost their own line-out when leading by two points with two minutes to go, had referee Craig Joubert not mistakenly awarded Australia a penalty for deliberate offside when the ball had in fact come off a Wallaby arm, had Bernard Foley not kept his head when all around were losing theirs to stroke over the decisive kick. Most could forgive Joubert his error, in a frantic finale when protocol meant he could not ask for assistance from the television match official. What was harder to forgive was his dash straight for the tunnel as he blew his final whistle: no handshakes, no waiting for assistants, no looking back.
Argentina touched by the Hand of God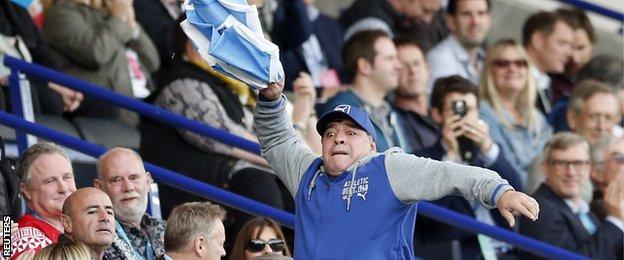 Watched by more people than any other World Cup, with more thrilling games than any other tournament had produced, this was rugby union's impassioned speech to the unconverted. Many fell in love. Argentina's Diego Maradona, winner of the other football's own global carnival, both played the part of ringleader and great lost prop, downing pints at Twickenham, dancing badly in dressing rooms and playing wonky keepy-uppy with the odd-shaped ball.
Record turnout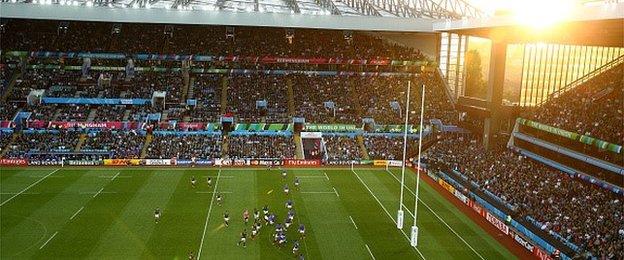 From September to the end of October, England enjoyed a golden autumn, even though its national team wilted as the seasons changed. Match after match was played in warm, dry conditions, helping both attacking, attractive rugby and aiding the southern hemisphere teams more than the north. Villa Park, like the other on-loan football stadia, allowed more fans than ever to watch it all first-hand, with 2.47m clicking through the turnstiles.
Wales' last-eight woe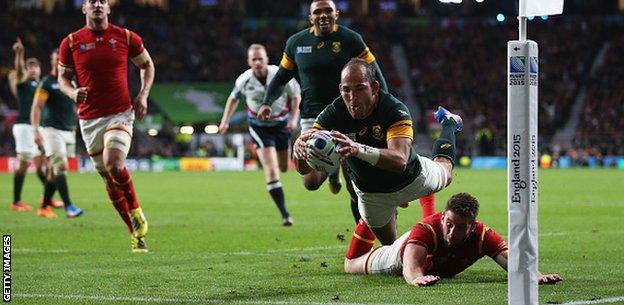 Four years ago, Wales lost a World Cup semi-final by a single point despite playing most of the match a man down. This time, having lost nine players to injury before and during the tournament, they went out in the quarter-finals to a single late score from Springbok scrum-half Fourie du Preez. Against the odds, Wales had led both at half-time and with 10 minutes to go. They have lost 17 of their last 18 Tests against South Africa. Close again, again not close enough.
Pumas pride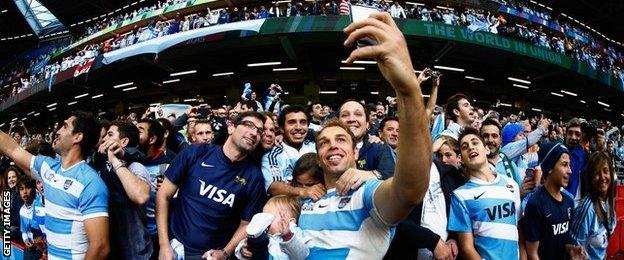 Just as Argentina's players illuminated the tournament, so their support lit up the stands. Having shaken Wembley awake and made Kingsholm bounce in the pool stages, they roared the Pumas to victory over Ireland in Cardiff and then stayed long after the final whistle had blown on their eventual semi-final defeat by Australia to party the chill night away at Twickenham. Two semi-finals in three World Cups, a new professional franchise to join Super Rugby, a new respect in the Rugby Championship: the future is bright, just as the recent past dazzled.
Habana's farewell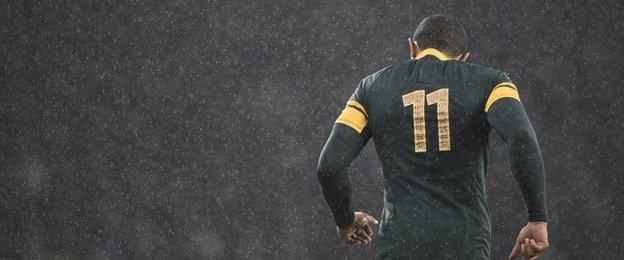 Not all the departing superstars got to leave on the own terms. South Africa winger Bryan Habana equalled Jonah Lomu's all-time World Cup try-scoring record in the pool stages, but in three more matches could not add another. In the attritional semi-final defeat by eventual champions New Zealand, he was sin-binned. His side's failure to utilise his rare gifts when he was on the field were indicative of a game plan that ultimately relied too much on strength rather than style. In the bronze medal match, he would miss three clear chances, an ill-fitting farewell for an extraordinary player.
Wallabies bounce back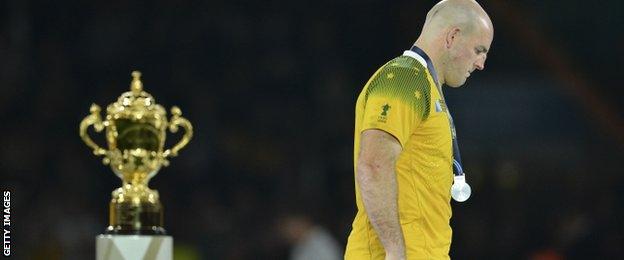 Australia had come to love Twickenham, making this patch of south-west London as much a home from home as their supporters have across a similar spread of the capital. In beating England and Wales, they escaped alive from the toughest of pools, wriggled free of Scotland's strangulation at the very end and then held off the dashing cavaliers of Argentina in the semi-final. Defeat by arch-rivals New Zealand in the final hurt. But in getting that far, and in doing so a year on from being in meltdown, they came closer than anyone else.
The champions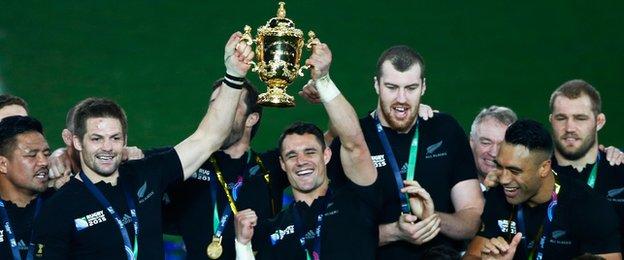 The best World Cup final, after the finest tournament, was won by the greatest team. It might be farewell to Dan Carter, to Richie McCaw, Ma'a Nonu, Conrad Smith and a few more besides, but there could only be celebration at their valediction. They made history by becoming the first team to retain the Webb Ellis trophy, playing the game with panache and power, at speed and with great control, with flair and a cool-headed consistency no-one else could match. We're lucky to have seen them.