Paul O'Connell could miss full first season with Toulon
Last updated on .From the section Irish Rugby
Paul O'Connell could miss all of his first season with new club Toulon after revealing he may take eight months to recover from the injury that ended his Ireland career at the World Cup.
O'Connell, 36, was due to join up with the French side after the tournament.
"It's very approximate. But it could be four, it could be eight months. You just don't know," he said on Monday.
"I'm just going to follow the protocols religiously. Hopefully that can get me back before the end of the season."
France's Top 14 regular season runs until early June, with the championship play-offs to follow.
Ireland's former captain, who hopes to move his family to France next month, said the pain of tearing his hamstring during the pool win over France was the "worst I've experienced as a professional".
"I need to be on my back for six weeks as I recover to ensure I don't do any damage after the surgery," he added.
"I was operated on on the Thursday and I've just been on the flat of my back since."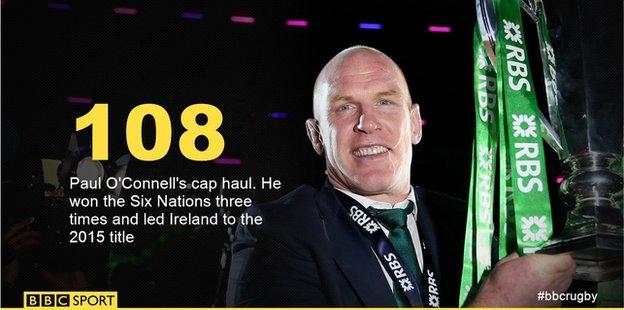 Minus O'Connell and other influential players Johnny Sexton, Peter O'Mahony, Sean O'Brien and Jared Payne, Ireland were beaten 43-20 by Argentina in the World Cup quarter-final a week after the win over France.
O'Connell had stated the World Cup would be his final international duty for Ireland but opted to extend his club career by moving from Munster to Toulon on a two-year deal.
Speaking in Dublin on Monday, O'Connell said his rehabilitation from the injury would be the "biggest challenge of my career".
"I've only left the house four times since getting home from the World Cup in order to get maximum rest and relaxation for the injury."