Alun Wyn Jones: Prize Wales lock in demand - Sean Holley
Last updated on .From the section Rugby Union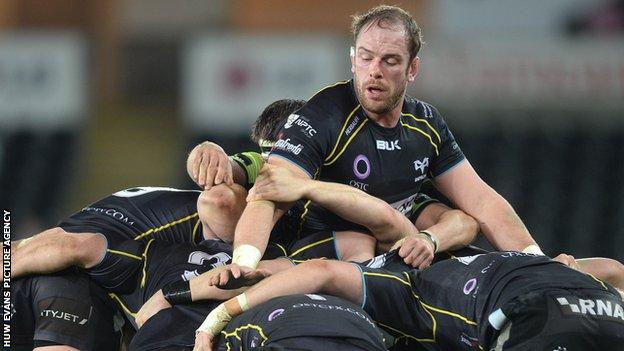 Alun Wyn Jones could leave Wales to play in England or France when his deal with Ospreys expires at the end of this season, says his ex-coach Sean Holley.
The 30-year-old World Rugby player of the year nominee has won 94 Wales caps and six for the Lions.
Bristol coach Holley says Jones could move to win trophies, rather than the lure of a bigger pay cheque.
"For this kind of animal it's about playing on the biggest stage," said former Ospreys coach Holley.
"That's what drives them, they want to win and be part of a successful team.
"There will be lucrative deals, Alun Wyn is one of the top players in the world and a huge, huge prize.
"He will want to play in front of big crowds, he will want to play on the biggest stage and he'll want to be challenging for the biggest trophies.
"It's a question of whether our regions can provide that at the moment, and the answer is 'no'.
"Alun Wyn is 30 and has given huge service then there may be a slight little devil on the shoulder, you never know."
Ospreys hope Jones and his team-mate Dan Biggar, 26, sign new dual-contracts soon, with the fly-half's current deal also up at the end of this season.
"We're really hopeful on both of them. I think probably Biggs [Biggar] is pretty close," Ospreys coach Steve Tandy said.
"Alun Wyn is probably still... a little bit away from that yet."
Another consideration for Jones on where his future lies is the restrictions that Wales coach Warren Gatland has on selecting foreign-based players.
The number of players Gatland is allowed to select for the national team from outside Wales is limited by a funding deal with the regions called the Rugby Services Agreement (RSA).
The terms of the agreement stipulate that two 'wildcards' can be selected from outside Wales, with the ruling applying only to players who move or negotiate new contracts after the signing of the RSA in August 2014.
Currently only Jamie Roberts (Harlequins), Rhys Priestland (Bath) and Adam Jones (Harlequins) fall into that category.