Sam Burgess's exit makes rugby union 'a laughing stock'
Last updated on .From the section Rugby Union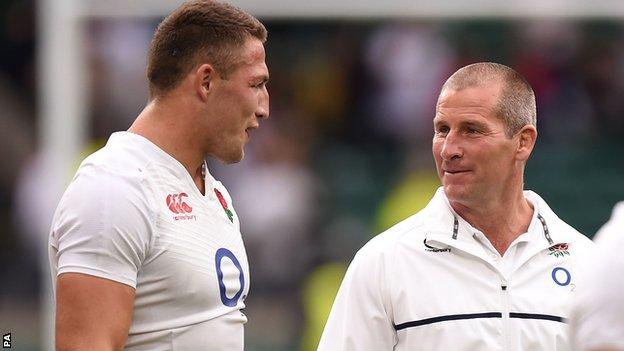 English rugby union is a "laughing stock" after Sam Burgess left Bath to return to rugby league, says former national coach Sir Clive Woodward.
Burgess, 26, made the decision having been part of the England squad which had a poor World Cup as hosts.
Woodward did not blame Burgess "for this mess" but said the English game was at one of its "all-time lows".
England rugby league coach Steve McNamara said Burgess "could've been one of the greats" had he stayed.
Burgess, from Dewsbury in West Yorkshire, played 21 games for Bath after joining them just over a year ago, scoring four tries.
Having made his England debut in August, he was selected for the World Cup ahead of Northampton centre Luther Burrell, who had looked to have established himself in the team after playing in all five of their Six Nations matches earlier in the year.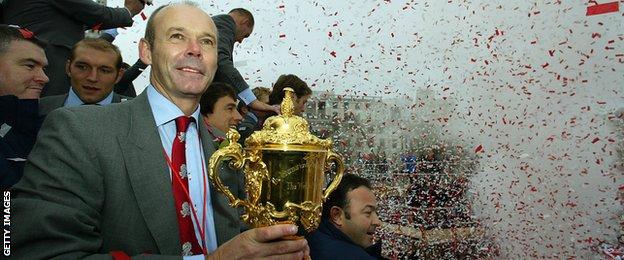 Burgess, who had been playing at blind-side flanker for his club, was picked at centre for the hosts against Wales in the World Cup and his selection sparked much debate.
"The RFU has spent the last four years congratulating itself on the direction in which we're heading, but the truth is we have marched confidently into a total mess," said World Cup-winning coach Woodward in his column for the Daily Mail.
"We are the laughing stock of not only world rugby but also sport and business. The rest of the world says those involved in English rugby are arrogant. I hate this reputation, but that is exactly what the RFU has been.
"The saddest part is the players and fans have been let down. To get it right on the field of play you have to get it right off the field."
Was Burgess given a fair chance?
Burgess says family reasons were behind his decision to return to South Sydney Rabbitohs after one season in rugby union.
"I'm not sure union really gave him a chance - it's up for debate that one," McNamara told BBC Radio 5 live.
"Given a bit more time, he could've been one of the greats for them."
He added: "If Sam goes back to rugby league, he plays well and he's fit, he'll be ready for next year's Four Nations."
Bath coach Mike Ford echoed McNamara's comments about the potential impact Burgess might have made in union.
"We hoped that Sam would stay at Bath," said Ford. "He was doing really well in making the switch over from league and, given time, he could've been a great rugby union player.
"Unfortunately, for personal reasons, he is returning to Australia."
'No-one comes out of it well'
Former England captain Lewis Moody believes that none of those involved came out of the episode well and that Burgess's England career may have been doomed from the start.
"It puts England in a poor light and it puts Bath, and probably Sam, in a bad light," he told BBC Sport.
"Sam leaves a Bath side in a difficult position at the start of the season when they don't really have the opportunity to recruit a quality player in his position.
"Bath paid a huge amount for him [believed to be about £270,000], without any assistance from the RFU.
"If they invest owner Bruce Craig's money, they want to pick him where best for them.
"Sadly that did not seem to be the same as England, who appeared to want him as a replacement for centre Manu Tuilagi.
"If the RFU had invested some money in Sam Burgess maybe they would have had a little leeway in where he would play."