Alan Solomons praises 'evolving' Edinburgh attack
Last updated on .From the section Rugby Union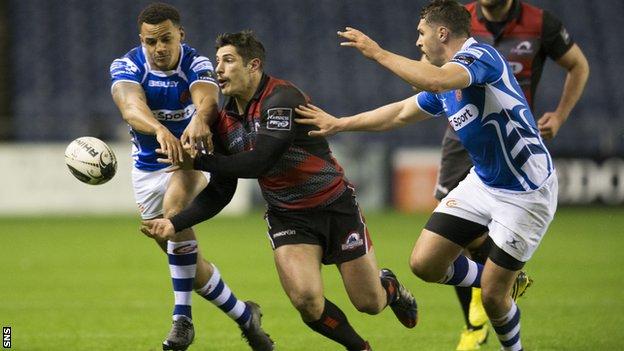 Edinburgh head coach Alan Solomons reiterated his side's efforts to "evolve" their attacking play after a bonus-point victory over the Dragons.
Solomons spoke in pre-season of his desire to add verve and variety to an imposing set-piece game.
"I think we've worked hard on our attack to evolve it," he told BBC Scotland after Friday's victory.
"We've got a good set-piece, we've got a solid defence, and we've done a lot of work on our skills pre-season."
During a somewhat frustrating first half for the hosts, Edinburgh enjoyed the lion's share of possession and territory, and marshalled by returning pivot Phil Burleigh, showcased some attractive - and effective - offloading rugby.
Despite their dominance, though, they only led 13-6 at the break, courtesy of prop WP Nel's try.
"We left, I think, two tries out there," said Solomons. "Unfortunately Tom Brown, from a very good cross-kick by Phil, had he collected that and not knocked it forward he would have scored.
"Also, I thought from a maul we were obstructed and that was another opportunity. Had we gone into the shed at 27 points to six, it would have made a huge difference to the second half.
"Having said that, we spoke at half-time about being patient, that it'll come eventually, and it'll only be in the back 20 minutes that it'll come, if we do the damage in the first 20, and sure enough, the tries came.
"It's always difficult but if you force things then it never works. I must say, they didn't, and full credit to the side for the four tries."
Tight-head Nel, who impressed for Scotland during the Rugby World Cup, spearheaded an Edinburgh scrummage that decimated the Dragons pack, and saw two of his direct opponents shown yellow cards for repeated set-piece infractions.
"I think we worked really hard this week just to get better and get the backs involved in what we are doing," he said of the more expansive style of rugby.
"It came off for us through the game and we can work forward from this game onwards."