Guernsey Raiders will improve in second half of season says boss
Last updated on .From the section Rugby Union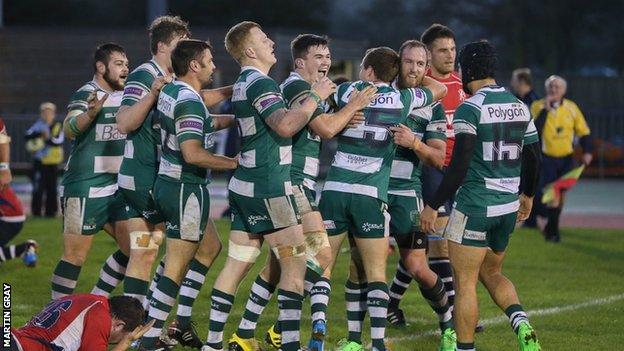 Guernsey Raiders boss Jordan Reynolds feels his side will do better during the second half of this season.
"I think the second part of this league is going to be a lot more in our favour," Reynolds told BBC Guernsey.
"I feel there's a lot more games that we can win at home and I think we can pick up a few on away trips as well."
Guernsey are 18 points adrift of leaders London Irish Wild Geese, who are two ahead of Tonbridge, with East Grinstead and Westcombe Park tied on 38 points in third place.
"We've had Hertford and Westcombe Park at home this year, but we've still got East Grinstead, Tonbridge and the likes of Irish still to come to our house and play us here," added Reynolds.
"I feel there's going to be very difficult games leading up to Christmas, but if we could possibly pick up the three wins leading up to Christmas, that would put us in a really good position.
"We could be fifth or even fourth and make an educated guess as to where we want to finish at the end of the season and see how we fare from there."