Ben MacDougall harbours regrets over Scotland career
By Jamie Lyall
BBC Scotland
Last updated on .From the section Scottish Rugby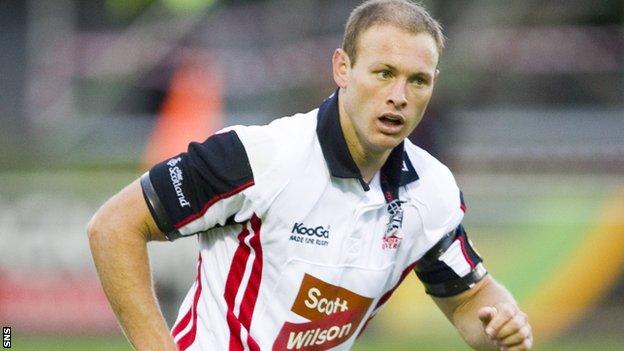 Ben MacDougall drawls emphatically from topic to topic, pausing only to apologise when it dawns on him that his reflections have strayed orders of magnitude from their original thread.
He lurches from rugby league in Melbourne to rugby union in Scotland, from his affinity for the long-since disbanded Border Reivers to his admiration for the Wallabies coaching mastermind, Michael Cheika.
His is an infatuation with rugby that began 30 years ago in the backyard of his childhood home in the southern suburbs of Sydney, under the doting eye of father Gil, himself an esteemed centre in the Australian National Rugby League.
"We'd be tackling each other into the wall and onto the road, and scraping our knees and banging our heads," Ben says of his backyard battles with his three brothers.
"We were rugby-crazy; we used to get Dad out of bed at 6am and get him to take us down the park and train us - he loved it."
Remarkably, all four members of Clan MacDougall made the professional cut.
Centre Ben was the exception, the self-confessed "travelling nomad" who at the height of his powers in 2004 swapped league for union, Melbourne Storm for Edinburgh Gunners and a shot at Scotland honours.
Eligible through Gil's father, Alan, a chrome-plater from Greenock who emigrated to Australia aged 20, a larger than life patriot adored by his grandchildren, Ben succumbed to ambition and wanderlust.

"When I left I think a lot of people in Australia, a couple of my team-mates and even my family, were a little bit shocked, like 'why are you leaving at this stage?" he recalls.
"(Ex-Scotland coach) Ian McGeechan had met with me in Australia during the 2003 Rugby World Cup.
"They kept an eye on me, and I got a phone call from them in 2004. I was close to signing with St Helens; I was ready for a bit of a change.
'Wrong place, wrong time'
"I'd been playing NRL for many years and I wanted a chance to play in a different environment."
MacDougall got what he wished for.
Matt Williams, the Australian successor to McGeechan who had been instrumental in his acquisition, left Scotland after a disastrous tenure.
The next incumbent, Frank Hadden, adopted a style of play alien to the powerhouse midfielder.
"One of my strengths in league was that I could carry the football," he says. "When I came to union, I went from having 12 to 15 carries a game to having three or four.
"It was a little frustrating because league players carry the ball a lot, you take the line on, you like to attack, and Frank wanted his centres to move the ball and distribute it.
"I look back on my time and it was probably wrong place at the wrong time. I think if I was playing under the management now, with their endeavour and style, I would have felt a lot more comfortable."
These days, of course, overseas recruits are staples of Scottish rugby, but a decade ago - even with a surname like MacDougall - Ben's arrival caused a stir.
"There was a bit of talk about the SRU paying me quite a lot of money, and I found that pretty hurtful at the time because I never chased the money," he says.

"I would have played for nothing; rugby was a thing that I loved. The opportunity to pull on the Scotland jersey really attracted me."
It wasn't so much the switching of codes, or the learning of new techniques - more the stylistic adjustment that MacDougall found most disconcerting.
He suffered injuries and fell out of favour, moving from Edinburgh to the Reivers and ultimately returned to league in 2007 with only two caps to his name.
'The blood inside me is Scottish'
Still, though, he can summon memories of facing down Jonah Lomu, Jonny Wilkinson and Brian O'Driscoll.
"I kick myself sometimes and think maybe I should have stayed for 2007 World Cup, or gone to another provincial team in Ireland or Wales," he reflects.
"But I went back to Melbourne and I ruptured my knee, got a staph infection and missed two years of rugby before I came back to union with London Scottish."
Ben is 38, and channelling his obsession with the game to coaching across Asia.
He lives in Sri Lanka for now, where incredibly, the schoolboy teams he marshals attract match-day crowds many multiples of the attendance figures garnered by his old Edinburgh and Borders sides.
"It's amazing where rugby can take you - it took me to Scotland, to London, and now Sri Lanka," he laughs.
"The blood inside of me is still very much Scottish. The day I put on the Scotland jersey in 2006 is one of my proudest memories.
"I always watch Scotland play and seeing guys like Ross Ford, Kelly Brown, just babies when I was there, coming through and making a name for themselves."
There is wistfulness to MacDougall's narrative that seems at odds with the classic persona of the carefree Aussie.
And no doubt there will plenty more remarkable affairs to rattle through by the time he finally he takes a breather from rugby.