Jersey will not make major squad changes next summer
Last updated on .From the section Rugby Union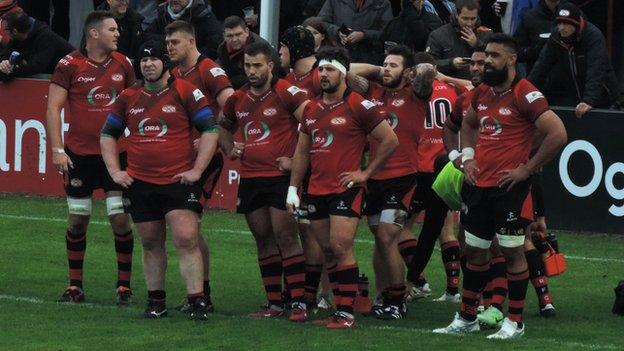 Jersey chairman Bill Dempsey says the club will not see a large turnover of players next summer.
And Dempsey is hopeful that most of the squad will stay when the current campaign comes to an end.
"We're possibly up to 17, 18, 19 new players, that is not our plan for next season," Dempsey told BBC Radio Jersey.
He is hopeful that the club's best young players will not be lured by Premiership clubs, and will continue to learn their trade at St Peter.
"We have got 20, 21-year-old guys who will take time to develop.
"We've got a couple of young guys in the forwards who are doing fantastically well, we'll do well to keep them them, but hopefully young guys will realise that at 20 or 21 that they need time to develop," he said.
"Harry Williams went to Exeter having played really well here in the Championship, but I haven't seen him get any game time this year, so they've got to wait and develop and be ready when they make that move."
Dempsey has seen the club rise from playing amateur rugby to the second tier of English rugby.
And while they narrowly avoided relegation in their first two seasons in the Championship, they finished seventh last season and are comfortably mid-table this year.
"Knowing what other people have done in the league and where the money is being invested, and it is down to money a huge amount, I think if we got seventh again we should be very very pleased.
"We are doing a five-year plan and that in itself will tell a few tales about what we are trying to achieve," Dempsey added.
"The first thing we have to do is become financially sustainable as a club, and that is really difficult.
"We've got extra money from the RFU, but they want a slice of meat on the other side and they want us to spend a bit more than that.
"We have to be financially sustainable and as a business be sustainable."