Owen Thomas: Guernsey Raiders fly-half praised by head coach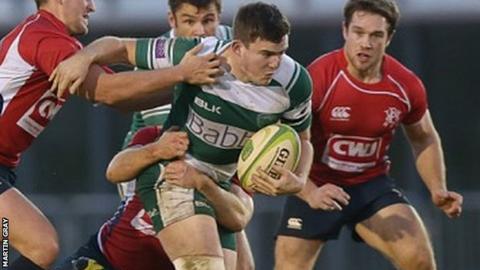 Guernsey Raiders boss Jordan Reynolds has been impressed by the speed Owen Thomas has integrated into the side.
The former Welsh Universities fly-half joined Guernsey in the summer and has been in great form in recent weeks.
"I didn't think he would make that big a transition so fast," Reynolds said.
"I had the idea of leaving Glen Walters at fly-half for the season and integrating Owen in slowly, but he's made big strides early on, he controls the game very well."
Guernsey travel to struggling Gravesend in National Three London, a week after losing 32-19 to Tonbridge Juddian - a match which Thomas missed.
"Having him back this week in training has made us look a bit settled, plus the fact that our other fly-half, Glen Walters, has been carrying a lot of injuries lately, so we're hoping to try and rest him this week," Reynolds told BBC Guernsey.
"Having him back this week will give us good kicking and attacking options, so hopefully our forwards can get back in the patterns and our backs can do their jobs off the back of some good forward work."