Alex Waller 'honoured' to play 100 consecutive Premiership games
Last updated on .From the section Rugby Union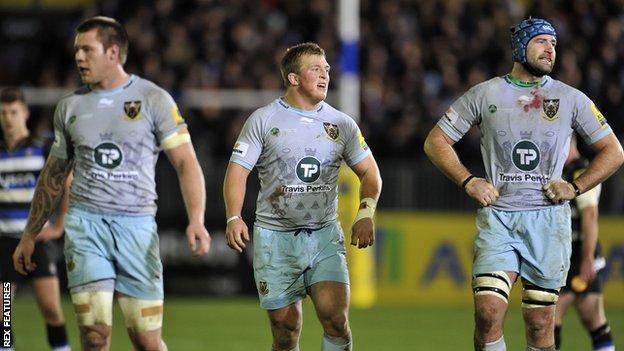 Northampton Saints prop Alex Waller has said he does not take his place for granted, despite having played in his 100th consecutive Premiership game.
"I have done a 100 on a bounce but I am not sure I can do another 100," Waller told BBC Radio Northampton.
"Just to be involved with the club for as long as I have been and to be in the first XV is a great honour."
He added: "It is something I work at every week and not take for granted.
"I actually had no idea it was my 100th consecutive cap, Someone came and told me after the whistle.
"I am happy with it but it's not something I dwell on usually, otherwise I would have probably known."
Waller's younger brother Ethan started ahead of him during Northampton's 13-11 win and Alex was quick to praise the effect he had on the game.
"We are all competitive and I'd like to start every game, but the reality is we don't have LV games this season," he said.
"You saw from today's performance that he is quite capable of standing in and doing a fantastic job."