Jersey vice-chairman to look at Premiership possibility
Last updated on .From the section Rugby Union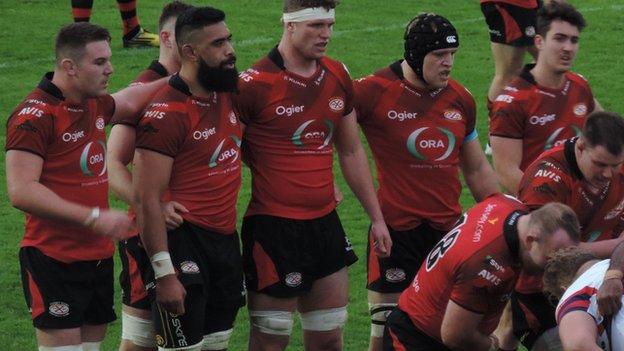 Jersey's new vice-chairman Mark Morgan says the club will review whether they can make the Premiership.
The island side has one of the smallest grounds in the Championship and are only in their fourth season in the second tier of English rugby.
Morgan was brought in earlier this week, with outgoing chairman Bill Dempsey hoping he will succeed him.
"I'm not saying it's going to happen, but it's certainly something we should review," he said of the Premiership.
"This club has continued to progress and one of the areas I want to explore is the opportunity for us to take that next step.
"It could be difficult, it's going to need a lot of support form the States (Jersey's government) and it's going to need a lot of support from significant sponsors," he told BBC Radio Jersey.
Morgan, who is a former Jersey captain, has returned to the island after retiring from a high-profile role at an international bank.
The island side won four promotions in five years as they went from amateur rugby to the fully-professional level of the Championship in 2012.
"In the new year there'll be a release of our new five-year strategic plan and I will be looking on that as a blueprint as to where we go," said Morgan.
"Our priority at the moment is to ensure we become a viable top-half Championship team for the foreseeable future. In parallel with that, we will run some studies to see what is possible beyond."