Samson Lee: Wales prop has no World Cup regrets
By Nick Webb
BBC Sport Wales
Last updated on .From the section Welsh Rugby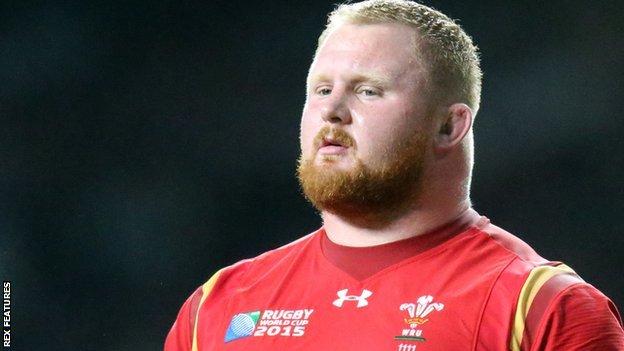 Wales prop Samson Lee has "no regrets" about his rapid comeback from injury for the World Cup despite having a month off after it to hone his fitness.
After a long-term Achilles problem, Lee returned against Uruguay for Wales' tournament opener in September.
The Scarlets forward scored a try and went on to play five times in the World Cup as Wales reached the last eight.
"It's everyone's dream playing for your country and playing in a World Cup, so no regrets at all," said Lee, 23.
Lee played one game for his region against Munster before being sent for conditioning and strengthening work on his calf, which he had not managed to carry out before the World Cup.
He has started three out of the last four Scarlets games since his four-week absence.
"Injury-wise, I feel I'm much better, the leg feels stronger and the lungs are stronger," he added.
"It's just been a lot of rehab and a lot of conditioning, but I'm feeling back to where I was at the start (before the injury)."
And Lee blames mental rather than physical reasons for Wales' agonising World Cup exit to the Springboks.
"When you play against the top sides, it's just the top two inches and the last game against South Africa, there were four minutes left and we just didn't see it off really.
"Beating England is always going to be a big thing for Welsh people and hopefully everyone was happy with that."
'A bit of hunting, a bit of ferreting'
Lee will do battle against neighbours Ospreys on Boxing Day before turning to his favourite off-field activity of ferreting.
"I might go on the day after Boxing Day, a bit of hunting, a bit of ferreting. It's mostly in West Wales, Cardigan, Lampeter and Aberaeron on the farms.
"We used to go in the morning [on Boxing Day, when he was younger], go and catch a few rabbits then get back to watch the game."