Jean de Villiers: Leicester Tigers move 'fantastic'
Last updated on .From the section Rugby Union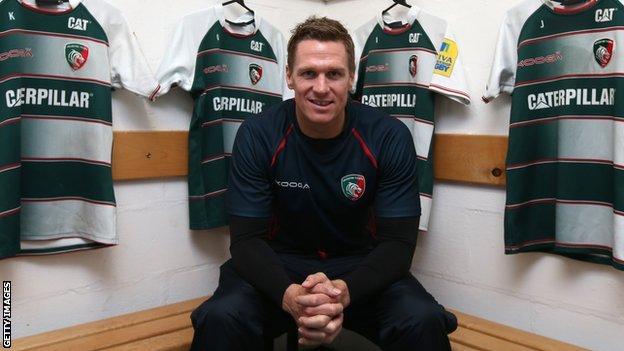 Former South Africa captain Jean de Villiers is already convinced he made a "fantastic" decision to join Leicester.
The centre, who earned 109 international caps, has yet to play for Tigers after breaking his jaw during the pool stages of the 2015 World Cup.
But, while he will not feature in the home Boxing Day game against Newcastle, De Villiers is almost ready to play and is still enjoying his new surroundings.
"The club is a great organisation," the 34-year-old told BBC Radio Leicester.
"But I have just been quite frustrated at not getting on the field yet."
De Villiers initially turned down a move to Welford Road because he did not think it was the "right fit".
However, after talking to a number of people with links to Tigers - including former Leicester and Springboks coach Heyneke Meyer - De Villiers changed his mind.
Settling in at Leicester
You can hear Jean de Villiers talking to BBC Radio Leicester about his move to England by
following this link.
"All the feedback was really positive," he added. "And now I have been here three weeks I am very happy with the decision. It's been a fantastic decision.
"You can have the best set-up in the world, but it's the people that make it good, and that's the best thing.
"The players and management have been so good at making me feel at home. It's the people that make it worthwhile. We are working with good rugby players and good people."
De Villiers said he is now over the injury he sustained in South Africa's 46-6 victory over Samoa in September - his last game for his country.
"The bone broke both sides and it just needs time," he said. "The last couple of weeks I have totally forgotten about it.
"I have plates in both sides. I lost quite a lot of weight but am very happy that I have passed that now and am looking forward to Christmas dinner and lunch and eating quite a lot!"