Steve Diamond: Sale are in 'no rush' to complete signings
Last updated on .From the section Rugby Union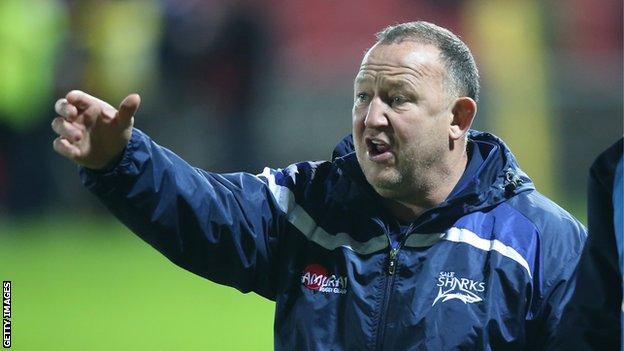 Sale Sharks director of rugby Steve Diamond says the club will not rush into making signings and insists they will bring in "quality" talent.
Diamond, 47, says some internationals could join Sale at the AJ Bell Stadium in time for next season.
"We're in talks with four or five international players to join us," he told BBC Radio Manchester.
"We're well on the way to bringing some real experienced quality players to the club next year."
Diamond said there is no urgency to bring in players and that he was happy with the way the club plans to bring in recruitments.
"I don't need to rush into signing players. We've got a good protocol with how we find our players and it's not let us down yet in five years," he said.
"There's offers gone and there's offers been accepted, we've just got to tie the details up.
"There's one or two people who have decided to come to Sale for less money than they're being offered.
"They've got mates who are here and they've asked the question. How do they run it? What's it like?
"One or two of these are leaving big clubs to come here which will be a statement when we announce them."