Rio 2016: Bristol's Tom Varndell keen on playing Olympics sevens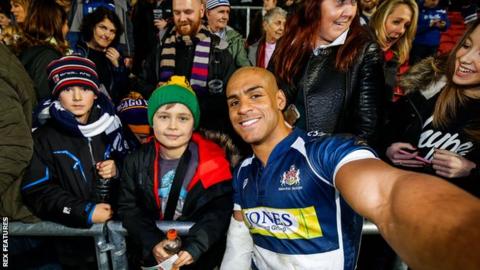 Bristol winger Tom Varndell has set his sights on playing for Great Britain when rugby sevens makes its Olympics debut in Rio this summer.
Head coach Simon Amor has said he is looking for 15-a-side players to reinforce his squad, but time is against them integrating in time.
Varndell previously played for Leicester and Wasps and was capped four times by England between 2005 and 2008.
"I would love a shot at the Olympics," the 30-year-old told BBC Radio Bristol.
"I am in talks with Simon Amor about doing some training and seeing where I am fitness-wise.
"The Olympics is a once in a lifetime opportunity and Rio is not a bad place to go to either," he added.
Bristol are currently vying for promotion to the Premiership, after losing to Worcester in last year's Championship play-off final.
And Varndell, whose try tally in the Premiership is only five short of Mark Cueto's record, admitted the stature of the club made them a major scalp for other teams.
"Everybody has been saying we will be the big team to be promoted," he added. "Bristol are the team to beat in the Championship and that makes our job a little bit harder every single time."