Six Nations 2016: Why teams lag behind southern hemisphere sides
Last updated on .From the section Rugby Union108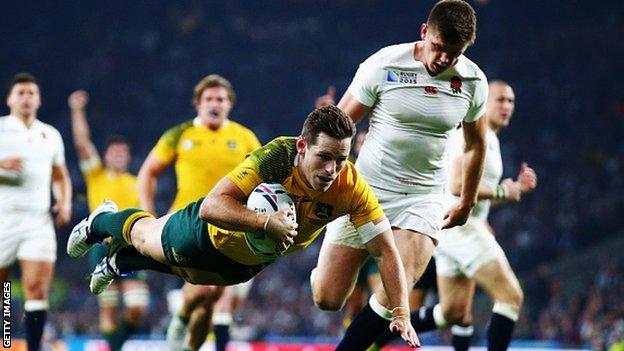 RBS Six Nations
Dates:
Saturday, 6 February - Saturday, 19 March
Coverage:
Live coverage of eight games on BBC One and BBC One HD. All of Scotland's matches live on BBC Radio Scotland. Live text on BBC Sport website
If you could choose one moment from the 2015 World Cup to highlight the key cultural difference between Six Nations and southern hemisphere rugby, it might not involve a prop. And it probably wouldn't be a post-match quote.
Joe Moody's back-of-the-hand offload in New Zealand's quarter-final rout of France was cute. And the public reaction was telling - All Blacks legend Zinzan Brooke professed to be shocked that English people were shocked that props could do that. But it was Moody's reaction that was most instructive: "I didn't give it a second thought," said the country's third-choice loose-head.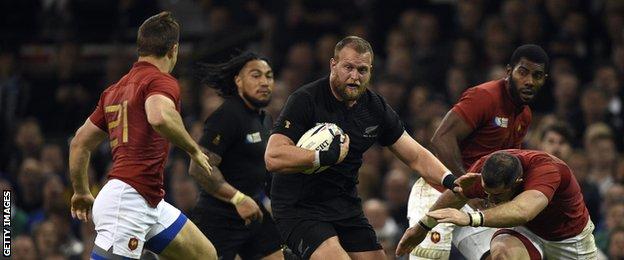 Such nonchalance might be misconstrued as arrogance. But asking an All Black about his thought processes when executing a skill is like asking a pianist how he is able to play an arpeggio in the middle of a Rachmaninoff concerto. When such skills are inculcated at a young age, they cease to be a mystery and become a basic requirement.
Back to those statistics. In seven matches against other tier one nations, finalists New Zealand and Australia scored 25 tries and kicked 18 penalties between them. In 13 matches, all four teams from the southern hemisphere Rugby Championship scored 34 tries and kicked 46 penalties. In 15 matches, teams from the Six Nations scored only 17 tries and kicked 51 penalties.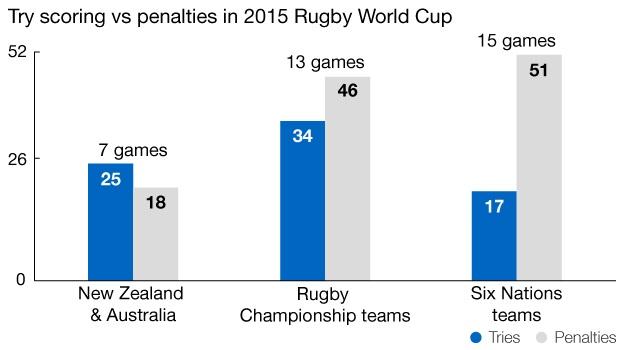 In the last three seasons of the Rugby Championship, the average number of tries per game was 5.5, 4.2 and 5.5. In the last three seasons of the Six Nations, the numbers were 2.9, 3.4 and 2.6. Even allowing for the fact that World Rugby chose not to include the last round of Six Nations games because of "exceptional circumstances", they suggest a definite trend.
There's more. In three of the last four seasons the winner of the Six Nations has scored more penalties than tries; in 14 matches played between northern and southern hemisphere sides in the autumn of 2014, the former scored 50% more penalties than tries, while the latter scored 50% more tries than penalties.
Which would all be just numbers if it wasn't also fact that not only did no Six Nations side reach the last four of the 2015 World Cup, but of the 74 times southern hemisphere sides have played England, Wales, France, Ireland or Scotland in the last five seasons, the southerners have won 72% of the time. Take Argentina out of the equation, and that figure rises to a staggering 83%.
But let's lay off the numbers for a minute and get cosy. Because that's what the Six Nations is - all just a little bit cosy. And, some might add, complacent.
That old, familiar Six Nations refrain that "a win is a win, it doesn't matter how we do it" is clearly counter-intuitive. Keep telling yourself that you'll take a "dour win over Scotland (for example…)" and surely that's what you'll repeatedly get. Never mind that we're drowning in statistics (sorry) telling us that clever rugby - which equals more tries - wins matches against the world's best sides.
History can be a comfort blanket but it can also be suffocating. For too long, the Six Nations has been more about the heritage packaging than the product. Never mind that dreary game in Dublin or Cardiff, there is Guinness to be drunk and there are new friends to be made in the city's brimming hostelries. Just don't let the Georgians spoil the fun.
Those 27 tries scored on the final weekend of the 2015 Six Nations show European teams can turn it on in "exceptional circumstances". But they also made you wonder why they choose not to dare to win most of the time. Bonus points would surely help, but the problems would appear to run deeper.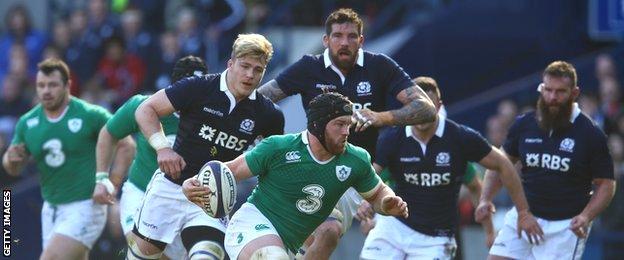 For years after its inception in 1996, the southern hemisphere's Super Rugby club competition was derided by European fans as basketball by a different name. Former England hooker Brian Moore was one observer who dismissed it as artifice, concocted to compete in a crowded entertainment market.
But Moore has recanted, realising that the competition's all-court style produces multi-skilled footballers from one to 15 (after all, have you seen what some of those big guys can do with a ball in the NBA?); players who seek space rather than contact; players who marry pace with power; players who are able to think fast amid the hurly-burly of international competition; players who are able to play what is in front of them and perform basic skills "without a second thought".
Yet still you hear European fans, players and coaches saying: "We shouldn't try to copy what New Zealand do." Which seems perverse. Why not aim to emulate the greatest rugby team the world has ever seen? One is reminded of flat-earth football fans who still insist that English football "should play to its strengths" rather than trying to emulate Barcelona.
Edinburgh coach Alan Solomons is just one wise head who believes northern hemisphere teams will struggle to bridge the gap until fundamental changes are made.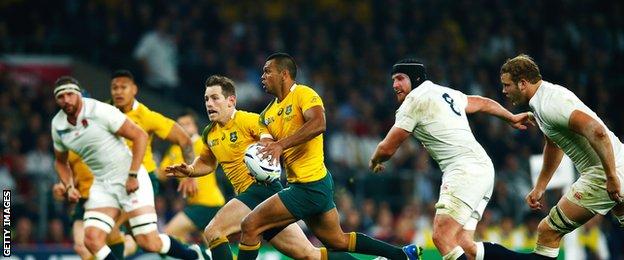 Solomons, who has coached in his native South Africa, Scotland, England and Ireland, believes there should be one global season, running from March to November. According to Solomons, the current European schedule - with domestic, continental and international rugby all jumbled up together - and Europe's winter weather are not good for player health or skills development.
Nice idea, Alan. But a combination of club power in England and France and the clinging to cherished traditions means nothing is likely to change any time soon.
With Saracens riding high in the Premiership courtesy of a game based on stifling defence and relentless kick and chase - a style South Africa used to win a World Cup, way back in 2007 - new England coach Eddie Jones might seem to have his work cut out in terms of instilling a more expansive philosophy. But with five English teams through to the Champions Cup quarter-finals, Jones has options.
One can only hope the rest of the Six Nations' coaching teams have taken on the stark lessons of the World Cup, just as Argentine rugby was shocked into a change of playing style after joining the Rugby Championship in 2012. Fans of Wales and Scotland will still be cursing their luck after narrow quarter-final defeats by the Springboks and the Wallabies respectively. But both teams are way off the All Blacks, in terms of speed, intelligence, basic skills and ambition.
For the Six Nations to go from also-rans to perennial contenders on the world stage, those "exceptional circumstances" must become, if not the norm, then certainly more common. So that it appears they didn't even give it a second thought.
For the latest rugby union news follow @bbcrugbyunion on Twitter or sign up to the new rugby alerts service available on the BBC Sport app.